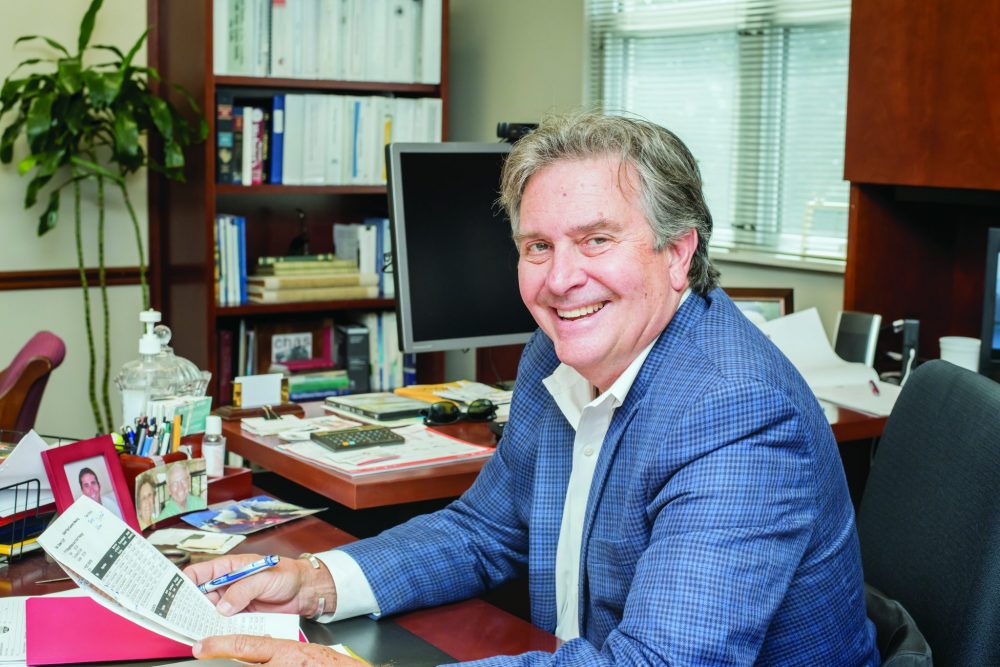 Water makes up around 80 percent of a human being's blood, but it would be no surprise to learn that the percentage of H2O flowing through Clay Duffie's veins and arteries might be just a little higher than that of most people. After all, Duffie has been general manager of Mount Pleasant Waterworks since March 1989, and his father held the same job in Saluda, South Carolina.
Duffie has been in the water business since he was 14, when his dad put him to work painting fire hydrants, mixing paint with glass beads so the hydrants would be shiny and visible at night. Later, he spent summers alongside crews that were installing sewer lines and changing out water meters.
"My whole career has been all about clean, safe drinking water," Duffie commented.
Which is why he took it personally this past summer when a group of local residents, with help and encouragement from environmental activist Erin Brockovich, attacked Mount Pleasant's water system through social media and at public hearings, claiming that the town's water was rife with pesticides that might be causing brain cancer in children living on the north side of town.
"You can say anything you want on social media and not back it up with facts," Duffie commented. "I tried not to read the nasty-grams about me. I took a professional attitude. But they were questioning this organization, and I'm responsible for everything here."
At a press conference that followed accusations that the town's drinking supply was tainted, Duffie explained that much of Mount Pleasant's water comes from the Middendorf aquifer, which is 2,000-feet deep and thus protected from infiltration by man-made contaminants. Brockovich, whose successful lawsuit against the Pacific Gas and Electric Company was the subject of a 2000 movie starring Julia Roberts, used Facebook to call his explanation "crap."
"She has name recognition and her associates used it to gain some credibility, which they don't have, in my opinion," Duffie said. "They filed a Freedom of Information request, and we sent them analytical data from years back. We billed them for $324, which was our cost, and the bill hasn't been paid yet."
"We live in a community with a reliable water system," added Waterworks Community Engagement and Communications Director Dionna Ebeling. "She knows nothing about it. She used social media to cast doubt. It's very scary. They throw their dart, people start to panic and they leave a utility to clean up the mess."
Duffie said he knew Mount Pleasant's water supply is safe, but he took the concerns of his customers seriously. He pointed out that the water was tested for 228 possibly harmful compounds by Eurofins of South Bend, Indiana. None of them were found in the Mount Pleasant Waterworks system, which serves the area from the Cooper River to the Santee River but not Awendaw or McClellenville.
Long before the social media-induced controversy, Mount Pleasant Waterworks was taking 90 samples a month at 270 homes and business around town to make sure the water didn't contain chlorine, bacteria and other harmful substances. The state Department of Health and Environmental Control also samples the town's water, and the Environmental Protection Agency takes a look at Mount Pleasant's water quality every five years. The water at all East Cooper schools is tested as well.
According to Duffie, Waterworks customers sometimes have issues with the color, taste or smell of the water – but he usually receives fewer than 100 complaints over the course of a year.
He said the Waterworks reacted to the recent controversy by setting up an incident command team that met every day for two weeks.
"We implemented a command structure and managed this communication crisis as if it were an emergency," Duffie said, noting that the Waterworks used social media, emails, its website and local news outlets to communicate with the public. "I've said this 100 times. We can't prevent an emergency. We're judged on how well we respond and communicate. We responded well, and we let our customers know. We gave them confidence that they didn't have anything to worry about."
Duffie pointed out that despite accusations that Mount Pleasant's water is tainted – and the approximately $100,000 the Waterworks spent to assure the public that the water is safe – something good has come of the controversy. He said the Waterworks' relationship with DHEC has improved dramatically, he has been appointed to a drinking water advisory council, and he has had the opportunity to meet with high-ranking officials of the EPA.
"We and the regulators are taking it seriously. We need to assure the public. There needs to be a solid message from the EPA, DHEC and the utilities," Duffie said. "This crisis helped us learn how to communication with customers effectively, and our relationship with the state and the EPA is much better. We're very encouraged with that."
Photo and story by Brian Sherman.