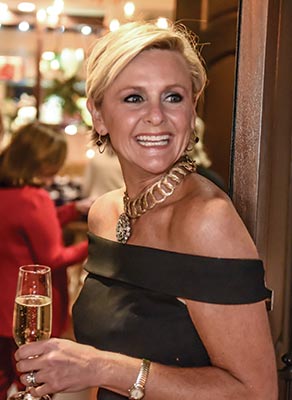 The Woodhouse Day Spa Charleston has been open for two full years, and owner Kimberly Kendell Powell is full of gratitude, pride and enthusiasm for the future.
"We love to serve this community, and I'm proud to say that our therapists are true healers and our staff extremely dedicated to superior hospitality," she said.
As the regional developer of the Southeast, Powell is seeking Woodhouse Day Spa owners for cities such as Greenville, Columbia, Hilton Head and Savannah. She's also contemplating opening her second Woodhouse location in downtown Charleston.
"Luxury never dies. We are highly committed to elevating the spa experience in Charleston, and we think our guests appreciate the finer touches when they are investing in time away," she explained.
When she's not busy in the spa business, Powell can be found trying to #sharethelight with her Charleston-based candle line, 1670 Charlestowne. She and partner Cara Florence were inspired to create the line to pay homage to the legacy of Sweetgrass basket weaving and also shine a bright light on this world-class city they love to call home. Their signature scent, "Sweetgrass," can be found in each limited edition Sweetgrass basket set and comes in a reusable cocktail glass with a 23 carat gold dove logo.
Their newest scent, "A Charleston Wedding," is due out this summer and will be in a stemless wine glass. Powell called the collection, "a love letter to the Lowcountry." A percentage of the proceeds will go to the International African American Museum.
This year also marked the first annual Women's Wellness Weekend, held at the Cottages on Charleston Harbor. Powell wanted to create the ultimate seaside staycation to allow women to escape their busy lives and soothe their souls by the sea. Sixteen women enjoyed yoga by the bay, private dinners, guest speakers on health and wellness and inspiring fireside chats enhanced by live music. The weekend was capped off by a full private spa day at Woodhouse Day Spa.
Powell and her husband, Keith, have owned Summit Industrial Flooring, a commercial/industrial concrete coating and polishing company headquartered in Ohio, for nearly 30 years, and they recently purchased a new building in Charleston for their Southeast Division.
"We have found there is a tremendous need here for value engineering and education in the industrial flooring industry," Powell said. "My husband is one of a handful of master craftsman and experts in this industry, and clients such as Boeing, Volvo and Mercedes rely on the experience and expertise of Summit."
Keith and Kim, who live in Mount Pleasant, have three sons: Buckley, 23, Bowen, 21 and Christian, 18. When they aren't busy working, they love to boat, fish and share time with friends and family.