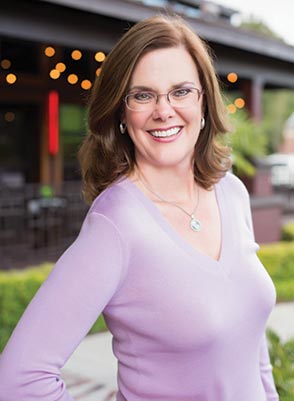 Stephanie Kelley, the new executive director of East Cooper Community Outreach, has lived in Mount Pleasant since 2011, but she has supported the mission of ECCO for much longer. A self-described extrovert who is "energized by her interactions with others," Kelley knew that working for her community would satisfy her soul.
"Throughout the years, I've discovered there are many ways to help people build their strengths and inspire them to achieve their greatest potential," she said, noting how her career switch from higher education to non-profit still allows her "to focus on improving others' quality of life."
So how did Kelley initially find out that ECCO exists? She became a member of Christ Our King Catholic Church in Mount Pleasant, where the organization is rooted after being founded by Monsignor James Carter in the wake of Hurricane Hugo. Because she was already actively looking for a non-profit to involve herself with, a personal tour of the facility with former director Jack Little sealed the deal.
"I immediately knew that ECCO was a worthy organization, a place I wanted to invest my time and energy," she remembered.
Today, as the executive director of ECCO, Kelley's role is manifold. Being a public face for the organization as well as promoting its mission are primary objectives. And one of her favorite things to do – build relationships – is high up on the list as well.
"One of my priorities is to build and develop relationships with all of ECCO's stakeholders," she explained. "The staff, the volunteers, the clients, the donors and various community partners who allow us to make a difference in so many lives. My favorite part of any job always involves people more so than paperwork!"
Kelley reminisced about one particularly fulfilling moment on the job, at the ECCO dental clinic, where a patient was having a partial palate made. The patient was "grinning from ear to ear" and grateful for the opportunity to smile with confidence.
"There is nothing more gratifying to me than being part of something that changes lives one small act of kindness at a time," she said.
Kelley looks forward to the future of ECCO and pointed out that she believes the key to successful leadership is getting to know people.
"I want to know more about what brings people to ECCO and how the organization can continue to affect change," she said. "This knowledge will help me provide strategic leadership for the future and raise much-needed funds for ECCO's programs that include basic needs, health services and empowerment."
By Denise K. James