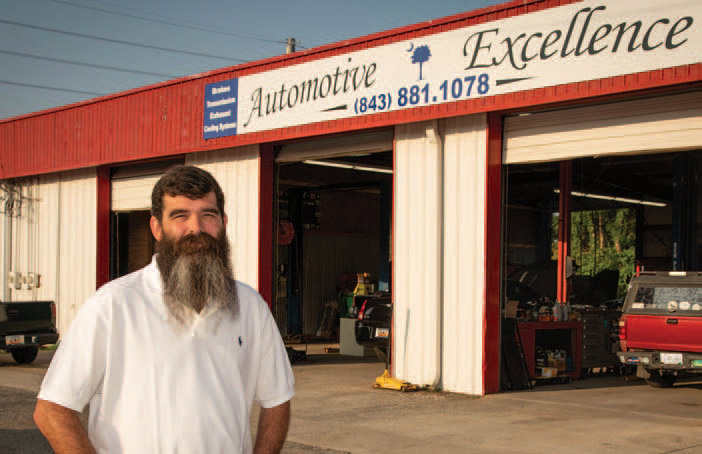 Since 2001, Johnny Page and his wife have used their local business, Automotive Excellence, to provide the people of Mount Pleasant with outstanding automobile service. Recently, Page has expanded the business, opening a second shop in the area.
"When I finished school, I started working for other mechanic shops before I realized there's enough work for everybody, so I decided to try opening my own place," explained Page. "I was convinced we could do it, and we did. If you treat people right, they'll tell everyone."
Page, whose father also owned an automotive shop, began working with cars at an early age and, over several decades, has mastered the art of running a business. Though Page and his wife own the shop, he credits much of their success to the employees.
"I'm lucky enough to have some really standout people working for me," he said.
And he's been able to incorporate his family's knack for mechanics, with both his brother and father helping out around the shop.
"I love working with my family, but my employees don't have to be blood to be family," he stated.
Now Page has started teaching his daughter, Hampton Page, how to run things around the shop in hopes that she'll someday take over the business.
"I'm starting to teach her about the office work, being behind the counter, working with customers and selling service," he said. "It's worked great for almost 20 years, so we're not planning to change a thing. We're just getting ready to bring in the next generation."
With an influx of people moving and traveling to the area, it's important for Mount Pleasant to have professional, trustworthy automotive shops that people can turn to when they're experiencing car trouble or just looking for a great place for routine maintenance.
Page provided tips on how to locate a quality automotive shop and some best practices for caring for your vehicle: "Find a mom-and-pop shop that you trust, and they're going to take care of you. Take your car to them for everything – tire rotation, oil changes, major repairs – because if a shop knows your vehicle and they know you, it's going to be much easier to diagnose any problems," he explained.
Keeping up with regular maintenance is the number one key to caring for your car. If you let minor issues slide or ignore the routine service every car requires, you're going to experience major, expensive issues down the line.
If you're looking for a new shop to bring your car to, be sure your mechanic can explain issues to you in clear language you understand.
Page continued, "If you don't know what you're paying for, you don't need to purchase the service. That usually means they haven't taken enough time with you to explain what you'll be getting, and you need to understand that before paying for a service."
Finding someone who is willing to take the time to explain your car's issue is essential.
"You need to feel like you're more than a number when you walk into a shop," said Page.
Automotive Excellence is located at 1237 Ben Sawyer Blvd. and 1084 Johnnie Dodds Blvd. in Mount Pleasant. To learn more about giving your vehicle the care it deserves, call 843-216-1599 or 843-881-1078.
By Samantha Connors