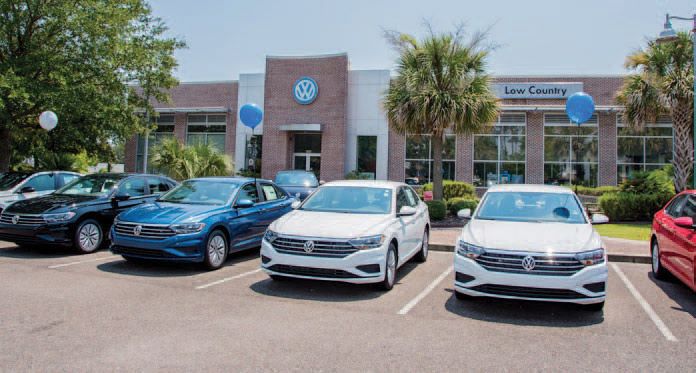 David Zeigler sits in his office at Low Country Volkswagen in Mount Pleasant. On one wall is a framed poster of the classic VW van that powered the surfer generation on the West Coast and later morphed into the beloved "Hippie Van" of the late 1960s and 1970s.
The poster is more than mere nostalgia. Zeigler said it was the result of a conscious effort to rebrand his dealership as a business that fits naturally into the area's culture.
"Where are we?" he asked rhetorically. "In Mount Pleasant – we are at the beach. We wanted to attach our dealerships to that lifestyle, and it has been very effective for us. We have hats and T-shirts with a beach theme. My father-in-law keeps asking me when we are going to bring back the VW van."
Zeigler took over as general manager of Low Country Volkswagen a year-and-a-half ago, and not only has he rebranded the dealership, he has reinvigorated its business culture.
"If there is a hands-on person, I'm it," he said with a smile. "I like to know every detail of the dealership. But my salespeople are also in tune with how we run things, and they let me know when there is an issue if it arises. Most of the time I am aware of the situation before a concerned customer contacts me."
Zeigler's new car dealership has six salespeople, and there are two at a recently opened pre-owned dealership across the street from the main Johnnie Dodds Boulevard location. The dealership also prides itself on its service department.
"The sales staff sells a customer his or her first car, and the service department sells them their second," Zeigler opined. "We have a great service and parts department headed up by a lifelong Mount Pleasant resident, Adam Taylor."
Volkswagen has made a strong move into the SUV marketplace during the past year, which is driving increased sales at Low Country Volkswagen. The Atlas is a top-tier SUV that Zeigler termed "a smash success."
He added: "It's comparable to the Honda Pilot or Chevy Tahoe."
The Tiguan is a bit smaller than the Atlas and has also become a popular model.
"The Tiguan has the performance attributes and size that many people are looking for," said Zeigler.
Also hot is the restyled Jetta, which got its makeover after a number of years of static appearance.
"The Jetta really needed a new look," said Zeigler. "It had been eight years of the same model."
In addition, Volkswagen has upped its game with its newcar warranty, going to a six-year, 72,000-mile guarantee.
"From a resale standpoint, this is crucial," said Zeigler. "The car will hold its value for a longer period of time than the three-year, 36,000-mile warranty that many car companies offer. And it's added peace of mind for the buyer."
All technicalities aside, the reviews for Low Country Volkswagen don't lie: "We are receiving 4.6 stars out of five on average, and that is a tremendous statement on the way we are doing business," concluded Zeigler.
It's also important to note that the dealership was voted "Best of " by Mount Pleasant Magazine readers as the "Best Place to Buy a Car" in 2018.
For more information, visit www.lowcountryvw.com or call 843-202-4383.
By John Torsiello