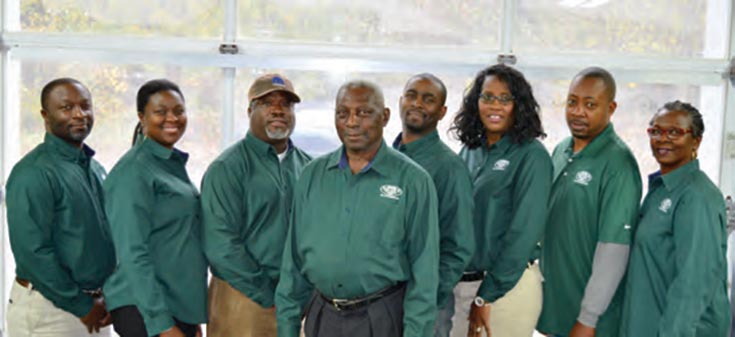 In a town of constant come and go, it's always worth stopping for a moment to celebrate a family-business with staying power, such as those behind the success at Ascue's Auto Body & Paint Shop in Mount Pleasant. Established in 1968 by Timothy Ascue and his brothers, Ascue's is ready to welcome in the new year by celebrating its 50th anniversary serving the Lowcountry.
While the locations may have changed over years – after all, more business requires larger facilities – Ascue's is still family-operated to this day by Craig Ascue, Christi Ascue Kershaw and Tory Ascue. And perhaps "more business" is something of an understatement.
"We're proud to have grown through the years alongside the town of Mount Pleasant. As the town has grown, traffic has certainly increased, and, unfortunately, with that comes more collisions. We're thankful to be the called-upon auto body shop to help those after an accident," Craig explained.
Servicing roughly 100 cars a month, Craig and the team of 13 employees – consisting of parts and production managers, estimators, body work men, painters and detailers – work hard to ensure that the burden of getting into an accident ends when Ascue's enters the picture. Just 10 minutes in the back of the shop with them and you can witness firsthand the incredible work they do fixing everything from minor collisions, dents and scratches to major exterior work and paint matching to get your car, SUV or truck back up and running and looking better than ever.
"Our number one concern is always the customers. We put the customers and the safety of the vehicles first and then deal with the insurance companies second. It's our job to return our customers' cars to them in "pre-accident condition" – if not better, of course," Craig pointed out.
Fifty years in and it's safe to say that they are holding up their end of the deal. Consistently being named one of the top auto body shops in Mount Pleasant, Ascue's has no plans of slowing down.
"We absolutely do want to expand and have future plans in the works, possibly a location across the bridge," Christi teased.
As for now, the staff at Ascue's is committed to continuing to improve their customer service and their skill sets with certifications and ongoing education. In 2018, Craig plans to have every team member OEM (original equipment manufacturer) certified to complement their OEM parts policy already in place. Additionally, Craig, who has taken the reins from his dad as shop manager, continues to provide education and resources for his team through I-Car, the Inter-Industry Conference on Auto Collision Repair.
2018 is a big year for the longstanding auto body shop but likely only the tip of what is yet to come. With the continuously increasing population throughout the Lowcountry, another location will be much appreciated by fans of Ascue's. The company certainly has proven itself in the five decades since originally opening on Schirmer Drive, just off of Chuck Dawley Boulevard. And while little more could possibly be asked of a company dedicated to providing outstanding quality work, untouchable customer service and peace of mind following a stressful situation – if you did, they would answer with a smile and a job exceptionally well done!
To learn more about Ascue's Auto Body & Paint Shop, visit www.ascuesautobody.com or call 843-884-6862.