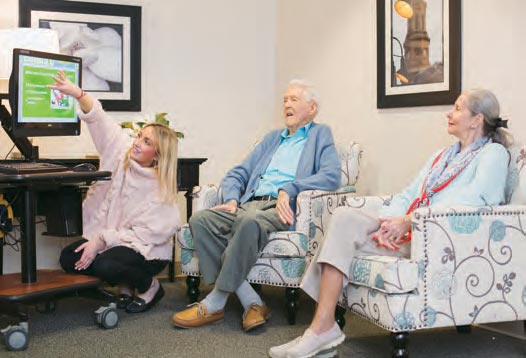 This year, Mount Pleasant Magazine readers once again chose Franke at Seaside as Mount Pleasant's "Best Of " in the category of assisted living facilities. It's a singular honor in light of the many other first-rate facilities available in our town.
Since moving from downtown Charleston to Seaside Farms in 1996, Franke has long-prized its reputation as an upscale retirement community with state-of-the art options for assisted living and extended round-the-clock personal attention and medical care as required.
While Franke always strives to upgrade and improve its physical plant and services that offer resort-style living without the responsibilities of home ownership, an aspect of what its team believes truly sets it apart is somewhat intangible.
Director of Community Outreach Paige Kesler may have put it best when she said, "We really feel that the staff here, the team members, are a big part of what makes Franke at Seaside the best year after year. The team and the residents are all like one family. We like to call this "The Franke difference."
Kesler noted that many of Franke's team members have been employed there for 10 years or more and "that's something you don't see very often" because turnover of personnel in assisted living facilities is generally very high.
She said that "Our team is really here for one another, for our residents and for our residents' family members, too."
Team members are often invited to attend functions such as birthday parties, anniversaries and other milestones honoring residents.
Echoing Kesler's observations is 18-year Franke veteran Anita Simmons, CNA: "Working with the team and residents at Franke is like being with family. We all laugh together, cry together and enjoy life together every day."
Tracy Jenkins, CNA, who has been at Franke for a decade, agreed that "We give outstanding care, of course, but coming to work at Franke is not just a job; it's like coming home."
Paris Goldston, LPN, MHA, director of Assisted Living, also known as The Harbor, herself a Franke team member since 2006, added, "Our administration, leadership and entire team are consistently focused on creating the best world possible for our residents, and we feel honored to be a part of that world.
"Our team members work to create meaningful experiences and a true home for our residents. When you walk into The Harbor, you might be greeted with the aroma of fresh, homemade pie or with a display of photos of our residents taken on their trips to Sullivan's Island, a theatrical play downtown or a picnic under the canopied branches of the ancient, iconic Angel Oak."
For many, life at Franke at Seaside is characterized by gourmet dining, a multitude of structured activities and frequent first class concerts, shows and other entertainment options.
Those aspects of life at Franke are a significant part of what makes it a perennial "Best Of " choice. But to Franke team members and residents alike, what strikes the most responsive chord is that ineffable quality they all call "family."
To learn more, visit www.frankeatseaside.org or call 843-216-2222.