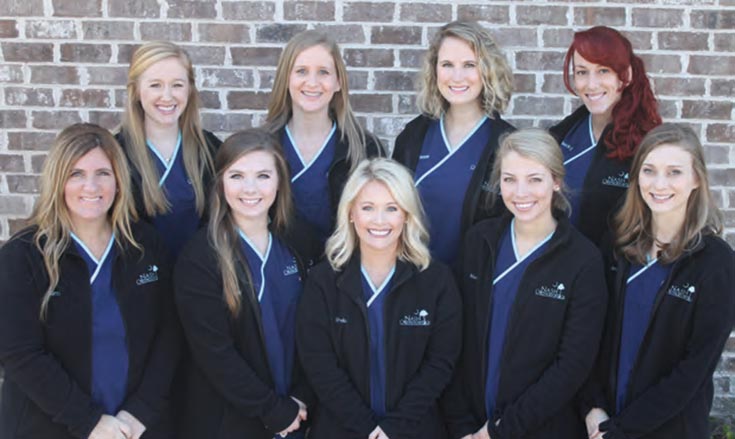 For the sixth year in a row,
Mount Pleasant Magazine
readers are all smiles about Nash Orthodontics. Whether it's you or your child who needs those pearly whites straightened, Dr. Nash and his team's commitment to high-quality orthodontic care and their desire to make an otherwise-dreaded treatment a fun experience is why patients love the practice.
"My team and I believe if you have to visit a medical office regularly, it should be a welcoming, comfortable environment where you feel at home," said Dr. Travis Nash. "We've created a practice that we'd want to visit: full of laughter and smiles! We always have a fun contest going on, great video games in our reception area and oatmeal cream pies that are a definite highlight."
Everyone at Nash Orthodontics makes a point to get to know the patients on a personal level
Nash Orthodontics treats a variety of orthodontic issues, from overcrowding, open bite, under bites, overbites and more, with either traditional braces or Invisalign treatments. For Dr. Nash and his staff, their work is much more than correcting alignments; they are dedicated to changing each patient's life by improving their smile.
"It's rewarding to watch each person's confidence grow and their personality blossom as they move through treatment," he smiled. "Seeing a person go from feeling ashamed of their teeth and uncomfortable around others to being someone who radiates confidence and happily engages with others is an incredible experience."
Everyone at Nash Orthodontics makes a point to get to know the patients on a personal level, building relationships over treatments. Patients aren't just a number on a chart or the "next set of teeth" in the chair, and because many patients are required to come in several times over the course of treatment, the entire staff gets to know you as a friend.
"We really do love our patients. They become part of our orthodontic family. Building lasting, individualized relationships is a top priority to us, and it's important that our patients feel at home while in the office," Dr. Nash continued. "Our staff goes above and beyond to ensure that each patient enjoys their time in treatment. Whether it's a candy bar for wearing their Nash T-shirt, time playing video games, a cup of hot chocolate, coloring a picture or simply a quiet moment reading a magazine, we do our best to create a fun environment for our patients."
Going a step further, Dr. Nash and his staff are dedicated to giving back to the community they serve. He believes that one of the best ways to be a positive influence is to help local students and teachers. The Nash team offers their time and collaborates on helping schools and teachers with anything from career days to Children's Dental Health Month and more.
"We feel fortunate to serve a wonderful community. Our patients are kind, fun people who bring a lot of excitement and happiness to our practice. I'm so lucky because I get to help them improve their dental health and build their confidence with improved smiles every day," Dr. Nash said.
Your smile is how you greet the world. If you're ready to improve yours, visit Nash Orthodontics at NashOrthodontics.com to learn more or to make an appointment.