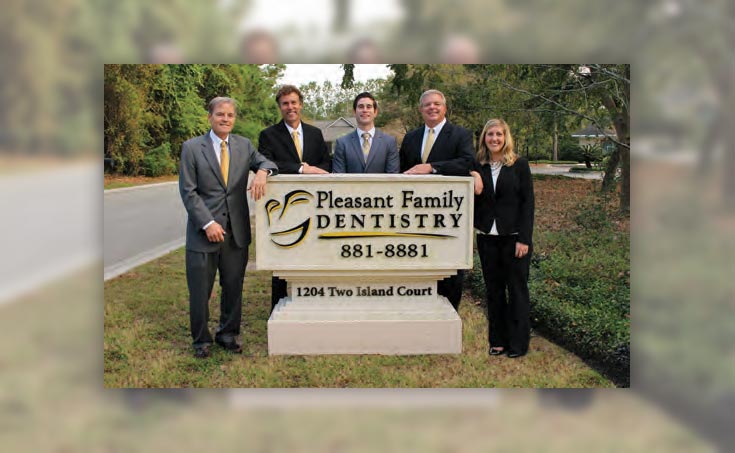 In 1989, Pleasant Family Dentistry was founded by Drs. Richard Jackowski and Gregory Johnson, with a vision of providing the East Cooper community with optimum oral health care. Today, five dentists and a very knowledgeable staff follow this vision and have established Pleasant Family Dentistry as a leader in the dental industry.
"I would like to thank the readers of Mount Pleasant Magazine and our patients for voting for us under the category of best Mount Pleasant dentist six years in a row," said Dr. Jackowski. "At Pleasant Family Dentistry, we strive to serve the patient, and we are continually evaluating our performance through the feedback we receive from our patients. We have big plans for 2018 which will enable us to offer even more services to our patients."
The services provided at Pleasant Family Dentistry are extensive, which gives patients the convenience of meeting all their oral health care needs in one place. Pleasant Family Dentistry welcomes the whole family, from pediatric to geriatric patients. They are even open evenings and weekends, making it easier than ever to build the confident smile you've dreamed of. Further, the team consisting of hygienists, assistants, dentists and an orthodontist can handle all forms of oral surgery, sedation, orthodontics, implants, veneers, implants, whitening and same-day crowns, all on-site.
Sedation dentistry is ideal for patients who have a high level of fear or anxiety, have suffered past traumatic dental experiences or have difficulty in getting numb. Patients being cared for at Pleasant Family Dentistry have the option of nitrous oxide, oral sedation or IV sedation to make their experience as pleasant as possible.
Patients in need of orthodontics do not need to go elsewhere as they can also be treated on-site. Metal braces, ceramic braces or invisible braces are all viable options, as are expanders, positioners or retainers.
Patients such as Jamie have recently experienced firsthand what it is like to become a new patient at Pleasant Family Dentistry: "Very friendly staff. Easy online scheduling and more modern equipment than I had seen before. My hygienist was very careful to tell me what would happen, make sure I wasn't feeling any discomfort and seemed extremely competent and confident."
An established patient had this to say: "They've helped my family with everything from major dental procedures all the way down to patiently showing my kids how to properly hold and angle their toothbrushes and floss." These positive testimonials are why Pleasant Family Dentistry has repeatedly been voted the best by the readers of Mount Pleasant Magazine.
From helping build homes with Habitat for Humanity, sponsoring Toys for Tots and hosting a free day of dentistry for those in need, Pleasant Family Dentistry's community involvement is unmatched.
"Thank you to all of the readers for voting Pleasant Family Dentistry the best dentist in Mount Pleasant," said Dr. Johnson. "I am truly overwhelmed. I thought that lightning doesn't strike in the same place, but the honor of receiving this award for six years in a row is even more humbling. I would like to thank my awesome, caring and professional staff, who deserve all the credit. Our doctors, hygienists and support teams are always working hard to provide the best customer service possible, and this award is proof that their efforts have paid off."
Pleasant Family Dentistry is located just off the Isle of Palms Connector. To schedule your appointment, visit www.PleasantFamilyDentistry.com or call 843-881-8881.
MORE ABOUT PLEASANT FAMILY DENTISTRY