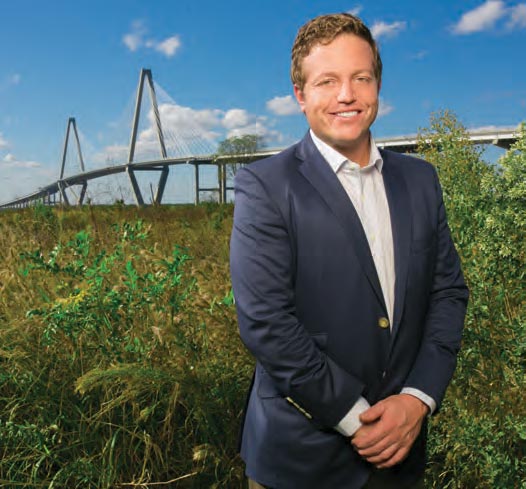 With 48 people moving to the Lowcountry every single day, there is simply no shortage of applicants vying for a mortgage to begin the process of buying their dream home. While there are more than a few handfuls of mortgage companies from which to choose, the readers of Mount Pleasant Magazine clearly have made their choice, deeming Wes Sellew and his team at Mortgage Network as the cream of the crop – four years in a row, no less.
In his role as branch manager and producing loan originator, Sellew considers it his honor to help everyone from first-time buyers to those relocating to the area make a seamless transition from start to finish. For this reason and many more, Sellew has humbly brought home the title of best loan officer for four consecutive years. Married with two sons – ages 7 and 4 – Sellew moved here from Hilton Head in 2005 but has relished in his experiences with Mortgage Network for over 16 years. In between helping client's dreams come true, he enjoys playing golf, being active and cooking.
It's more than just working on his golf swing, though. As a coach and board member, Sellew works with the incredible charity, the First Tee of Greater Charleston, to teach lessons to kids through the game of golf. Through eight-week camps in the spring, summer and fall, youngsters throughout the Charleston area are coached on nine core values connected to their experiences and time on the course.
To continue this powerful movement and help raise money for the First Tee program, Sellew and two friends started their own annual event back in 2015, the Boss of the Toss Backyard Olympics, which allows participants to enjoy outdoor activities such as corn hole, bocce and Kan Jam, all with the mission to raise money for local charities. This year's event will be held April 28, with lofty goals to exceed last year's donation amount, a staggering $18,000.
As for Mortgage Network – the recipient of best place to get a mortgage," according to Mount Pleasant Magazine readers – they understand that putting the client first every time results in success for everyone involved. With over 300 loans written in 2017 alone, Mortgage Network works with clients at every level, helping them understand their financial and credit standings from the very beginning.
Due to rising rates, the 30-year fixed loan tends to be the current trend; however with an ever-changing market, it's important to get all the facts before making a decision.
"As soon as you decide to start house hunting, come to us for what we call a 'loan interview' that can help you to determine where you stand, without the fear of a financial commitment or contract," Sellew suggested.
It's clear to those throughout the Mount Pleasant area that Wes Sellew and his capable team at Mortgage Network are more than just another name on your mortgage bill. Instead, they take time to invest back in the community they love and truly care about clients who walk through their office door ready for the next step in their home-ownership journey.
To learn more, visit www.mortgagenetwork.com.