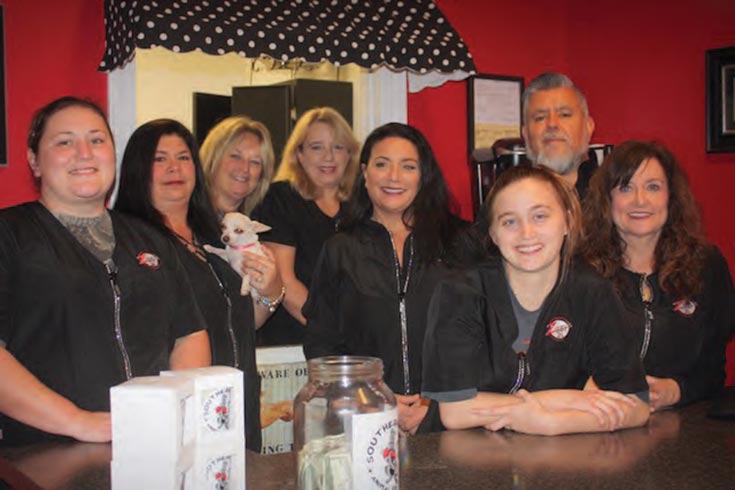 Exciting things are happening at Ziggy's Dog Parlor – your choice for this year's best groomer in Mount Pleasant. Known for their extensive list of luxury grooming and boarding options, Ziggy's was opened in June of 2013 by longtime animal lover Kristin Villa. After more than 20 years in accounting, she decided to pursue her true passions and untapped skills: "I knew I wanted to make dogs my full-time life, so I left the corporate world to learn how to groom." She hasn't looked back since.
Ziggy's offers every grooming option necessary to step up your dog's hygiene to a new level, including bathing, ear cleaning, nail trims, deep coat conditioning, paw moisturizing and flea and tick therapy. Essential to providing quality service, Kristin said that running a reputable grooming company comes from valuing the principles of transparency and honesty. Ziggy's is all about the dogs.
"I don't just see a dog when I look in their eyes. I see their soul. It's more than just taking a dog in and fixing it up to look 'pretty.' We focus on their overall well-being and aim to make them comfortable over vanity every time."
Kristin, who runs Ziggy's with her husband Sergio, a military veteran, feels that their staff, comprised of four kennel technicians, three full-time groomers, two bathers and an office manager, is what keeps bringing clients back time after time.
"We are all like family, and our customers are an extension of that family. We share the same values, passions and bonds over animals, helping to establish great relationships with the owners so that they feel comfortable leaving their dogs with us. We're proud that we can say we know all of their names – owners and dogs alike."
Adding to the fun in 2018 will be the expansion of the 14 current boarding suites and condos at Ziggy's. With 12 more suites in the works, clients can board their furry friends overnight or long-term while vacationing or away on business. And they don't take the word "luxury" lightly, either; every suite or condo – ranging from 20 to 30 square feet in size – consists of TVs and cushy cots. There's also a large outdoor play area, an 8-foot privacy fence and artificial turf in the common areas.
Kristin is adamant about ensuring a quality time for the dogs during their stay.
"We know how hard it can be for owners to leave their dogs, so we keep kennel staff with the dogs at all times to be able to rotate their playing time continuously. We don't want them to be simply stuck in a room without interaction the whole time. It's our job to meet people's requests, but the dogs are always top of the mind," she said.
Finally, Ziggy's is proud to take their love of all animals one-step farther, partnering with their office manager, Debbie McLawhorn, to start the charity rescue organization Southern Paws Animal Rescue. Through this service, Ziggy's reserves roughly 25 percent of its kennel space at all times to foster dogs who are brought in. When they are adopted, all dogs are neutered or spayed, given a complimentary grooming session, and, more than likely, a delicious doggy treat or two.
To learn more, visit www.ziggysdogparlor.com or call 843-388-3422.