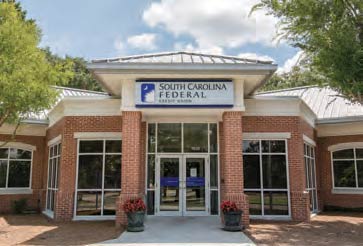 Most people have no idea what a credit union is. South Carolina Federal Credit Union wants you to know you are welcome to bank with them, and no special affiliation, like military experience or being in a certain profession, is required. You can apply online or in person.
As a not-for-profit financial cooperative, South Carolina Federal Credit Union exists to serve its members. Being a member-held cooperative means each member has equal ownership. Unlike traditional banks and other financial institutions, credit unions do not issue stock or pay dividends to outside stockholders. Instead, earnings are returned to the members in the form of lower loan rates and service fees and higher interest rates on deposits. Each credit union is governed by a board of directors, elected by and from the credit union's membership. A big positive for many members is that all board members serve voluntarily – there are no exorbitant salaries or compensation packages.
South Carolina Federal Credit Union has been serving South Carolinians since 1936. The employees deeply value their roles as financial experts, leaders and neighbors within our communities. Throughout Charleston, Columbia, Georgetown and Florence, they are invested and committed to advancing financial education efforts and giving back to meet the fundamental needs of our region.
South Carolina Federal Credit Union does not stop at offering reasonable rates on loans. This year, its eighth annual South Carolina Federal scholarship competition will offer $50,000 in awards for local students interested in attending traditional university or technical school programs in South Carolina. The deadline to apply is Feb. 22, 2018. More details, including eligibility requirements, are posted at scfederal.org/scholarship.
South Carolina Federal Credit Union is a one-stop shop for its members' financial needs. It offers numerous programs, including access to insurance and investment solutions. Members can phone their local branch or arrange an appointment online to meet with a fully-licensed representative.
"Less Time Banking, More Time Living" is not just a cute slogan at South Carolina Federal Credit Union but is instead a firm commitment to its membership. The credit union's personal relationship with each member is of utmost importance, and their specialists will establish a plan that is as individual as each member's financial planning requirements. South Carolina Federal Credit Union also offers a new by-appointment-only Solutions Center on Daniel Island, located at 211 River Landing Drive, Suite C, which is perfect for more complex mortgage, investment or insurance needs.
Connect with South Carolina Federal Credit Union for products, services and financial literacy. More than 165,000 people and $1.6 billion strong, the member-owned cooperative operates 20 offices in four major markets: Charleston, Columbia, Georgetown and Florence-Darlington. Over 55,000 surcharge-free ATMs are available worldwide through the Allpoint Network. As a federally-chartered credit union, organized under strict regulatory laws, South Carolina Federal Credit Union's operations are monitored and enforced by the National Credit Union Administration. Member deposits are insured up to $250,000 by the National Credit Union Share Insurance Fund.
South Carolina Federal Credit Union encourages you to find out for yourself why they were voted the best in Mount Pleasant. Drop by one of two locations – 910 Houston Northcutt Blvd. or 1620 Highway 17 North – call 843-797-8300 or explore www.scfederal.org.
By Ginger Sottile.
Photo by Chris and Cami Photography.