Summer is almost here, and this balmy season promises a live music lineup as hot as the sweltering temps headed our way. With a variety of acts coming to venues across the Lowcountry, you can definitely count on getting your jam on – and on again. From multi-day festivals to intimate shows, the array of performers taking to the stage is sure to hold your interest and make your head nod. Prepare to be seduced by bass lines and revitalized one drumbeat at a time. Whether you crave classic rock with a side of country twang or conscious hip-hop teeming with soul, Charleston's summer concert schedule is sure to satisfy.
Riverfront Park
Trondossa Music & Arts Festival – May 5 & 6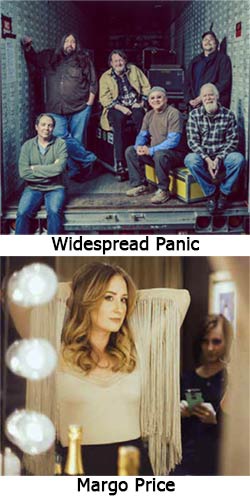 Touted as one of the most highly-anticipated new fests in the Southeast, Trondossa is headlined by jam band giant Widespread Panic. With a career that spans over three decades, these Southern rockers are known for their high-energy, sold-out shows – each mind-altering gig proving different from the last. In early May, they will be joined by country's anti-star, Sturgill Simpson, known for his no-holds-barred tunes and outlaw attitude. Margo Price, a songstress whose tracks are just as gritty as they are graceful, is also on the lineup. Reminiscent of Waylon Jennings and Loretta Lynn, Price's vibe is contagious. Calling back to a time when country wasn't glossed up with pop, she's known for her fiercely honest performances dripping in a whole lot of rodeo edge. Come see this rhinestone cowgirl belt it out with the best of 'em. Moon Taxi, Big Something and Hiss Golden Messenger are also scheduled to perform over the two days.
Rebelution and Stephen Marley – June 28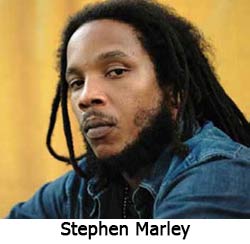 When a Marley is on the marquee, you know you are in for some authentic tunes blazing with Rasta power. There's no doubt breezes wafting off the harbor will add greatly to the soul rebel magic happening on stage.
Slightly Stoopid, Stick Figure and Pepper – July 20
If ever there was a soundtrack to summer, these three provide it. Each band serves up surf songs, with a distinct reggae twist, that go down smoother than frosty Pain Killers.
The Grove at Patriots Point
Umphrey's McGee with Perpetual Groove – May 31
Undeniable heavy hitters on the jam band scene, these two go together like organic almond butter and blackberry jelly. Serving crowds an improvisational feast of crescendoing chord progression, jazz, funk and even a sprinkling of metal, these two always deliver. Come see them in a venue that offers slightly more scenery and greenery than the average bar, club or arena.
Volvo Car Stadium
Tedeschi Trucks Band – July 1
With roaring whiskey-honey vocals that have the ability to stop you in your tracks, Susan Tedeschi proves she is all woman and equal parts powerhouse. Backed by a band whose musicianship breaks all bounds, a Tedeschi Trucks gig is one guaranteed to shake you to your core.
The awesomeness continues with the stellar news that progressive Southern rockers Drive-By Truckers and beloved psychedelic rockers The Marcus King Band will also be joining this talented tribe for a night of unrelenting soundscapes.
Boy George & Culture Club, The B-52s and The Thompson Twins – July 20
It's always said that good things come in threes, and we can't think of a better trio that truly epitomizes a decade of parachute pants quite like this one. Come see these '80s icons in all their neon eye-shadow glory. Grab your Aqua Net and witness this trifecta as you sing along to "Karma Chameleon," "Love Shack" and "Hold Me Now."
Jason Mraz – Aug. 15
With hits like "You and I," "I'm Yours" and my personal old-school favorite, "The Remedy," Mraz has gained a loyal following addicted to his clean-living variety of singer-songwriter rock. From lending his voice to charitable causes like the AIDS Foundation and the Special Olympics, this performer is certainly walking the walk. Check out this vegan humanitarian live for a show guaranteed to make you feel Lucky.
The Windjammer
Keller Williams – June 22
Catch this one-man band for an explosive night of looping, plucking and beat-boxing.
JJ Grey & Mofro – June 28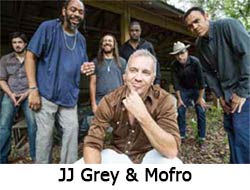 Hailing from Jacksonville, Florida, these boys know how to keep audiences entranced with their muddy brand of wailing harmonicas and spine-tingling steel guitar. Few men can sing about the love they have for their granny's hoe cakes and make it sound cool, but frontman JJ manages to do just that.
The Charleston Pour House
Hans Wenzel & The Eighty Sixers – Lost and Lawless: A Tribute to Chris Cornell – June 8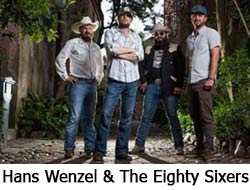 The music world was hit hard with the passing of Chris Cornell in May 2017. The distinct-voiced singer of Soundgarden and Audioslave is now getting a very special tribute from a local fav. Hans Wenzel & The Eighty Sixers, known for their gruff, rock-heavy country sound, will be joined by other local musicians as they honor this grunge pioneer. The homage will be followed by a full original set by Hans Wenzel & The Eighty Sixers. With the powerful pipes of frontman Hans, and the top-notch musicianship of the rest of the members, you know the homage to Cornell is guaranteed to be on point and the after set one not to be missed.
North Charleston Performing Arts Center
James Taylor and Bonnie Raitt – May 15
He's the man responsible for "Fire & Rain" and all we can say is that we're pleased he's going to Carolina. She's the red-haired bluesy vixen who has earned 10 Grammys throughout her nearly 50 years in the game. This collab will no doubt be something to talk about.
Charleston Music Hall
The Music of Wes Anderson – June 2
This film director is known for crafting unusual cinematic stories whose characters offer up just the right amount of quirk and charisma. The soundtracks of each silver-screen gem prove to be just as memorable. Charleston musicians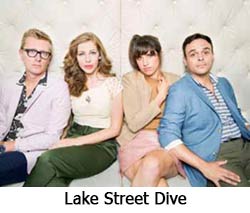 will play classics covers of The Velvet Underground, Cat Stevens, David Bowie, The Kinks and many more in a night filled with songs from movies you have no problem quoting.
Lake Street Dive – July 10
This talented quartet, formed while they were students at the New England Conservatory, have gone from playing dark underground basement shows to selling out Radio City Music Hall. Locomotive vocals by lead singer Rachael Price are like that of a polished Janis Joplin, tinged with notes of Aretha and of the late Amy Winehouse.
By Kalene McCort