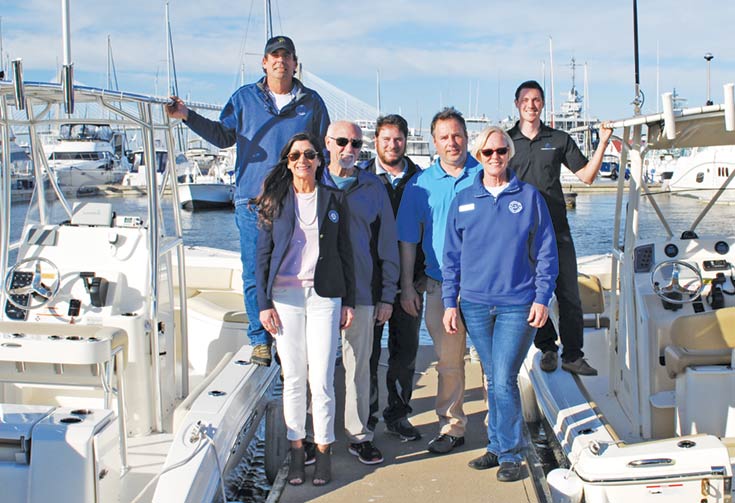 If you live in the Lowcountry and don't own a boat, you've probably at least considered buying one. Your dreams of floating peacefully down a tranquil river, challenging the ocean waves or spending an afternoon fishing in a fertile creek can quickly become nightmares. When you think about what goes along with boat ownership – maintenance, insurance, dock fees, finding a place to keep your boat and, of course, cleaning the boat each time you use it – that nightmare can become reality.
There is an alternative, a hassle-free way to enjoy all the advantages of boating without dealing with the downside of ownership. Freedom Boat Club has been making dreams come true for its members since 1989. Founded in Sarasota, Florida, the organization has six locations along the Carolina Coast, with two in the Charleston area, at Bohicket Marina on Johns Island and the Charleston Harbor Resort & Marina in Mount Pleasant.
"You pay a one-time membership fee and monthly dues, and you have access to a whole fleet of boats," said Chris Speckman, one of the owners of the six locations. "You make a reservation, show up on the dock, enjoy your day, then toss us the keys and head home."
Boater safety is a key component of the FBC model. Each member completes a safety course that consists of an hour in the classroom and two to four hours on the water. Training is unlimited and included with the membership.
The other four owners of the six coastal Carolina Freedom Boat Clubs are Paul Speckman; Jen and Pat Haugen; and John Giglio, president and chief executive officer of the entire company, which has more than 140 locations in 26 states and Canada.
The six clubs within striking distance of Charleston have around 500 members who have the choice of using more than 50 boats year-round. Growth has been rapid in the two Charleston-area locations, where members can reserve any of 12 boats in Mount Pleasant and another four on Seabrook Island, with 10 to 12 boats expected to be added this year. Members can use boats when they're out of town at any of the company's nationwide locations.
Freedom Boat Club offers more than just boating.
"It's a social club as well," Speckman said. "We have get-togethers and boat trips and a fishing club, where we bring in fishing captains to present seminars."
He added that Freedom Boating Divas, which empowers women to be boating captains, is also an important part of his business.
Jen Haugen added that Freedom Boat Club plays a vital role in the community, helping Habitat for Humanity build homes, holding boating events for kids in the Big Brothers and Big Sisters programs and organizing a monthly boating outing for the residents of Healing Farms.
Freedom Boat Club member Henry Hardy, a longtime Folly Beach resident who recently moved to Mount Pleasant, is pleased with the service he's received from the organization. In fact, he traded his boat in exchange for membership fees and dues.
"The one time I had trouble with a boat, they got me another one right away. I got off one boat and into another and enjoyed the rest of the day," he said. "And this was the first January I didn't have to pay taxes on a boat and a motor."
To learn more, visit www.FreedomBoatClub.com or call 855-GO-BOATN.
By Brian Sherman