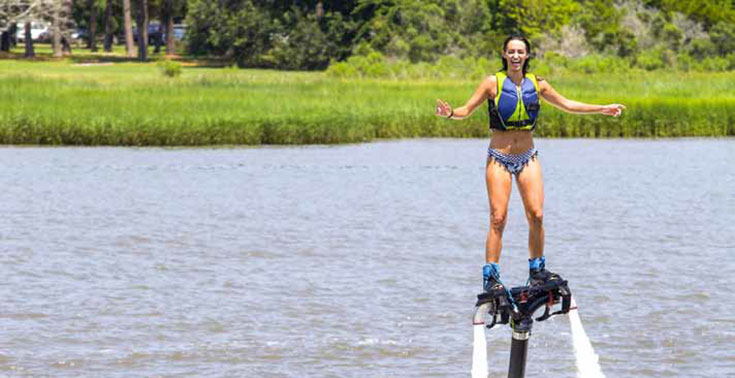 Blast Off, Up and Into Summer
It's a bird. It's a plane. It's your friend catapulting 35 feet above the Charleston Harbor. When wakeboarding, waterskiing and parasailing just do not cut it, Flyboarding will most certainly quench the thirst of adrenaline junkies and those looking to experience a different sort of day on the water.
Want to amp up your weekend plans? Hydrofly is the only Charleston-area company offering this epic new sport. A few years back, Sam Pannier, co-owner of Hydrofly Watersports, stumbled across a YouTube video of the fairly unknown activity, and the rest is history. Possessing an entrepreneurial spirit and an unrelenting passion for watersports, he's built a booming business attracting a steady stream of visitors and locals wanting to experience the action-packed excitement for themselves.
"Taking flight as a ground-based mammal turns out to be a fairly euphoric sensation for most," said Pannier. "People who are trying it for the first time generally freak out. Not only are you literally flying, but you also are controlling every turn, movement and direction you go. It's the closest to Iron Man you can ever become."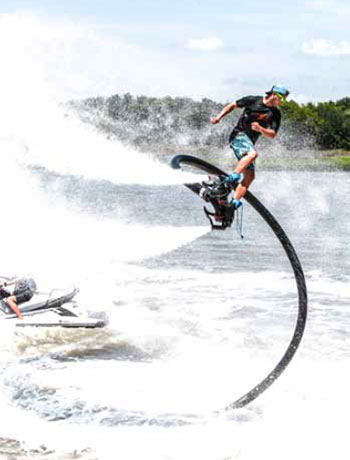 Invented by Frank Zapata, a French watercraft rider, in 2012, Flyboarding is quickly catching on as a pastime loved by many. Folks' feet are strapped into boots, much like a snowboard, while pressurized streams of water from a 50-foot hose connected to a jet ski propel them into the air. Participants get a natural high, while mirroring the moves of agile dolphins and cape-clad super heroes.
"The most obvious, unique aspect from other watersports is the ability of sustained flight," said Pannier.
"While you can get pretty high kiteboarding, you eventually have to come back down. On the Flyboard, you can hang out 35 feet in the air all day, as long as you have gas in the jet ski."
Another major appeal of this innovative sport comes with the fact that newbies can pick it up within a matter of minutes. No long, intensive practice sessions are required.
"A less-recognizable, standout feature would be the incredibly short learning curve," said Pannier. "If you try to learn how to wakeboard, surf or kiteboard, you are going to spend hours, if not days, learning the basics. For sure, there will be countless painful sessions to just stand up on a wave or make a successful tack on the kiteboard. Most of our first-time flyers are up and flying within five to 10 minutes."
Those who don't consider themselves particularly athletic seem to take to the sport rather quickly.
"The basics are so much easier to master, and that's because there are not a million things to think about," said Pannier. "Just stand straight and try not to move too much. I don't mean to downplay how incredible of a sport it is by saying it's easy to learn. The pros are doing quadruple backflips from 40 feet in the air. It's awesome to see just how much people have pushed the limits in the past six years."
As if the lure of getting airborne under the Lowcountry sun wasn't incentive enough to give Flyboarding a try, Hydrofly takes it to another level with a picturesque oasis in the form of a floating tiki hut. Set on the Bristol Marina in downtown Charleston, this two-level sanctuary provides a place for your crew to gather in between taking to the sky. Coolers for food and beverages and hammocks for swaying await. Wade in the water by lounging on a nearby oversized float. When the sun dips and splashes the sky in electric pastels, tiki torches are lit up, creating an unmatched ambience. Parties of up to 24 guests can congregate on the floating island, and some packages even boast a complimentary 24-pack of Corona.
"It provides them an awesome venue to hang out and party on while they wait their turn to Flyboard," said Pannier. "We realized pretty early on that while flying is awesome, most people prefer to just hang out and drink beer on the water. The tiki hut is the best place in Charleston to do that."
Flyboarding also offers a view one simply doesn't get by waterskiing. City skylines and tree-spotted, marshy riverbanks take on a new, much-appreciated, appearance when you're viewing them from cloud level. The same oneness and Zen found with surfing comes from Flyboarding, yet no predawn paddle outs and wave catching are required.
Whether you're seeking a different way to celebrate a job promotion or ring in a birthday or you want to bring your team-build to another tier, Hydrofly is the answer. Skip the crowds of downtown and forgo a booze-filled cocktail hour for an epic adventure set in the gleaming waterways of the Lowcountry.
From first-time flyers to repeat customers, Hydrofly encourages all to book an expedition this summer. With the second-closest Flyboarding company being in Myrtle Beach, Hydrofly is a frequent stop for bachelorettes wanting an alternative to bar hopping and couples seeking nontraditional anniversary celebrations.
"The most rewarding aspect of running this business is seeing how stoked people get," said Pannier. "Whether people are just hanging out on the tiki hut or flying in the air, they always have a great time. It's pretty cool being someone's highlight during their visit to Charleston."
Ready to catch air? To learn more about this novel sport and other activities, visit www.hydroflynow.com.
By Kalene McCort