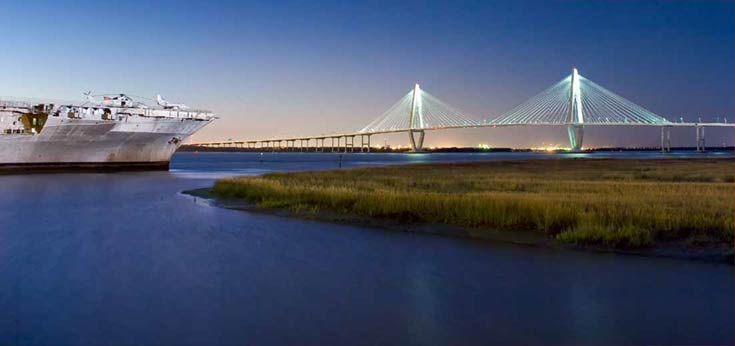 Most of us would like to hop on a plane to Paris or take a cross-country road trip out West this summer, but finances and work schedules don't always cooperate with our wishes.
If you can't make your travel dreams a reality, and life demands that you remain in town, you can still find plenty of engaging "staycation" activities East of the Cooper and have lots of fun with your family and friends.
Patriots Point-USS Yorktown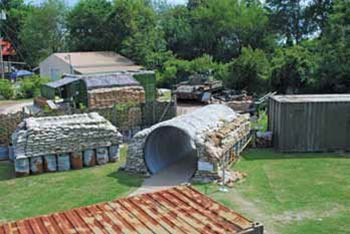 Home to more than 28 different aircraft and three historic warships, including the USS Yorktown, USS Laffey and USS Clamagore, Patriots Point is a must-see naval and maritime museum providing a stirring tribute to our nation's brave servicemen and women.
It offers the only Vietnam Experience exhibit in the United States, which, together with the USS Laffey Combat Information Center Experience, the USS Yorktown Engine Room and the Apollo 8 Experience, incorporate technology such as holograms and surround sound to bring history to life.
Patriots Point is a truly authentic experience, as nearly all of its volunteers and docents are veterans – a few even served in World War II and are happy to talk to visitors about their memories. Patriots Point is open seven days a week, and all of the museum exhibits are included in the price of admission.
Come discover this local gem that TripAdvisor has named the No. 1 attraction in Mount Pleasant.
More information: www.patriotspoint.org/ or 843-884-2727.
Boone Hall Plantation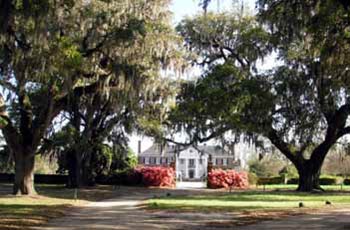 Experience the gorgeous tree-lined canopy of Boone Hall Plantation, where stately oaks drip with Spanish moss that hangs like gray beards.
Open to the public since 1956, Boone Hall Plantation was originally founded in 1681 by British Major John Boone.
The cultural site offers a variety of activities, including guided house tours of the mansion (circa 1936), live presentations on the distinctive Gullah culture adopted by African slaves, a self-guided Black History in America Exhibit, a garden tour and much more.
Boone Hall is also one of America's oldest working farms, with crops continuously grown here for more than three centuries. You probably know them best for their delectable strawberries, but they also grow tomatoes, peaches and other produce.
More information: http://www.boonehallplantation.com/ or 843-884-4371.
Splash Island Water Park at Palmetto Islands County Park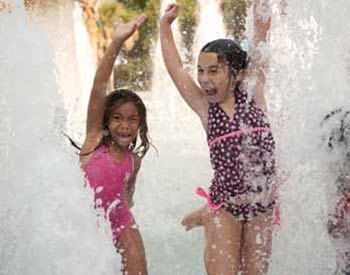 Take the kids to Splash Island Water Park for a fun day of water play, and beat that intense summer heat.
Tucked deep within the tropical marsh vegetation of Palmetto Islands County Park, this seasonal water attraction features a 200-foot body flume, a 16-foot otter slide and sprays, geysers and raindrop waterfalls. Prices are reasonable, and lifeguards are on duty, plus they offer concessions, restrooms, showers and a changing area, locker rooms and lounge-chair rentals for your convenience.
Designate time to explore the rest of the 943-acre park, and take advantage of paved walking and biking trails, a 50-foot observation tower, a Big Toy Playground featuring a mini climbing wall, Nature Island, a tidal fishing and crabbing dock, a kayak launch, paddleboating and bike rentals, a picnic site with tables and grills and many more recreational activities.
More information: www.ccprc.com/69/Palmetto-Islands-County-Park or 843-406-6950.
Fort Moultrie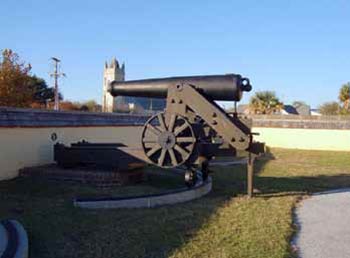 We probably don't need to remind you about the beaches in your backyard, but maybe you didn't know about the fascinating history awaiting you at Fort Moultrie on Sullivan's Island.
Learn the remarkable true story behind how Colonial defenders of a partially completed Fort Moultrie managed to repel a British invasion during the Revolutionary War in 1776 and save the city from occupation – and how this feat connects to the origins of one of the symbols on South Carolina's state flag.
Fort Moultrie is also the burial site of the intrepid Seminole warrior Chief Osceola, one of the Native American resistance leaders who fought the U.S. Army's efforts to relocate the Seminole tribe out West. He died here while a prisoner of the Army in 1838.
The site offers self-guided walking tours and wayside exhibits, and, since the fortifications are located along the beach, there is always the chance for some bonus wildlife viewing.
More information: www.nps.gov/fosu/learn/historyculture/fort_moultrie.htm or 843-883-3123.
Mount Pleasant Memorial Waterfront Park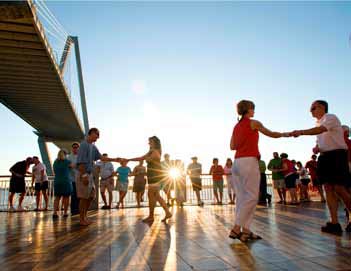 Situated at the foot of the Ravenel Bridge, Mount Pleasant Memorial Waterfront Park features a 1,250-footlong pier extending out into Charleston Harbor and a large nautical-themed children's playground. It offers exciting family-friendly events throughout the summer, such as the dancing and music series "Shaggin' on the Cooper."
Eat a picnic on the lawn, or lounge on the pier and watch the boats go by. Indulge your sweet tooth and grab a soft-serve ice cream from the River Watch Café.
And maybe while you're there, you might feel the urge to jog or walk the pedestrian route of our beautiful bridge and burn off some of those calories.
More information: www.tompsc.com/Facilities/Facility/Details/35 or 843-884-8517.
Shem Creek Park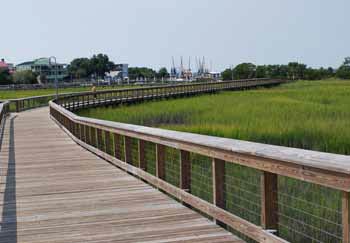 With a winding series of boardwalks meandering out into its eponymous waterway, Shem Creek Park is a nice place to post up and cast or watch pelicans roost and dolphins frolic. Arrive near dusk to enjoy spectacular sunsets and drink in the views. Should you grow thirsty or hungry while you're there, or the fish aren't biting, an abundance of waterside bar and dining options are just a short saunter away.
More information: www.tompsc.com or 843-884-8517.
Charter Fishing Trips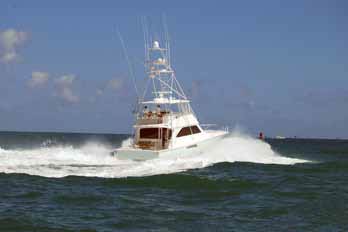 Steady your sea legs and book a charter fishing excursion with one of the many experienced licensed outfitters located on Shem Creek or at Isle of Palms. Offshore and deep-sea fishing trips are available to suit everyone from novice to veteran.
If fishing isn't your bag, you can always rent out a paddleboard or Jet Ski and explore the local waterways up close and personal.
Charles Pinckney National Historic Site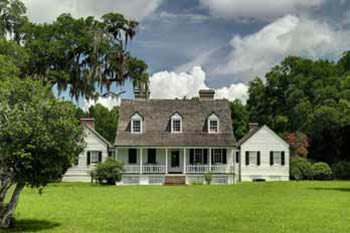 Just off Long Point Road, across from Boone Hall, is a lesser-known piece of interesting local history. Charles Pinckney National Historic Site preserves a 28-acre remnant of Pinckney's original 715-acre, 18th Century Snee Farm Plantation.
The site tells the story of Pinckney, one of the principal authors and signers of the U.S. Constitution and a Founding Father, and the lives of the enslaved blacks who grew the rice and indigo that helped him amass a fortune.
Educational opportunities abound, including a halfmile walking trail with exhibits, agricultural history and a visitor center and museum situated in a circa 1828 Lowcountry farmhouse.
More information: www.nps.gov/chpi/index.htm or 843- 881-5516.
By Colin McCandless