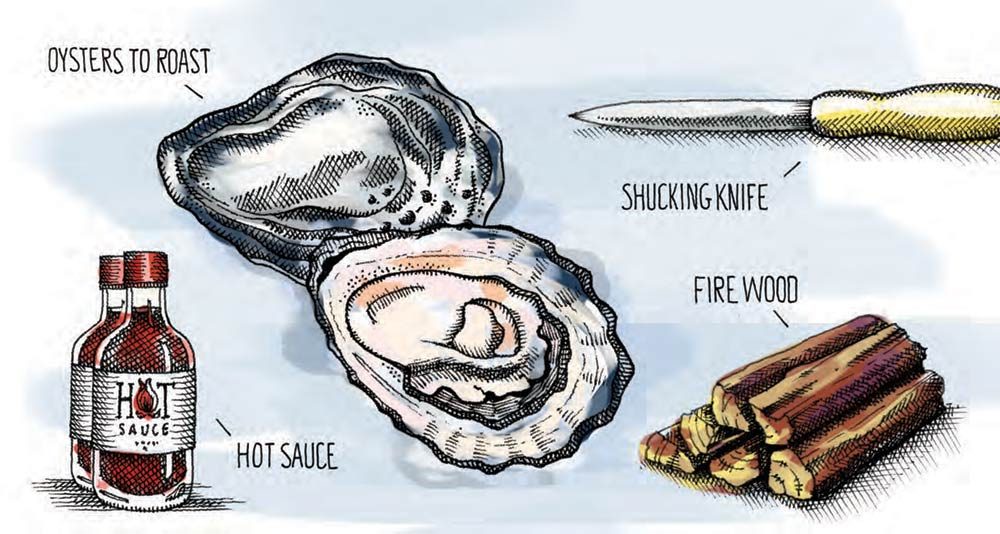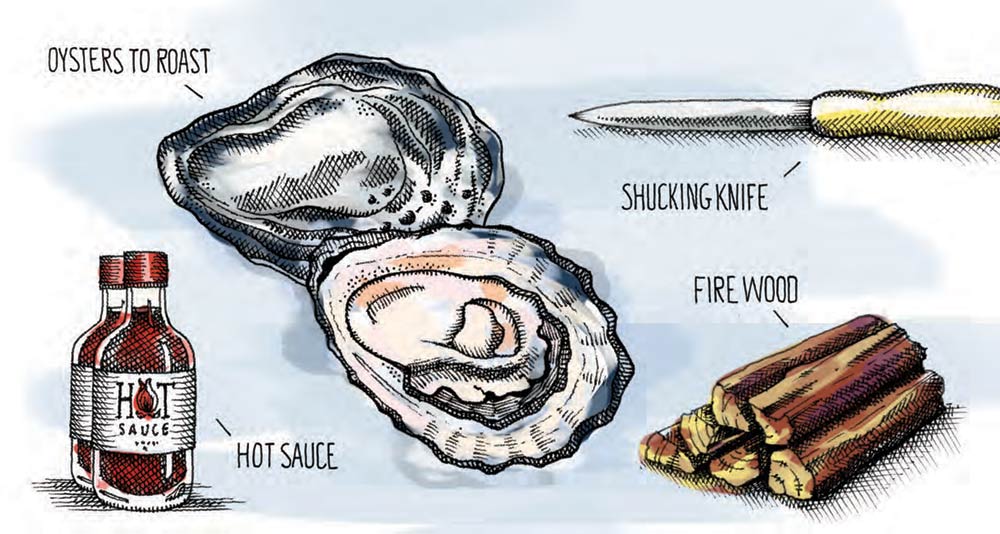 Oyster roasts are about as synonymous with the Lowcountry as Bill Murray or The Pineapple Fountain. Mollusks, fished out of salty tributaries, find their way to wooden-planked counters and dinner plates every winter. Oyster seekers brave blankets of quicksand-like pluff mud, all in the name of culinary adventure. When the temperatures dip, folks gather to crack, shuck and slurp. At these time-honored soirees, rising steam creates a fog of sorts, which jaggedly cuts into the evening's dampness. Ritualistic, the very act of congregating with hungry neighbors around a heap of marine treasures comes across as primitive.
One can't help but look rustic breaking open shells and consuming their contents, all while bundled to keep the evening chill at bay. Fans of the oyster are not one easilylabeled group. From pearl-clad socialites to dock-working fishermen, a number of folks take comfort in the briny morsels of protein. Author Tom Robbins once likened the act of eating a raw oyster to French kissing a mermaid. Literary great Jonathan Swift is noted as remarking on the bravery that came from the very first to consume such an enigma. Regardless of how you like them prepared, one thing they usually manage to do is bring people together. Whether you pair them with champagne or a craft beer, prefer them roasted or straight out of the shell, oysters are truly the unofficial mascot of our coastal town.
The first roast on our list is definitely The 35th Annual Lowcountry Oyster Festival at Boone Hall Plantation. For more than three decades, this event has consistently been the one not to miss. Would you believe the largest oyster festival in the world takes place right here in Mount Pleasant? On Jan. 28, crowds will once again gather at the live-oak-spotted estate to experience the ultimate in flavor and camaraderie. General admission tickets are only $17.50. The day's contests range from oyster eating to oyster shucking. Live music, wine, beer, a children's area and a food court featuring local area restaurants can all be found at this epic happening. It's definitely the mega pearl in the world of oyster-centric events.
Every February, The Southeastern Wildlife Expo brings with it birds of prey, woodsy artisans and individuals dedicated to everything outdoors. You won't want to miss the East Cooper Ducks Unlimited Oyster Roast, happening on Friday Feb. 16 at The Visitor Center bus shed. Head to 375 Meeting St. to experience live music, an open bar and all-you-can-eat oysters. Several raffles and silent auctions will also be a part of the event, with one of the prizes being a Scout 19-foot boat, motor and trailer package.
Charleston Harbor Resort and Marina doesn't limit the roasts to just one day. Knowing full well how much locals and visitors look forward to these ceremonially food fests, they are offering plenty of chances to get in on the action. With their ongoing series Oysters at the Point, seafood lovers can chow down on Jan. 20, Feb. 24 and March 10. Microbreweries and live music also are promised.
On Feb 25, from 2 p.m. to 5 p.m., drive on out to Bowen's Island to take part in a roast that is right on the water. A potion of the proceeds will go to help The Sierra Club.
By Kalene McCort