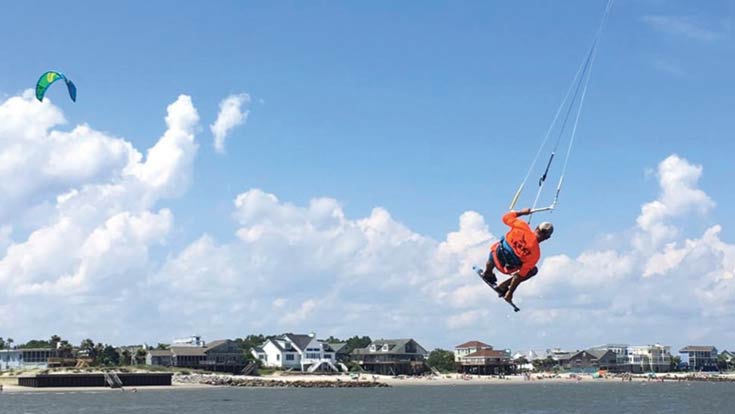 Winter is the perfect time to sit inside, cozy up by a fire and hibernate for months on end – that is, if you don't live here. We're lucky to reside in a climate that allows us outdoor activities year-round, and Scott Hyland and his team at Sealand Adventure Sports are here to help you get your fix for, true to their slogan, "a healthy addiction."
Hyland opened Sealand Adventure Sports in 2010 underneath what is now Mex 1 Coastal Cantina and moved catty-cornered to that location in 2016 to a standalone building. Offering retail, rentals and lessons, Sealand is a one-stop shop for novices to pros when it comes to anything kiting, surfing, skating and paddling – and adventure-related apparel.
"Sealand really is the place to go to feed your 'healthy addiction,' as we call it here, or start a new one," said Hyland. "All of us here truly love what we do, and that reflects through our instructors' lessons and knowledge of products. We're using the same brands that we sell, and we are happy to help guide our customers make the best and safest choices for their skill level and ability."
Sealand Adventure Sports offers lessons in paddleboarding, kiteboarding and surfing. The Lowcountry's calm creeks and rivers are a big draw for paddleboarders, and instructors can teach the rules and safety measures through a relaxing lesson that lasts approximately an hour-and-a-half.
Sealand's surf instructors have years of experience catching waves from Peru to Folly Beach and Isle of Palms and all the way up the East Coast. Instructors will determine where the best swell is locally and take you there for a two-hour surf session.
Sullivan's Island is also one of the most popular places on the East Coast for kiteboarding, and Hyland is a pioneer of the sport. Combining aspects of wakeboarding, snowboarding, windsurfing, surfing, paragliding, skateboarding and sailing, it's not an easy sport to take up without proper instruction.
"If you've ever thought of picking up the sport of kiteboarding, we highly recommend you take a lesson from a certified instructor who will teach you all you need to be safe starting out and progress in riding the right way," Hyland explained.
In addition to sports apparel and shoes by brands like Rusty, Body Glove, Quicksilver, Dakine and Sanuk, Sealand also offers the big gear you need to get moving: boards, kites, paddles, rack pads and more.
"We carry a lot of adventure sporting equipment you may not be as familiar with," said Hyland. "We're the only Onewheel dealer in South Carolina, and that's picking up popularity quickly. It's basically a motorized skateboard with one wheel, kind of like being able to snowboard anywhere, like the beach or the sidewalk."
Landboarding, he said, is another popular winter adventure sport in the Lowcountry. Similar to kiteboarding, it pairs the kiting aspect with what is essentially an oversized skateboard with foot straps so it can be done on land.
Sealand Adventure Sports also offers daily bike, paddleboard, surfboard and golf cart rentals – a great option not only for vacationers but for locals who want to dive into a quick sporting adventure.
Visit the Sealand Adventure Sports team and find a new healthy addiction at 2120 Middle St., in Sullivan's Island or see more at www.sealandsports.com.
By Anne Toole