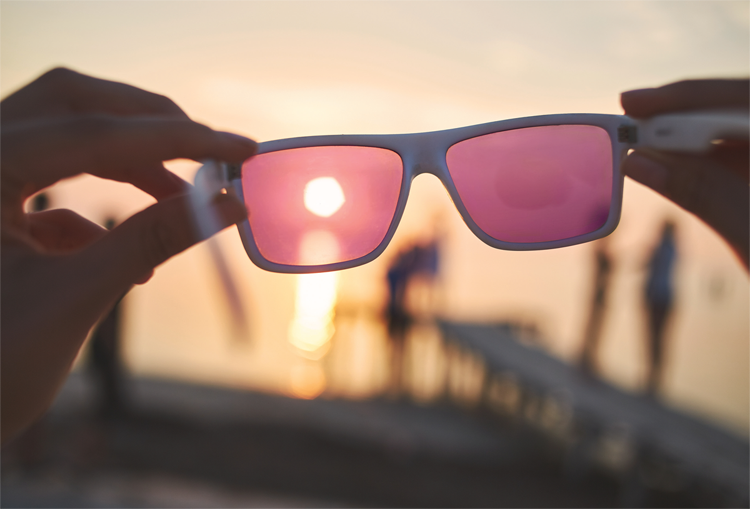 Whether you buy 'em for a buck or for hundreds of dollars, there's just something about sunglasses that everybody seems to love.
Songs have even been written about them, from "Cheap Sunglasses" by ZZ Top to "Shades" by Dean Martin to perhaps the most famous of all, "Sunglasses at Night" by Grammy-nominated Canadian singer Corey Hart.
The simplest reason for the popularity of sunglasses is perhaps best expressed by Dr. Brad Bodkin of The Vision Center at Seaside Farms: "Everyone always looks cooler in sunglasses."
Of course, looking studly or glamorous, depending upon your gender identification, isn't the only or even the best reason to slip on some tinted peepers. They're actually important for the health of your eyes. According to the Mayo Clinic, eye protection matters a lot: "UV (ultraviolet) radiation from the sun can damage not only the skin of your eyelids but also the cornea, lens and other parts of the eye."
Some of the sun's effects on the eyes include cataracts, macular degeneration and astigmatism. Dr. Bodkin agreed.
"Sunglasses are very important to us. They are the first line of defense against UV rays," he explained.
Which lenses are the best? According to Dr. Bodkin: "The darker the better from a visual standpoint – especially on a bright, sunny day. But they don't always have to be super-dark to block out the UV."
"It's important to look at the sticker on the glasses you're considering buying to make sure they block out 100 percent of those UV rays," he added. "Expensive and designer sunglasses are almost always automatically 100-percent blockers. Low-end products – cheap sunglasses – usually are not."
And if you pick up a pair of inexp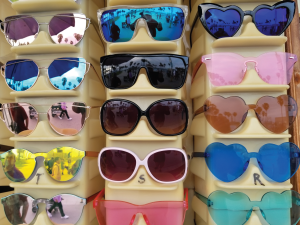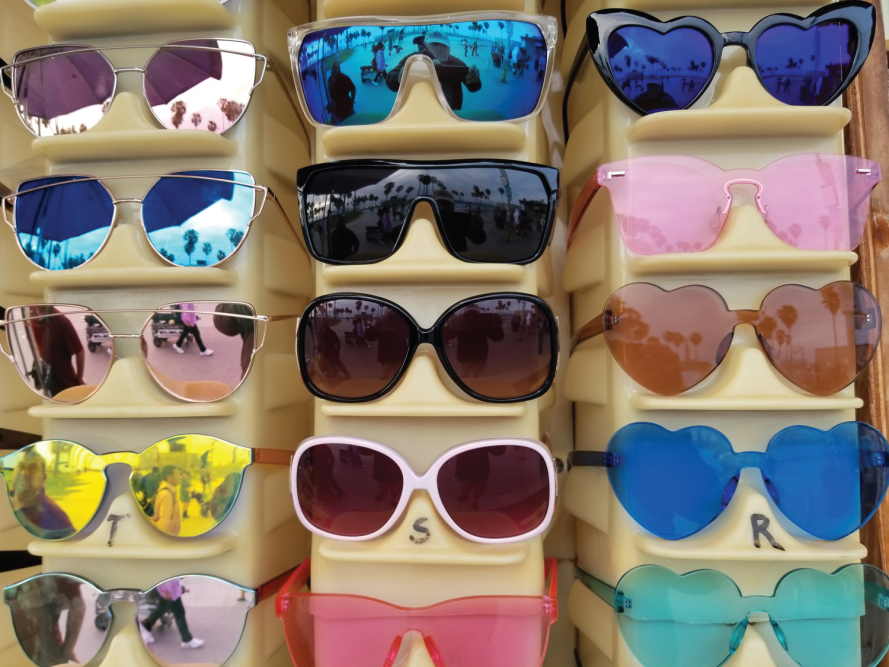 ensive sunglasses that don't have complete UV protection, you can actually do more harm to your eyes than good.
"If you put dark lenses in front of your eyes, your pupils will get larger because there will be less light getting through to them, and that increases the amount of UV light hitting the back of the eye," Dr. Bodkin said.
While The Vision Center at Seaside Farms carries a wide selection of high-end sunglasses, such as Maui Jim, Costa Del Mar and Oakley, Dr. Bodkin has plenty of recent experience with low-end shades – the really, really dark, really good kind.
The experts say that for everyday wear, buyers should consider a few other factors in addition to UV protection and lens darkness. Color is a factor, with gray lenses being best for seeing true colors. Wraparound lenses, or very large lenses, cut glare, help protect peripheral vision and provide better all-around vision.
Polarized lenses fill a niche in blocking reflected light, which can be especially important in areas such as the Lowcountry that are surrounded by so much water. Fishermen love them because polarized lenses allow them to see through the water's surface to where the fish are. One drawback: computer monitors and other LED and LCD screens such as some that may be on your car's instrument panel also are polarized. That combination blocks out so much light that whatever is on the screen simply disappears. Tip: Turn one or the other 90 degrees, and you'll be able to see things again right away. Just don't try it while you're driving!
If you've ever been pulled over by the highway patrol – or watched the vintage TV show CHiPs – you may have admired those mirrored sunglasses the stalwart lawmen wore. They dropped out of fashion for a long while, but Dr. Bodkin assured, "Mirrored lenses are making a comeback. They reflect light so there is less light reaching your eyes. On a really bright, sunny day, they do help. But they're more a fashion statement than anything else."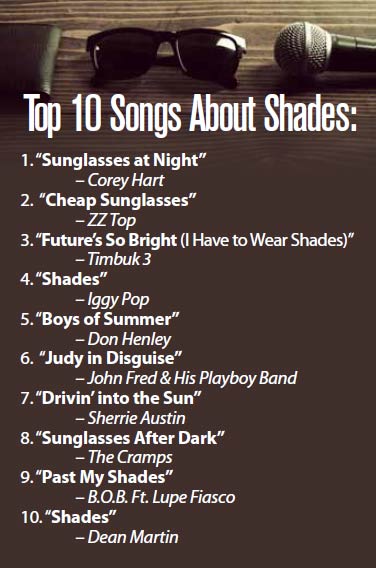 Naturally, because sunglasses are an important part of anyone's "look," frames matter. And, in today's sunglasses market, there are a host of colors and configurations from which to choose. Some may prefer standard eyeglass frames fitted with sunglass lenses. Other may opt for wraparounds. Others still may find that the metal-frame aviator style suits their fancy. Beyond serving as a fashion accessory, there's no real difference among them, as long as that 100-percent UV protection is provided.
So let's get ready to celebrate the next time June 27 rolls around – the Vision Council's National Sunglasses Day. Sure, it may not yet be as well known a holiday as Arbor Day, Groundhog Day or even Compliment Your Mirror Day (really!), but it has special significance for all of us who venture out into the blazing South Carolina sunshine.
Maybe when we celebrate this special day, we can hum along with Iggy Pop's "Shades." You know, the song in which he sings, "I'm not the kind of guy who dresses like a king, and a really fine pair of shades means everything." Like some high-tech, high-fashion, 100-percent UV- protected sunglasses, that would be really cool.
By Bill Farley