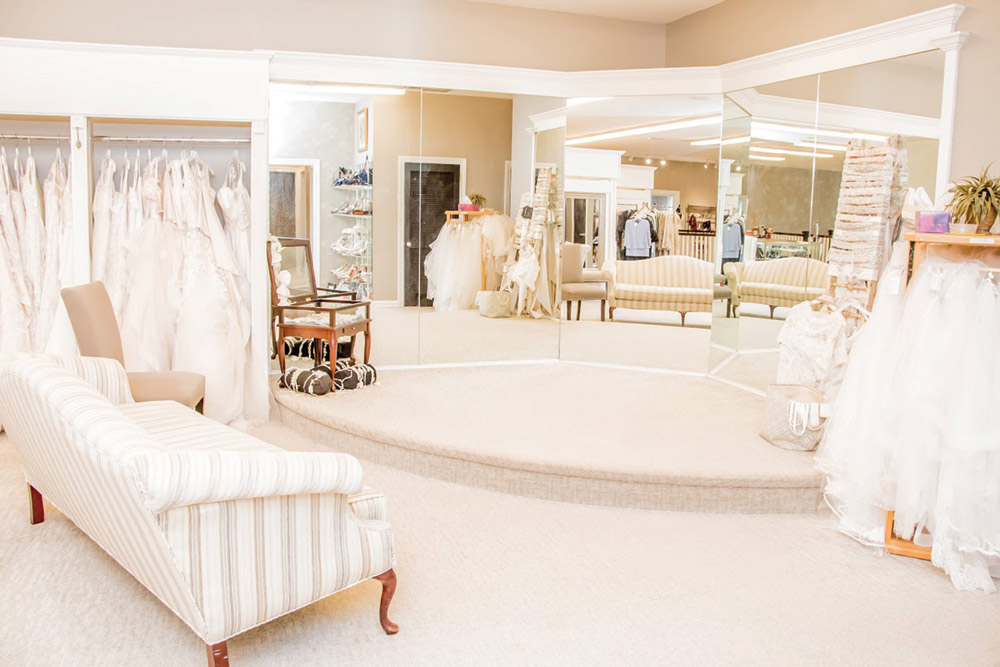 For the soon-to-be bride stepping into Jean's, I can imagine the anxiety of finding that "perfect dress" simply melting away.
Have your dress in mind but no pictures – just a description? No problem. Or maybe you have a picture of certain details and want something similar – again, no problem. Or maybe you just want to see what looks best and get the honest opinions of industry experts, family and friends.
Take a deep breath of relief: Jean's of Mount Pleasant has you covered from veil to heel – and beyond.
"Most girls have a general idea of style that they like, and we try to guide them toward that style, but, sometimes, in the end, they pick something totally different, just because we do encourage them to try on other things as well instead of sticking directly to that style," explained Michelle Waterbury, eldest daughter of Jean Wellmon, who has assisted in operating the shop since 1991.
Waterbury continued, "We let them pick what they want at first, and then, obviously, if they want to stick with that plan, we can. But it's always fun to go back and pull something to 'Let's just try this to see. …'"
In addition to the perfect dress, this full-scope bridal boutique offers shoes, accessories and in-house alterations, as well as bridal-party dresses, social-occasion dresses and tuxedo rentals.
It may surprise the unsuspecting reader to learn that this long-standing institution of bridal couture and formal wear of the Mount Pleasant community didn't always have its bearings in the bridal industry. However, Wellmon did always have ties to the fashion world and what it took to run a successful business, beginning her journey in retail at the age of 17, when she took a position at a shop called Eleanore's.
Originally located on Coleman Boulevard in Peach Orchard Plaza, Jean's Bridal got its start as a fabric shop offering custom alterations in March 1974. Evolving her business year after year, Jean began selling ready-to-wear pieces as well.
In 1980, the shop moved to Fairmount on Johnnie Dodds Boulevard, where its direction continued to gravitate toward "bridal" after Wellmon attended the Atlanta Apparel Market.
Now located at 798 Johnnie Dodds Blvd., the soon-to-be bride can find anything she might need for her wedding or wedding party in the building's two stories of shopping space – with ready-to-wear items downstairs and formal wear, bridal gowns and tuxedos upstairs.
So tick one more thing off your wedding "to-do" list (or, who knows, quite a few things), and visit Jean's of Mount Pleasant to find your stunning wedding-day ensemble.
For more information, call 843-881-2056 or visit www.jeansbridalcharleston.com.
By Helen Harris