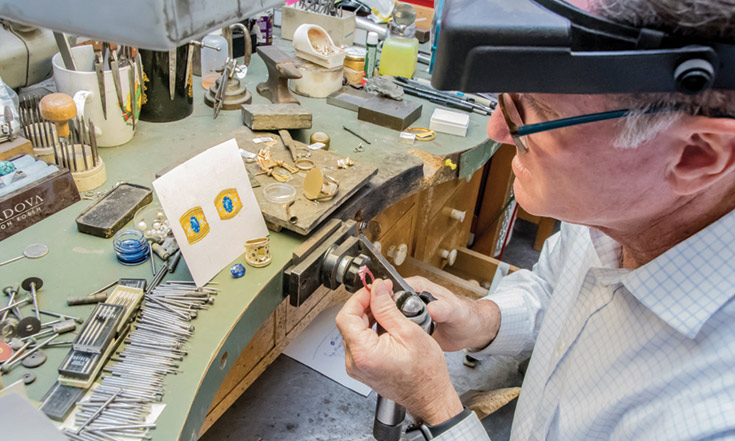 If you had the power to travel back through time, would you? Would you get to know your ancestors, watch them fall in love or experience important dates in the history of your family?
The past never really says goodbye, and this concept is not new for residents who are constantly surrounded by Charleston's historic plantations, Civil War landmarks or cobblestone streets. However, creating your own history and passing the story down through generations with something like a wedding ring or family necklace can be much more personal.
Rex McClure and Kristina Sohn of Sohn & McClure Jewelers understand the importance of crafting jewelry that will be around long after our lifetime. Treated like an art, designing and making jewelry is a personal challenge, accomplishment and passion the owners of the business thrive on.
Sohn & McClure sets itself apart from other retail stores by customizing designs from the imaginations of their customers. Everything designed at the store is already sold, rather than for display cases. Customers come into the shop with a piece of jewelry in mind but no exact idea of what they want. They'll show McClure pictures of jewelry they like to give him an idea of their style, and he often takes these ideas and creates a drawing or a model.
"It evolves from a picture, model and to a final product … it changes. Sometimes I see better ways to do things or ways to improve it along the way," McClure said, adding that a computer can't do what he does. "A jewelry person who has learned to do CAD, a design program, by hand in place of a computer has a better design sensibility for proportions, depth and height."
However, there are other challenges that come with creating art from another person's mental image.
"I've had to learn to be a better listener, but I enjoy the challenge of taking people's thoughts and visions and making them into something real," McClure stated. "We're pretty good at it. People cry! Many times there have been tears, and I'll cry with them."
Sohn's challenges are different from those of her husband. Most of her work can be described as meticulous and requires a high degree of artistic skill and years of practice. An example would be drawing the letter "B" on a family crest a thousand times.
"I enjoy trying to take each time and do it better and better. I like projects that push me, and then I like to do better next time. That is my challenge," she said.
Sohn's favorite project was a cup from the Civil War that had individual names and the family's wedding anniversaries on it.
Aside from their love for making jewelry, this married couple has another thing in common: a love for contributing their creative talent to history.
"The beautiful thing about jewelry is that it gets passed down from generation to generation. It's comforting to think that something Kristina or I have made is going to be around long after we're dead," McClure said.
Although technology has evolved over time, the technique behind crafting unique jewelry has not. The quality and creativity of Sohn & McClure's designs speak for themselves.
For more information, call 843-853-3968 or visit www.sohnandmcclurejewelers.com.
By Valerie Smith