Summer has arrived. Humidity, a spike in temperatures and the daily occurrence of sweat beads rolling down skin is expected. Looking for a cool way to beat the heat? Lucky for you, the Lowcountry has rolled out a chilling selection of icy treats to help you revive and thrive. Whether you want a sophisticated Popsicle or syrup-drizzled shaved ice, these purveyors of the frosty and frozen never disappoint.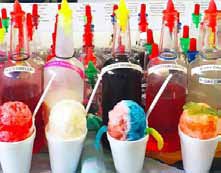 In June 2017, Pelican's SnoBalls set up shop inside the locale that once housed Boulevard Diner on Coleman Boulevard and has since moved to 1136 Bowman Road. This hot spot has been a saving grace for those looking to cool down.
"The ice is finely shaved to provide just the right texture," said owner Chris Wiksell of the New Orleans-based treat that first surfaced during the 1930s. "Our flavors are high quality and are uniquely different from one another. Once you try one, you will see how the flavor stays with the snoball all the way to the bottom."
Consistent, with each spoonful packing just as much punch as the last, the only real decision you're faced with is which one to indulge in.
"We have over 100 flavors, but there are a few that stand out," said Wiksell. "Blue raspberry, cherry, cotton candy, tiger's blood, sour tsunami, piña colada, root beer and watermelon seem to be popular choices. If the task of choosing between 100 flavors is too much, we even have a 'wild thang' flavor that will be a true surprise."
Surprisingly enough, these refreshers are low-cal and guilt-free.
"With education on personal health and well-being at the forefront of our culture, it is important for us to provide options that would be consumable for any person," said Wiksell. "Not only do we offer gluten-free and sugar-free flavors, but we are nut free, dye free and fat free."
From first dates to kids basking in the glory of riding a two-wheeler, Pelican's is a place of celebratory occasions.
"The opportunity to serve the people of this community and be part of their story make this business worthwhile," said Wiksell.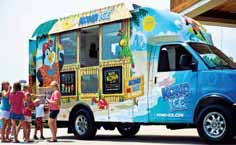 Kona Ice, a bright, mobile Hawaiian-style truck, is hard to miss. With island jams escaping from the speakers and leis being tossed to customers, it's fair to say they bring the party.
"The most rewarding part of running Kona Ice is getting to see so many people happy," said owner Jamie Buchan. "No one leaves our window sad!"
Savor tropical flavors like watermelon mint or mango jalapeño.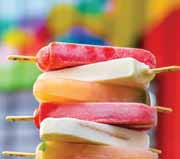 "This summer we will have a mini at the RiverDogs' games all season long," said Buchan. "We will also be visiting many local camps and most public events or festivals where families would attend."
You've seen the multicolored beach umbrella on the cobblestone streets of downtown Charleston, at farmers markets and on various concert lawns. King of Pops brilliantly fuses different fruit-forward flavors. With innovative combos like cucumber lime, orange basil and ginger lemonade, converts always come back for more.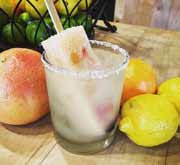 If you happen to get a craving and that iconic umbrella is nowhere in sight, you can find these pops at Whole Foods, Earth Fare and Queen Street Grocery. Downtown's Crooked Crown: A Barely Regal Pop Bar, at 21 Spring St., is upping the mixology game by putting these babies directly into drinks. Not only are these boozy mergers incredibly Instagram-worthy, they also prove to be a nice alternative to your standard mimosa or craft beer.
If you're on Shem Creek, be sure to check out Up the Creek – a boutique that serves locally-made Wholly Cow ice cream. With 18 new flavors added to their stash, you are going to want to get a scoop. Who can resist classic butter pecan or mint chocolate chip after a day of sunbathing on Sullivan's? Best of all, you get to enjoy the creamy varieties while you shop for oyster-shell necklaces, nautical antiques and novelty beach tees.