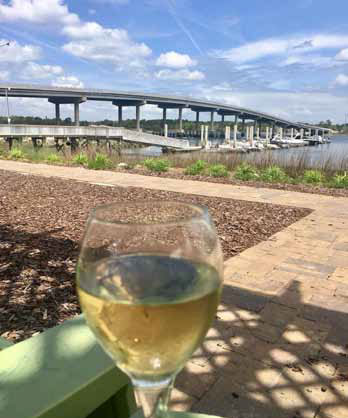 I arrived a bit early for my appointment with Stephen Annibale, general manager of Wando River Grill. Situated on the Wando River Marina right off of Highway 41, the gorgeous scenery and warm spring day prompted me to pull up a chair and read a few pages of a novel before sitting down with Stephen to learn about what, exactly, draws locals and visitors to the restaurant and marina again and again – though at that point, I had a pretty good idea.
Open for three years and now featuring a full-service marina, fuel dock and wedding venue, complete with a house and four acres of picturesque beauty, The Wando River Grill offers a tasty menu, a great view and much more. No doubt the newly expanded kitchen just completed will enhance the property's wedding and event capabilities. In fact, at the time of my chat with Stephen, eight events had been booked for 2018.
Events and other fanfare aside, however, the restaurant draws a loyal following all nights of the week. The dinner menu is a savory combination of seafood entrees, such as blackened North Carolina catfish and shrimp 'n' grits or land animal favorites like the Wando Burger with homemade pimento cheese and bacon jam. My mouth was watering just hearing about all of it. Of course, I had to ask Stephen what his personal favorite dish is.
"Probably the shrimp alfredo," he mused. "The sauce is made in-house and the shrimp are local."
Cocktails are another reason to visit the Grill, with a smattering of summer beverages to refresh your palate once you've docked the boat. Try the "Holla-Rita," a classic margarita with spicy jalapeno infused tequila plus cilantro; or the Wando Rum Runner, made with both dark and light rum varieties plus fresh pineapple and orange juice. I was delighted to sip the Holla-Rita as I took notes, and, as a lover of spicy cocktails, I can vouch that it's delicious.
Those who are looking to take a break from the waterways can dock their boat at Wando River Grill for up to 12 hours while enjoying the restaurant and the marina. If the food and the drinks don't sound enticing enough, there's also happy hour from 4 p.m. until 7 p.m. with $1.50 off all drinks (including the Holla-Rita!) and $2 off all the bar menu food items. Also – and this is dear to my heart – there's "Whiskey Wednesday," when all top-shelf whiskeys are half price.
Naturally, with such a gorgeous corner of the Lowcountry in their backyard, outdoor events and entertainment are the rage all summer at Wando River Grill. There are cookouts on the major summer holidays – Memorial Day, Independence Day, Labor Day – when friends and family can get together for an outdoor feast. And every warm weekend there's great live music on Friday and Saturday nights. According to Stephen, the restaurant's recipe for success – good food, good drinks and plenty of fun – has not wavered.
"Aside from the marina improvements, not much has changed since we opened," he said. "And from year to year, we've seen about a 138 percent increase in sales."
To learn more, visit www.wandorivergrillsc.com or call 843-856-1267.
By Denise K. James