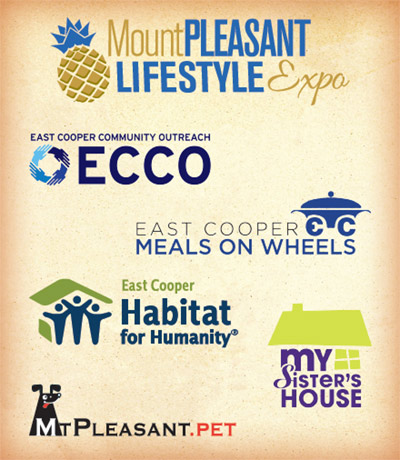 If you read Mount Pleasant Magazine, you know we are all about this community. We enjoy paying it forward and giving back to the town we serve. This is what the Mount Pleasant Lifestyle Expo is all about. This is a community event that's about raising money for East Cooper Meals On Wheels, East Cooper Habitat for Humanity, East Cooper Community Outreach and My Sister's House.
The Omar Shrine Convention Center will come alive on Nov. 3 and Nov. 4 as shops, restaurants, health care professionals and home-related businesses come together to raise money for local charities. The pages of Mount Pleasant Magazine will come to life as well, with cooking demonstrations by area chefs, a fashion show presented by local boutiques and pet training tips. Doctors and health professionals also will be part of this fun-filled community fundraising event. There will be a $5 donation at the door, with all proceeds going to the participating charities.
It's all about living and playing in Mount Pleasant. In addition to watching local chefs display their culinary skills, you'll be able to pick up copies of their recipes and of Lowcountry Cuisine, the magazine that is all about the Charleston area's eating scene. Local shops will offer special holiday items, and apartment complexes and retirement communities will be supporting local charities and be available for any questions you might have. The latest on hand with rescue dogs you can adopt. In addition, pet stores and groomers will be there to talk about pet care.
You can learn more at www.MtPleasant.Pet or join www.Facebook.com/MPpets.
Whether you're a newcomer who just planted roots in Mount Pleasant or you're thinking about moving here, you'll find the Mount Pleasant Lifestyle Expo to be the perfect place to connect. You'll undoubtedly meet new friends, and you won't go away empty-handed. There will be plenty of prizes and giveaways, and each booth will have fabulous items for a silent auction. All proceeds from the silent auction will go to the participating nonprofits.
The Mount Pleasant Lifestyle Expo is kicking off the giving season. One-hundred percent of your entry donation and the silent auction will go to the local charities.
For more information about the event and sponsorship and booth information, visit www.MPLifestyleExpo.com, or email [email protected].
By Bill Macchio