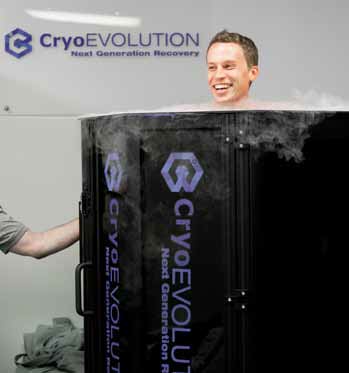 For centuries, athletes have used ice baths as a way of recovering after an exceptionally tough workout. Sitting in a tub of ice-cold water for as long as you can stand it never seemed appealing, but after a 20-mile run while training for a marathon, an ice bath might be a necessary evil.
Extreme cold temperatures help the body recover quicker. Body temperature, blood flow and inflammation are immediately reduced, accelerating recovery and reducing pain. The effects can last for days.
Cryotherapy has taken the concept of ice baths to another level, making recovery much faster and much more effective due to the lower temperatures.
"It's got amazing results," Judd Baker, owner of CryoEvolution in Mount Pleasant, said. "People are always hesitant at first, but once they feel the almost immediate benefits, they are hooked."
Baker said that unlike an ice bath, the cold is dry, which makes it much more bearable than getting into a tub full of frozen ice.
"And it only lasts two to three minutes, so it is also much quicker to get the full benefits," he said.
Cryotherapy is the process of exposing one's body to ultra-low temperatures, -250 degrees Fahrenheit to be exact, in a nitrogen-cooled cryogenic sauna or chamber for up to three minutes. Baker said that people are given a bathrobe and some gloves before they enter the chamber.
"It sends your body into a bit of a shock," Baker explained. "It stimulates receptors and activates the flight or fight response, causing the release of endorphins."
After the quick cold session, the body immediately begins to reheat, increase circulation and decrease inflammation by clearing out toxins, lactic acid and metabolic waste.
Baker said that cryotherapy is certainly popular among athletes, but anyone can use it to reduce pain.
"It's preventive," he said. "You don't have to come in with an ailment. Many people use this as a wellness or maintenance treatment as well."
Besides reducing pain and inflammation, cryotherapy has been known to assist with cellular regeneration, making this a great option for skin promotion by increasing collagen production. They call it the cryo-facial.
"You'll notice firmer skin and an immediate glow pretty quickly after the session," Baker said.
There's also an element for people seeking weight-loss options, since a session of cryotherapy boosts metabolism and can burn up to 800 calories.
Baker noted that some people come every day, but others visit only once a month or even once every two months.
"There is no specific program to follow. It is really up to the client on how often they want to come," he said.
"You immediately feel loose. So we offer stretching for the customer immediately following the session as well," said Baker, who added that cryotherapy can even improve moods and sleep. "It's based on natural endorphins, so it makes you happier overall."
CryoEvolution has packages that start at $15 to $35 per session and a new client special for $25 for the first session.
Cryotherapy, which has been around in the United States for the past eight years, is certainly here to stay.
For more information on CryoEvolution, visit www.cryoevolution.com or call 843-442-4445.