Imagine for a moment coming home at the end of a long day and slipping into your own private oasis, letting go of your stress and allowing ultimate relaxation to wash over you. Atkinson Pools & Spas, family owned and operated in Mount Pleasant since 1984, can help turn that dream into a reality. This trusted local provider of pools and spas is partnered with Dimension One Spas to provide the Lowcountry with the high-quality local installment and service Atkinson is known for, combined with the world's leading manufacturer of hot tubs and swim spas.
Dimension One's extensive line of products gives customers the ability to choose what fits their needs and lifestyle.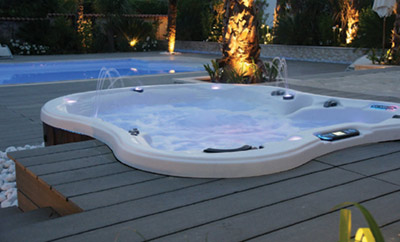 "With design features like deeper spas, more jets, more colors and better lighting, we can help you choose what's perfect for you," said third-generation operator Josh Atkinson. "Some models accommodate just two people or up to eight or nine people in the larger models. Whether a retired couple is looking for a place to recharge or a family is looking for more of a party-style setup, there is an option to meet everyone's needs."
All Dimension One spas come with LED lights, stereo sound, options on sequenced massage jets and adjustable headrests. While hot tubs are for relaxation, swim spas offer an endless pool for year-round exercise at home.
Today's spas are surprisingly energy-efficient, averaging about $20 per month in electricity charges if operated daily. Atkinson Pools and Spas also offers a weekly service to manage the chemicals and clean the spa to make upkeep a breeze.
In addition to the obvious perk of relaxation, studies on home spas have proven that they can actually improve health. The National Sleep Foundation recommends establishing a regular evening soaking routine, and just 15 to 20 minutes in a spa before going to bed has been proven to improve deep sleep. A spa is also a great option for those who prefer a more natural method of pain relief and treatment through hydrotherapy. A home spa can even improve the results of dieting and weight-loss goals by sharpening mental clarity, reducing stress, helping muscles recover and easing joint pain, all of which are factors in controlling weight and improving overall health.
Beyond the physical health benefits, a home spa can improve relationships.
"In this fast-paced world where everyone is constantly moving and busy and we're connected to devices most of the day and even at night, having a spa at your home can encourage you to slow down," Atkinson said. "They are more or less a cellphone-free zone, so you get the great benefit of having to put down your phone or your computer and spending some time relaxing with your significant other or your family. It's a closer area to interact, unwind and refocus."
For more information, visit www.atkinsonpools.com or call 843-881-8889.
By Anne Shuler Toole