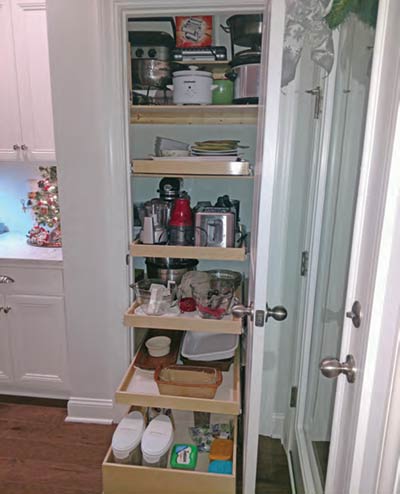 Like most people, when Heidi Griffin began the process of downsizing her home, she faced the problem of finding a way to accommodate her many kitchen items, appliances and entertaining ware. A retired Realtor from Texas, she had seen many of her clients who faced similar problems in their kitchens, pantries and bathrooms and remembered a solution that they raved about: ShelfGenie®.
"I'm from a generation that does a lot of entertaining. From platters to silver to special kitchen appliances, those are all things I still use. We were downsizing from a custom gourmet kitchen in our home to a kitchen in a tract home, and there was no room for everything," Griffin explained.
Shoshanna Szuch, a designer for ShelfGenie®, began helping Griffin prior to her big move to tailor the cabinets in her new home. The company specializes in custom-designed, glide-out cabinet access for kitchens, pantries and bathrooms. Szuch worked with Griffin to enumerate every item Griffin needed to be put in the space and designed a custom solution to store it all in a way that allows each item to be easily accessible and logically located. A few weeks later, Griffin's handcrafted pullout shelves were installed.
"She listened to my wants and needs and created something specifically tailored to me. I just love it," Griffin beamed.
After she had a chance to enjoy her ShelfGenie® solutions in her pantry and kitchen, Griffin decided she wasn't finished. She invited Szuch to design a few more, including one for spices.
"The whole experience has been awesome," she continued. "I've designed so many kitchens myself from having built custom homes, and, even so, Shoshanna's care, creativity and attention to detail and installer Joe Harkins' excellent craftsmanship have really transformed this kitchen to be perfect for us."
Griffin was especially pleased with the care Szuch took to design and arrange the items in spaces that made the most sense. For example, a standard KitchenAid® fivequart stand mixer weighs 26 pounds. They are bulky and hard to carry for many people – Szuch chose to give it its own pullout shelf in the center of the pantry where it can be easily accessed yet still be out of sight from the main area of the kitchen.
"I'm retired. Being older, and, in the future, as I age, I don't want to have to bend over to lift heavy things like that," Griffin said. "Shoshanna was very conscious of designing based on my age and how to best utilize this space."
ShelfGenie® designers can accommodate any lifestyle and offer free design consultations. They offer their clients better access, up to 50-percent increased storage capacity and the promise of order and peace through organization in your kitchen, pantry or bathroom.
"Having seen my clients use it, I was always impressed with the craftsmanship and efficiency," Griffin said. "Now that I have it in my own home, it has changed how I use my kitchen, and I truly believe in it. I love it!"
To learn more, visit www.shelfgenie.com/charleston or call 888-663-3818.
By Anne Toole