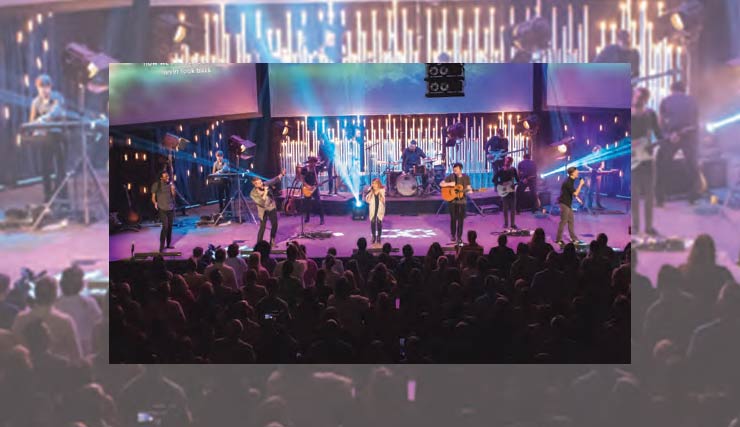 As the story goes, when the seeds to start Seacoast Church were first planted nearly 30 years ago, church founders consulted the book – the phone book, that is.
They called every name listed in Mount Pleasant – about 17,000 – and asked people who didn't already have a place of worship why they didn't go to church.
According to Lead Pastor Josh Surratt, the answers had less to do with a belief in God and more to do with time and convenience. This insight only strengthened the vision of church founder Pastor Greg Surratt – Josh's father – who wanted to build a church for people who didn't go to church.
"It is still our desire to be a church that is accessible to everybody," Josh said.
This down-to-earth, flexible approach and relatable message has resonated with many in the community, and, just as the town of Mount Pleasant has grown in the past 30 years, so has Seacoast.
The church, located off Long Point Road, serves between 5,000 and 6,000 people each weekend. During the Christmas and Easter holidays, close to 11,000 show up for services.
The wide appeal of the church has allowed it to expand to sites throughout the Charleston area and beyond, with 12 campuses in South Carolina and North Carolina.
Josh, who grew up in Mount Pleasant and attended the College of Charleston before joining the church staff in 2001, said Seacoast offers "teaching that is practical and useful that people can apply to their families and daily lives."
To better serve the growing congregation, Seacoast is building a new worship center – with seating for 2,400 – at its original Mount Pleasant location. It's scheduled for completion by the end of the year.
The current worship center, which fits 1,300 people, will become the church's student center. Through programs such as Kidscoast, for youngsters through the fifth grade, and Custom, for middle and high school students, Seacoast serves nearly 1,000 children each week.
Josh emphasized that it's not all about the numbers.
"What excites me is our mission statement – to help people find God, grow their faith, discover their purpose and to make a difference – and realizing each week how many people potentially are doing great things in their neighborhood and helping those around them in the community," he said.
As far as being voted best church by the readers of Mount Pleasant Magazine, Josh said, "We feel grateful about receiving the recognition."
Reaching out to those in need and making a difference in the community are important aspects of the church.
"We love being here, living here. We are blessed to give back," he added.
Seacoast embraces technology, allowing all the locations to stay connected through video sermons. And the church has an extensive online presence that includes SeacoastGO – a feature that allows members to "experience Seacoast from any couch, in any living room, in any state," according to the church's website.
Music plays a large role in the services. An entire group known as Seacoast Worship exists to create experiences that let people connect with God through music. The church also provides a variety of service times throughout the weekend – Saturday at 6:15 p.m., Sunday at 8:30 a.m., 10 a.m., 11:30 a.m. and 6:15 p.m. – a flexibility that many members seem to appreciate.
With a clear focus for the future and thousands of devoted members, Seacoast's reach shines bright in the Holy City.
To learn more, visit www.seacoast.org.
By Pamela Brownstein