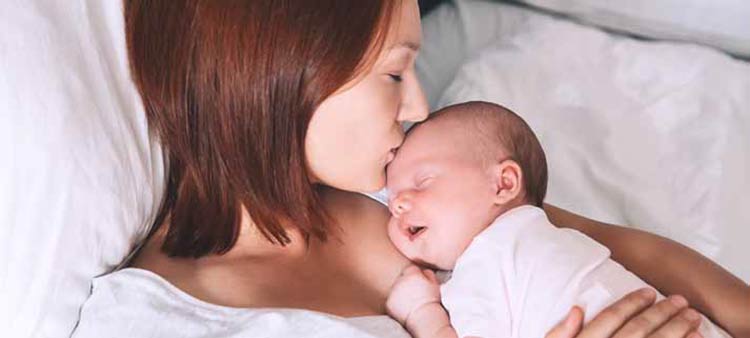 The miracle of life is a beautiful thing. But after the baby showers, the nursery themes, the "babymoon," (yes, that's a thing now), maternity photos and nervously clicking the empty infant car seat into place for the first time as you anticipate the arrival of your bundle of joy, the shocking realities of becoming a mom – or adding another to your brood – begin to take shape. No two pregnancies are exactly the same, no two birth stories are exactly the same and no two babies are exactly the same; no matter the situation, being aware of your body and mind postpartum is acutely important to your health.
"A woman's body goes through incredible physical changes when she's pregnant: ribs spread to make room for the baby, the diaphragm and other organs get squished and moved around, making breathing difficult, your pelvic floor has to handle a tremendous amount of pressure, abs get stretched to the point of separation, your posture changes and back muscles have to work overtime to support the weight of a growing baby," explained Jill Zimmerman, a postpartum corrective exercise specialist, physical therapist, trainer and owner of Perfectly Fit Wellness. "Those things don't just bounce back and become normal because you're no longer pregnant."
On top of all of that, in the early stages, you are most likely healing from the delivery, episiotomy or C-section, trying to figure out breast-feeding or feeling frustrated from complications with it, your hormones are all over the place, your ligaments are lax, you are sleep-deprived and dealing with psychological stress, all while caring for a newborn baby.
It takes at least a year for your body to recover from childbirth, but Zimmerman said many women who think they never had any issues later discover three to five years later that their shoulder or neck problem, for example, started when they had a baby.
"I have clients in their 60s who I am now fixing orthopedic issues that stemmed from when they had a baby decades ago," said Zimmerman.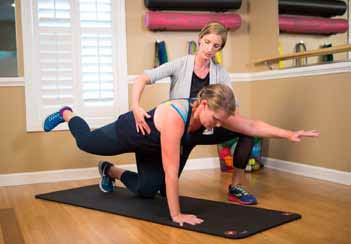 Zimmerman remarked that there are many red flags to look for postpartum.
"If the circumference of your bra is bigger even after losing weight, that tells me the structure of your breathing has changed, and that will affect so much else," she explained. "If you tend to swing your hips forward to hold your child or have to run to the bathroom before certain exercises, if there is a heaviness or pressure in your pelvis, bulging abdominals when sitting up, deep aches in the glutes or tailbone or generally feeling like your body is physically broken, those are all signs that you should seek help."
Her advice is to take the healing process slowly and to remember that just as pregnancy changes your whole body, the approach to wellness should also encompass the whole body.
"Postnatal fitness is so much more than Kegels. You need to establish proper breathing and a great base of strength of core, hip and pelvic floor before advancing to a more intensive program," she said.
Beyond the physical aspects come the mental and emotional struggles that many mothers experience postpartum. It can indeed be a suffocatingly overwhelming feeling to suddenly be responsible for another person and to try to forge a new life balance, and 80 percent of women experience some negative feelings or mood swings known as the "baby blues." If those feelings don't subside after a couple weeks, it could be a sign of a deeper issue, and it is important to seek professional help.
"Perinatal mood and anxiety disorders affect 1 in 7 women," said Holly Fisher, a volunteer and past board president of Postpartum Support Charleston and a survivor of postpartum depression. "It can manifest itself in different ways – depression, anxiety or OCD, for example, but feelings of guilt or regret about having the baby or about the difficulties of being a mother are very common. It's still somewhat taboo because it's not easy to admit to someone else that you feel this way."
These are serious conditions, but they can be treated successfully through a combination of an experienced professional like a doctor or psychologist familiar with perinatal mood and anxiety disorders, an appropriate medication and dosage plan and emotional support. Postpartum Support Charleston offers support, education and healing through groups led by women who have been through postpartum depression or postpartum anxiety.
"It's hugely helpful for moms to have a place where they can go, talk about it, hear other people's stories and have someone else who can say, 'Yes, I know exactly what you're talking about because I've felt the same way,"' Fisher continued. "I had resigned myself to think that life was going to be like this forever, and I would just live like this and cry every day. It's awful to think that you're alone like that."
Having a baby changes everything. But mothers are strong: We grow, we adapt and we carry ourselves and our babies through incredible physical, mental and emotional change, but it's best to get help when you need it so you can get back to doing what you do best: caring for your children.
By Anne Toole