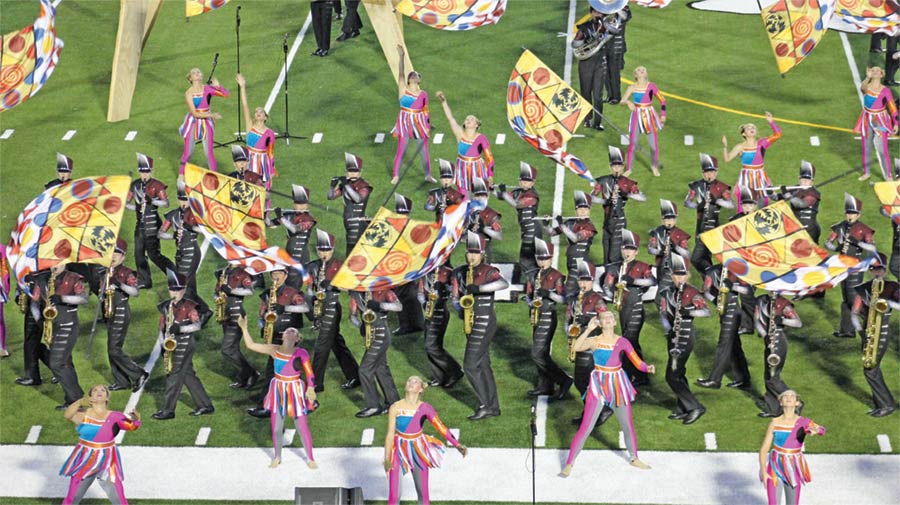 Building a nationally recognized musical powerhouse at the high school level doesn't happen overnight.
The accolades are numerous for the award-winning Wando High School band, but, with arts funding limitations, it has taken a combination of strong feeder middle schools, dynamic leadership, dedicated community support and vigorous fundraising to help create and maintain a culture of success.
You may have heard about some of Wando's myriad of band honors: 11-time South Carolina State Champions; 54 All-State band members last year (the next-highest school had 24); 114 All-Region band members (also tops in the state); and nine students in the All-State Jazz Band (the second-closest school had five).
More than 260 students participate in band at Wando, and each is involved in the marching band in some capacity, whether it's music, props or electronics. But Wando is much more than just a marching band; it integrates different elements of music such as concert bands, jazz bands, symphonic bands and chamber groups and ensembles that play engaging concert performances throughout the year.
Consistency at the helm has helped propel the WHS band to even greater heights. WHS Band Director Bobby Lambert and Associate Directors Lanie Radecke and Jeff Handel have collaborated at Wando now for five years.
"We're really proud of the team we've assembled," said Lambert.
That team starts with the directors of the middle school band programs feeding Wando, a critical component contributing to its long-term success. Jeff Scott at Cario, Mason Mumford at Moultrie and Nicholas Nafpliotis at Laing are the respective band leaders of Mount Pleasant's middle schools.
"Our middle schools are fantastic," exclaimed Lambert. "They just give us an amazing foundation."
Scott, who has directed band at Cario Middle School for 18 years, leads a program that has regularly placed the most kids in All-State programs, including 26 students last year.
He said that regardless of musical interest or talent, Cario's band program focuses on the process of being successful and surrounding yourself with the right kind of people so that when these students enter high school, they are "well-versed in what it takes to succeed." This in turn reinforces the leadership qualities and time-management skills that Wando expands upon.
"Music is the vehicle, but it's not the only goal," Scott said.
He understands that it "takes a village," and Cario's band program has enrolled 200 kids in private lessons this year, employing 30 of Charleston's most eminent musicians in an effort to expose students to the highestquality professional instruction.
"When someone comes into this program (WHS Band), they need to be ready to play," stated WHS Band Boosters President Jay Johnston. "The more prepared they are coming in, the faster this program can go."
But developing a winning brand doesn't come cheap, and this standard of excellence wouldn't be achievable if a band program didn't find the funding to pay its expenses.
BAND BOOSTERS
The WHS band program receives approximately $30 per student from the Charleston County School District. When you factor in travel to marching-band competitions – this year, Wando will have competed in Band of America events in Gaffney; Powder Springs, Georgia; and Indianapolis, for the Grand Nationals – private music lessons, equipment upgrades and other expenses, substantially more money must be raised if a school is to compete at the highest level.
The nonprofit WHS Band Boosters holds various fundraisers for the band throughout the year, such as the Harmony Program, which attracts businesses with different sponsorship levels in exchange for visibility at football games.
The Boosters are now entering their second year of offering a car raffle, which contributed a lot to the program last year, said Johnston, who has two children, a junior and a senior, in the WHS band. Additionally, the Boosters launched a Go Fund Me campaign to pay for the new band uniforms, which were unveiled earlier this year.
Another source of income is parent fees, which help address a portion of travel costs such as the biennial trip to the Grand Nationals. The program also receives some grant funding and is occasionally the beneficiary of community events such as the Blessing of the Fleet. And vital to the success of any well-oiled machine like the WHS Band are its numerous volunteers.
"They help a large ship like this navigate," said Johnston.
BANDS OF WANDO FOUNDATION
Dr. Don Johnson, founder of the Southeastern Spine Institute in Mount Pleasant and self-proclaimed band nerd, has witnessed as a proud parent just how much time and effort is invested into a band performance.
"The best way I can describe a marching band show now is it's like 15 minutes of a Broadway show," remarked Dr. Johnson, who played in the Summerville High School marching band as a youth.
When he first learned about the financing involved, he was shocked. Just going every other year to perform at the Grand Nationals in Indianapolis costs $180,000.
"For us, travel is the single biggest expense we have," said Dr. Johnson.
It occurred to him that many people locally may not realize that Wando's band is "renowned across the country." Recognizing the need to market the band to the community, he established the 501(c)(3) nonprofit Bands of Wando Foundation in January 2016 to help with the WHS Band's capital item needs.
The Foundation primarily assists in three areas: large capital purchases, which have included a new 52-foot trailer and an upgraded sound system for the marching and concert bands; instrument needs and upgrades; and financial-aid scholarships for students whose families can't afford band fees or private music lessons.
Dr. Johnson was thrilled to receive the Foundation's first grant this year through The Beach Company and is hopeful to recruit more business sponsors. The ultimate aim of these fundraising efforts is ensuring that each student benefits from the band program.
"We don't want to have any kid not participate because they can't afford the fees," said Dr. Johnson.
ACADEMIC ACHIEVEMENT AND LEADERSHIP SKILLS
Awards are a great thing, but participating in band also helps young people hone their time-management skills; they learn to budget time better for academics because they have so little of it, noted Lambert.
According to Bands of Wando, nearly 70 percent of band members take more than one advanced placement class, and Lambert revealed that band member grade point averages tend to be higher in the fall than in spring, when there are fewer band activities – a sentiment Johnston and Dr. Johnson echoed as well.
"It creates this sense of 'I can do a lot more than I thought I could,'" said Lambert.
Johnston cited the leadership opportunities available through band and the discipline students gain from the rigorous practices, where they are graded on their performance.
Lambert said that Wando's band program is "built around upperclassmen having opportunities to lead directly."
There are performance and part leaders, and areas where students can lead abound: service, field, logistics, electronics, cleanup and as instructors.
"I think that every student can have an impact from music," proclaimed Lambert. "The spatial reasoning, the cognitive effects, the imagination that is needed in music completely change the way that people see the world."
PURSUIT OF PERFECTION
If you don't have a direct connection to it, why should you care about the WHS band and invest time, money or energy in it or its feeder schools?
Johnston observed that as much as Charleston has earned a national reputation as a destination city, Wando is "known nationwide in the band community. … Additional funding can catapult us to the next level."
Lambert commented that as a community member, it's "the idea of seeing young people achieve greatness" and "perform at a level beyond their years."
But you don't stop climbing when you've already made it this far, and Lambert knows the WHS band must keep improving.
"We still have some roads to travel, and we hope Mount Pleasant will follow," Lambert concluded.