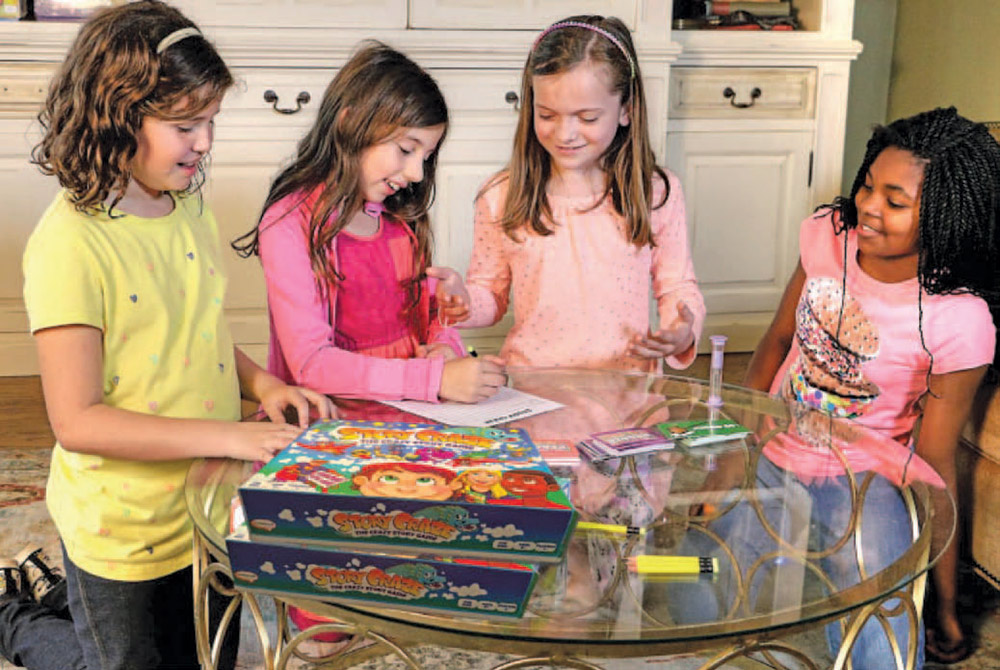 Friends and business partners Marcie Jacobs and Ellen Stebbins were drinking coffee together in a Mount Pleasant Starbucks one midafternoon in 2015 when groups of children poured in from local schools.
They observed as the kids sat at the same tables but didn't interact, staring into their phone screens like zombies. It dawned on them then that in this age of technology, children's social skills are being stunted, and young people need an alternative activity to video games and cellphones where they can unplug and let their "imaginations run wild."
That day, the business partners conceived the idea for Story Craze, a fun creative-writing and storytelling board game for ages 6 and older.
Jacobs and Stebbins funded the project through the online crowdsourcing platform Kickstarter and product tested "Story Craze" for more than a year, starting in 2016, before it was developed. Hundreds of kids provided feedback and input that went into devising the game, nearly all of them from Mount Pleasant and Charleston. It was tested at camps, schools and after-school programs such as WINGS for Kids and student support-services programs like Communities in Schools.
"This is their game. We just made it happen," said Jacobs, who splits her time between Charleston and the North Carolina mountains. "All the content was created by the kids."
To play, teams draw random people, places and things cards, which they use as prompts to create three chapter stories that follow a story arc and feature introductions, action and endings/cliffhangers. You have 10 minutes to write each chapter, and, once written, the stories are acted out and a judge, who awards points to the team whose chapter best captures the theme appearing on the "judge" card, is selected. The team with the most points at the end wins the game.
"Children have a blast playing Story Craze; it sparks creativity and imagination, but it also provides a tool that educators can use to teach critical thinking, communication and problem-solving and leadership skills," said Jacobs.
It can even help boost self-esteem. During product testing, Jacobs and Stebbins witnessed normally reserved children coming out of their shells and confidently acting out stories.
In September 2017, the first game boxes arrived at their warehouse in downtown Charleston, and Story Craze has been in retail ever since.
"Every elementary and middle school in Mount Pleasant now has one of the Story Craze games," said Jacobs. "Counselors are using it, too, utilizing the game as a way to help kids on the Autism spectrum express themselves."
As collaborators, Jacobs and Stebbins make a great team. Jacobs is chief story starter of their board-game company, StoryClub Games, LLC, and she handles graphics and videos. StoryClub COO Stebbins, a Mount Pleasant resident, developed their website and coordinates everything from corporate strategy to financial planning, earning her the moniker "The Maestro."
"It's a good fit for both of us," noted Jacobs.
This isn't Jacobs' first rodeo when it comes to creating a board game. In 2010, she developed a similar concept called "Girls' Night StoryClub," a tabletop game where women gather much like they would in a book c
When Jacobs met Stebbins at an East Cooper women's networking group for entrepreneurs, they initially discussed creating a "Girls' Night StoryClub" app but shelved the idea due to its costly nature. Instead, they have developed a game designed to give children a respite from the screens that command the bulk of their attention.
Jacobs called Story Craze a "solution to the appendage of a Smartphone connected to your child," while it has also been described as being like "'Mad Libs on steroids." But however you want to describe this interactive board game, it's a solution to make learning fun.
You can find Story Craze at any local WonderWorks store – where it has been rated the top game of 2018 – on Amazon or at www.storyclubgames.com.
By Colin McCandless