Cheerleader n. 1 a person, typically one of a group, who leads fans in cheering for a team, as by shouting practiced cheers, performing aerobic stunts, etc. 2 a person who enthusiastically promotes or supports a cause (Webster's New World College Dictionary)
… The cause, most typically? Our beloved pastime of football.
Think about your team of choice for a minute: What would the game be without that bright-and-smiling, peppy, flippy, always-in-sync, coordinated squad?
Dull.
Yes, I said it. Because we all look forward to those happy halftime shows to see what our favorite squads of hybrid gymnasts/dancers/all-stars can do. And they bring it every time. But don't let them fool you; though they may make it look oh so easy during those few short minutes, those guys and gals put in long hours of training, attend summer camps and are very much the "ultimate athletes." … with good attitudes.
And as all things have changed over the years, so has the sport of cheer. It continues to get increasingly competitive and impressive year after year. These athletes are more than pep-raisers for the boys on the field – they are a team of their own, achieving impressive feats every season.
Take Clemson – which was born as an all-male squad. "Clemson was originally an all-male military school. … They added females to make a co-ed team and eventually had JV and varsity co-ed teams. Now we have a co-ed and all-girl team. Both have the same team requirements; the difference is the style of stunting. Over the years, there have been many changes to the structure of the program, but one thing that has stayed consistent is the passion and love for Clemson the athletes demonstrate year after year," explained Head Coach Tori Polsinello.
Polsinello, leading the team since October 2012, has roots in cheer. She attended the University of Albany in New York, where she cheered all four years, then proceeded to coach at Kutztown University in Pennsylvania and later at the University of Arizona from 2009 to 2012.
"In college, I was an instructor for the National Cheerleaders Association, worked with many local high school teams doing choreography and coached at a local high school. I really enjoyed my college cheerleading experience. Our program grew tremendously over my four years, and I was very interested in coaching at the college level to help provide a great experience for other student athletes," she elaborated.
The team remains competitive and refines the program each year based on experience from the year before. Strength, new skills and charisma are three things the squad constantly strives to attain.
"We constantly work to attain new skills and find different ways to get the crowd involved at games. … Our strength and conditioning program has changed over the years. We didn't always have access to the training room, so we are grateful for that resource and take our 6 a.m. workouts seriously," she said.
While most of us bask in the last few weeks of our summer break, the Clemson team reports about two weeks early to start practice and workout sessions, as well as welcome new team members. The team also attends camp to learn the most recent stunting techniques and new game-day material.
All the training is critical because the team competes every year at the National Cheerleaders Association (NCA) College National Competition.
"This is the one event we get to showcase the athleticism that comes along with the game-day side of cheerleading," Polsinello explained. "Our division is very competitive, and, although competition isn't our main focus throughout the year, preparing for the competition – held in April – helps us improve our skills as a program and bond even more as a team."
Aside from games – cheering at home and away football games, home volleyball games and home men's and women's basketball games – the team performs at Tigerama, the homecoming pep rally, and also at the many welcome-back events on campus and at schools and retirement homes in the fall.
Speaking of all Clemson's hard work, let's move on to the University of South Carolina, where Head Coach Erika Goodwin turns up the heat year after year with her impressive squad.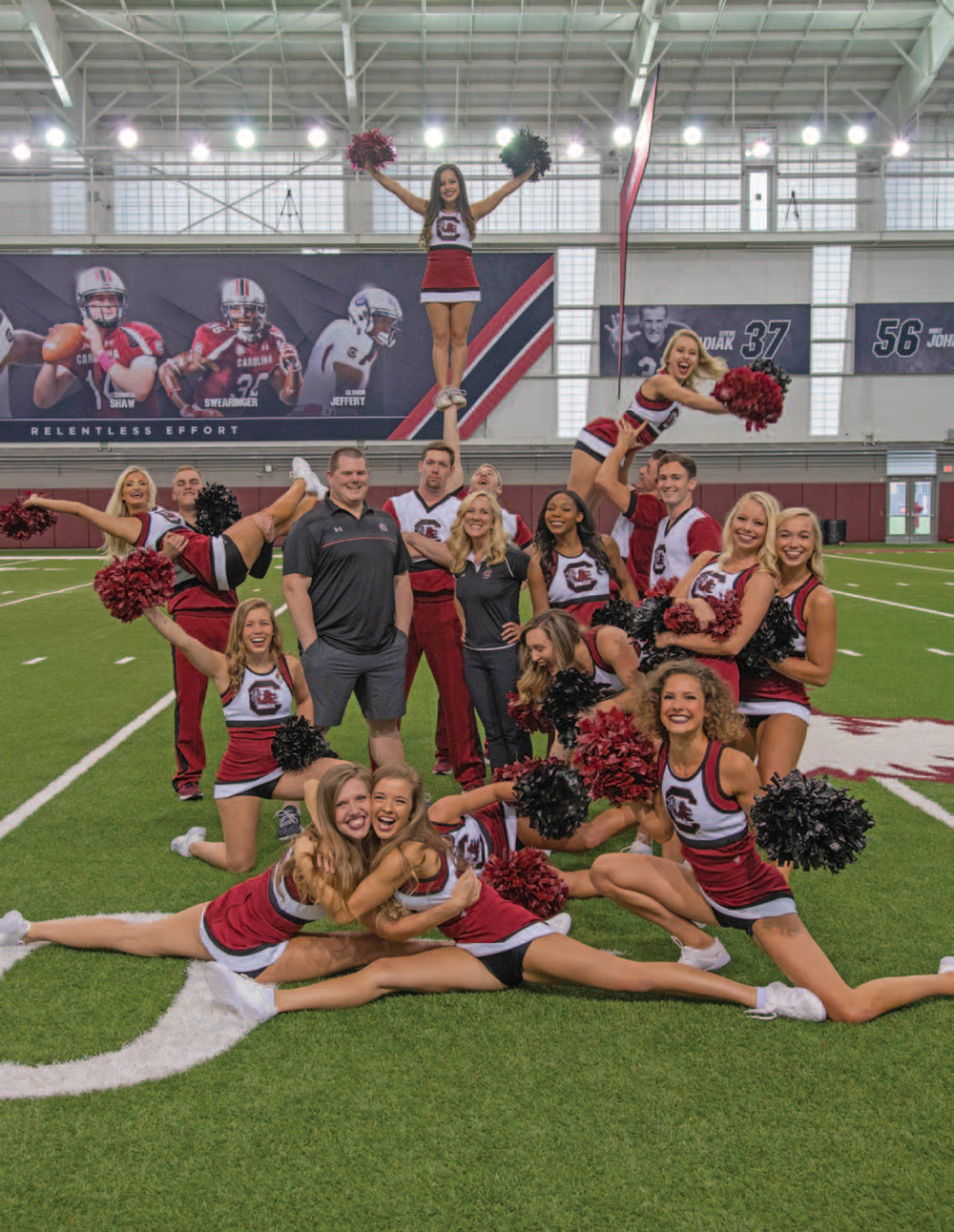 Goodwin began her coaching at USC in 2004, and her love for cheer at the school runs deep – she was a cheerleader there herself while she was working on her undergraduate degree. She also cheered at the University of Louisville while she was in graduate school.
The USC squad puts in the work, sacrificing summer hours starting July 30.
"We compete nationally, which involves each athlete to be highly skilled in the techniques of stunting and tumbling," stated Goodwin.
This time together gives new members ample opportunity to become comfortably acquainted with their team members.
"We attended NCA College Camp to conclude our first two weeks together. They are very familiar with each other prior to the start of the season," said Goodwin.
While the USC cheer squad is no doubt talented and hardworking, their top priority has not changed all these years: supporting Gamecock athletics.
And with that priority in mind, they are certainly anticipating this football season.
"We look forward to every game we attend to cheer on our Gamecocks. We are very much looking forward to the start of football season and getting back into Williams- Brice Stadium in front of all of Gamecock Nation," Goodwin said.
The squad also has its focus set on competing at the NCA National Collegiate Championships in April 2019, where this past year, the all-girl team placed second and the co-ed team placed fourth.
The squads that cheer on The Citadel Bulldogs, College of Charleston Cougars and Charleston Southern Buccaneers bring their own brand of talent and history to the sport of cheer.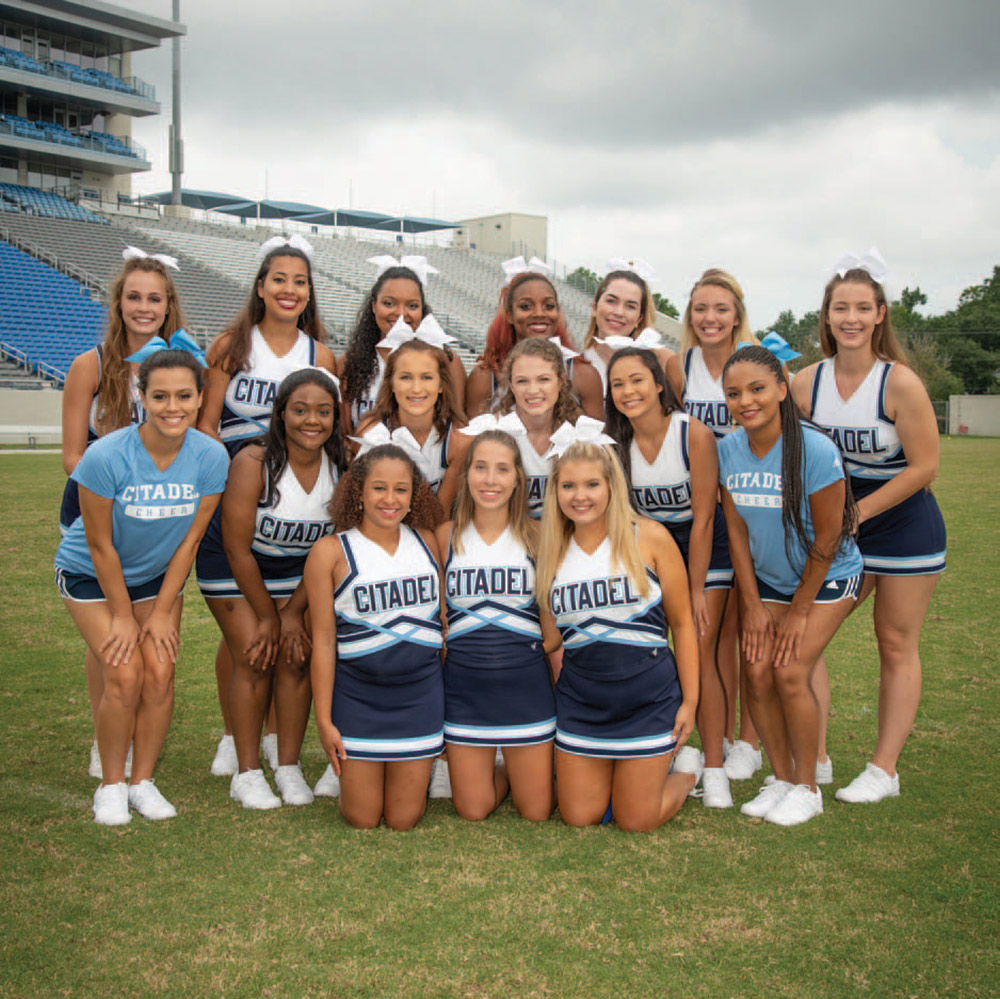 The Citadel cheer squad grew in stages, mainly because it originated as an all-male military college. In 1985, a bill was presented to the South Carolina General Assembly proposing that the all-male college "metamorphose" into a co-ed college. In 1988, a cheer squad was formed of young women from the community and the College of Charleston until, eventually, there were female cadets who wanted to cheer.
The squad has made impressive leaps and bounds since then.
Dawn Turner now heads up the program, along with Assistant Coaches Fraser Speaks and Aimee Chapman, picking up the reigns in January of 2018.
Turner served as the cheer coach at Francis Marion University, her alma mater, and after that as the advisor for the cheer and dance program at Radford University. Turner credits her assistant coaches as "the experts" in dance, tumbling and cheer.
"I was very lucky to be connected with them, and they are currently volunteering their time and energy. Cheerleading is constantly changing, and we have to try and keep up in the way that our team is able to. Aimee and Fraser are the ones that I lean on to make sure we are using up-to-date routines, music and fitness programs that will help our squad continue to improve," said Turner.
She is adjusting to a growing team with various skill levels, and she spoke to those challenges and how she plans to prepare for growth and creating "unison."
"I believe that what you do with a squad depends on what their abilities are. One year, you may have cheerleaders who are more expert level in stunt, and the next you may have a great group of tumblers, and then another group [that] has significant cheer experience. With the current program, we adjust based on the sport we are supporting. We do things differently for football in some areas than we will for basketball."
Watching this team having pictures made, it was obvious that they were already a close-knit group, at home with each other and quick to crack jokes and have fun before the day's camp got underway. The reason why? Turner puts heavy emphasis on team bonding – especially when cheerleaders of all skill levels and backgrounds are coming together as one and spending hours together.
"We had a team beach day and dinner the night before camp started on Aug. 13. We had designated 'bigs' and 'littles,' and they took the time that night to present their gifts. We also unveiled our brand-new uniforms and had a team meeting to set the stage for camp. We felt that by the end of camp, they were a completely different team and were beginning to solidify," Turner elaborated.
The squad is looking forward to supporting the football and basketball teams this year. Competitions aren't out of reach, with Turner looking at the possibility of attending a smaller competition, such as Can-Am in Myrtle Beach or attempting to get a video bid to the NCA Nationals in Daytona Beach, Florida, in April 2019.
For football-player-turned-cheerleader-turned-cheerleading coach, Charleston Southern's Richard German knows one thing: Cheering is tough.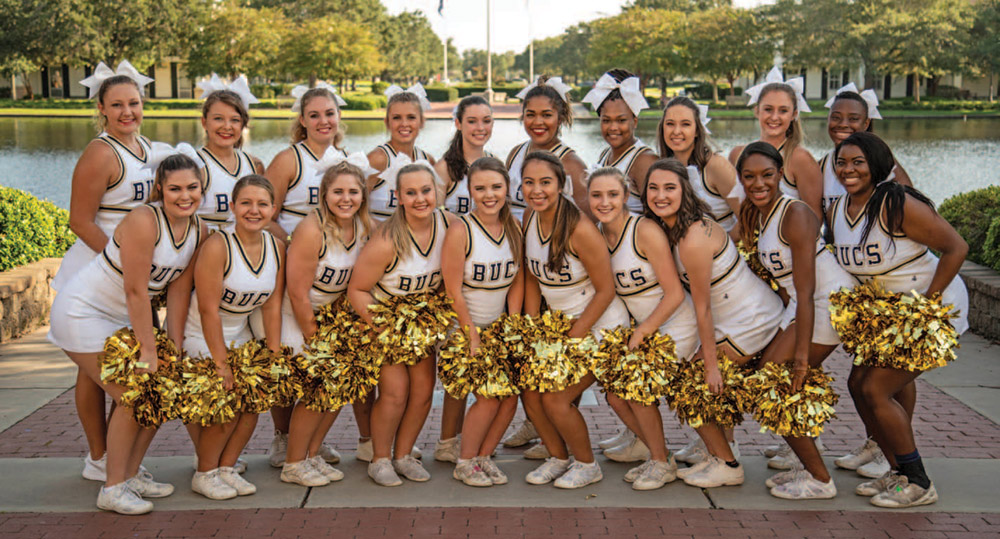 "I was a football player and I did track and field, so when I came into cheerleading in college, I kind of had the mentality that cheerleading wasn't necessarily a sport – that it was just more of like a 'support' sport. But getting into cheerleading, I realized that it was harder than pretty much any football practice that I had in high school."
German started as assistant coach in 2014 and cheered at CSU from 2012 to 2014. He is now the head coach and has ambitious plans for both strengthening the team and integrating it into the community.
German acknowledged the ever-changing world of cheerleading and the stiff competition and responded, "One way I've kept up with it [the competition] for CSU's team is that since being assistant coach in 2014 and each year up until now, we've added extra practices and extra conditioning sessions to keep the girls in shape to where they can do those skills safely and make them look good."
Even while talking with German, his team was actually hard at work in a mini-camp preparing for the upcoming season. The week of their all-day camp consisted of workouts with their strength and condition coach, meeting for cheer review and "team time" to get acquainted and establish themselves as a unit.
German and his squad have no plans for competition this season, as they are focused on rebuilding and strengthening, but they are looking forward to the regular games, hosting kiddy camps and participating in community service projects, such as a special needs walk/run.
Reflecting on his favorite memory with the team, German stated, "This is my fifth year coaching, and I've gotten to see girls go from freshman through their senior year. It's really just getting to see them grow up and become who they're going to be the rest of their lives and having a part of that."
College of Charleston athletics have always impressed us, and their army of cheerleaders is no different. The team, led by Head Coach Amber Meteraud, continues to bring fresh, impressive stunts, routines and cheers to sporting events. And while the Cougars don't have a football team, this cheer squad does its fair share of rallying fans and athletes at basketball games – kicking off the season with the always-exciting block party at the Cistern.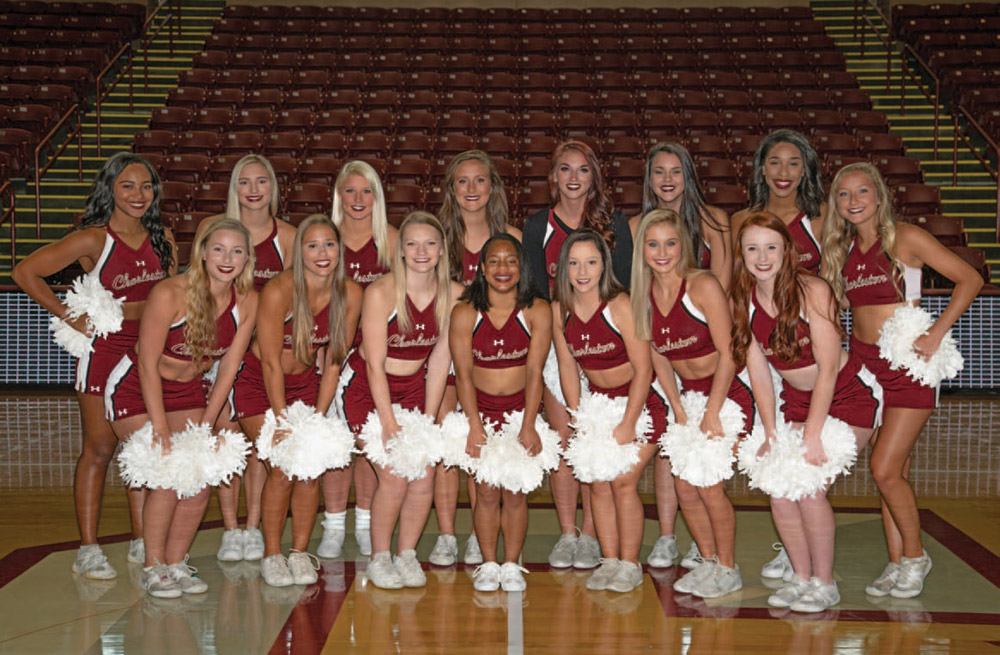 Speaking to the fun she has had at basketball games, Meteraud reflected on her favorite memory with the Cougar cheerleaders: "Our basketball program winning the CAA Conference championship. We were undefeated in TD Arena, and our program was put on a national platform at the Big Dance! Let's hope Coach Grant, the boys and our spirit squads can pull out another huge season for the program."
Meteraud, a seasoned gymnast who is also the coach for the Palmetto Christian Academy competition squad, is entering her second season with the Cougar cheerleaders and is looking forward to the team hosting its first annual Alumni Weekend, as well as making its first appearance at the NCA Nationals in Daytona since 2011.
Meteraud, a 2013 graduate of Clemson University, lives by the words of her alma mater's football coach, Dabo Swinney: "Do common things in an uncommon way." That mind-set carries over to her method of coaching.
"I hope to continue to build an environment that encourages young women to strive for whatever it is that gets them out of bed in the morning while truly feeling a sense of accomplishment in everything they do," she explained. "My goal is for the team to be invested in the rules and accountability factor that come with being an ambassador for the College. They are expected to encourage each other to succeed day in and day out, on and off the court, in order to grow the culture of the team year after year."
With the team's top-notch outlook comes top-notch training. Meteraud cites consistency, uniformity and understanding traditions as keys to building a strong team.
"Cheerleading, like any other sport, needs uniformity. Everyone is held to the same standard whether they are in their first or fourth year," she concluded.
By Helen Harris
Photos by Thomas Runion