"My No. 1 goal is to be responsive to the citizens of Mount Pleasant"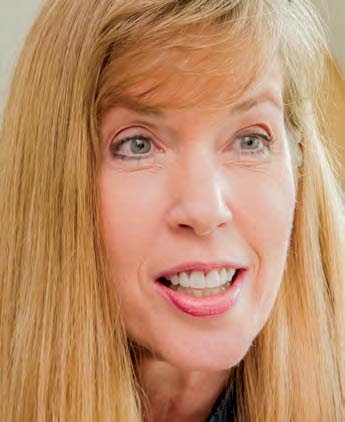 Kathy Landing is a successful businesswoman with a long history of community involvement. But she felt that an important line was missing from her resume.
"A voice inside me told me there was something else I was supposed to do," she explained.
She discovered that something else Nov. 7, when she was elected to the Mount Pleasant Town Council, finishing in third place among 10 candidates.
To Landing, communication with her constituents is one of the key aspects of being an effective Council member, and listening to all sides of an issue is vitally important as well. She said she is not aligned with Save Shem Creek, an organization that is trying to slow Mount Pleasant's meteoric growth.
"My No. 1 goal is to be responsive to the citizens of Mount Pleasant," she said.
"People want to come here," she added. "It's an enviable position, but it does bring challenges. If you develop areas where people live and roads and schools aren't keeping up, that's not thoughtful growth."
Landing said one way to help solve Mount Pleasant's traffic problem would be to find a way to encourage businesses to locate near neighborhoods so people would be able to walk, bike or take a short drive to obtain the products and services they need. She went on to say that the town should recruit a large employer similar to Blackbaud, which is located on Daniel Island. She said the GenPhar campus near Oakland Plantation shopping center would be an ideal location, possibly for a company in the film and television industry.
"We have to have diversity in our economy beyond tourism and health care," she said.
Landing added that Mount Pleasant needs more special-occasion restaurants, as well as CARTA bus routes that fit the needs of local employers. To learn more about the public transportation situation, Landing accepted an invitation to ride a CARTA bus throughout Mount Pleasant and to downtown Charleston. During her journey, she solicited the opinions of her fellow commuters.
"It was an eye-opening experience," she said. "I believe the No. 1 objective should be to get as much input as possible."
Landing was born in New Orleans and also lived in New Jersey and North Carolina before moving to Mount Pleasant in 2004. A graduate of Duke University with a degree in Biology, she originally planned on a career in the health care industry. She later interviewed with an investment company, where she "got to work with people and help people and fell in love with that."
Landing and her husband, Joe, have two children. Their son, Joseph, a Wando High School graduate, is a senior at the University of Miami. Their daughter, Kristie, attended Wando and spent her junior and senior years at the South Carolina Governor's School for the Arts and Humanities in Greenville. She graduated from Duke and later earned her master's at Sotheby's Institute of Art in London.
As a volunteer, Landing has worked with Operation Smile for 20 years, the past eight as chairman of the board of the Carolinas Chapter. The organization provides lifesaving surgery for children born with a cleft palate.
She pointed out that she considers Mount Pleasant to be "one of the most beautiful places on Earth."
And what does she think is the worst thing about Mount Pleasant?
"Maybe that we have it so good, we don't appreciate what we have and how really fortunate we are," she said.