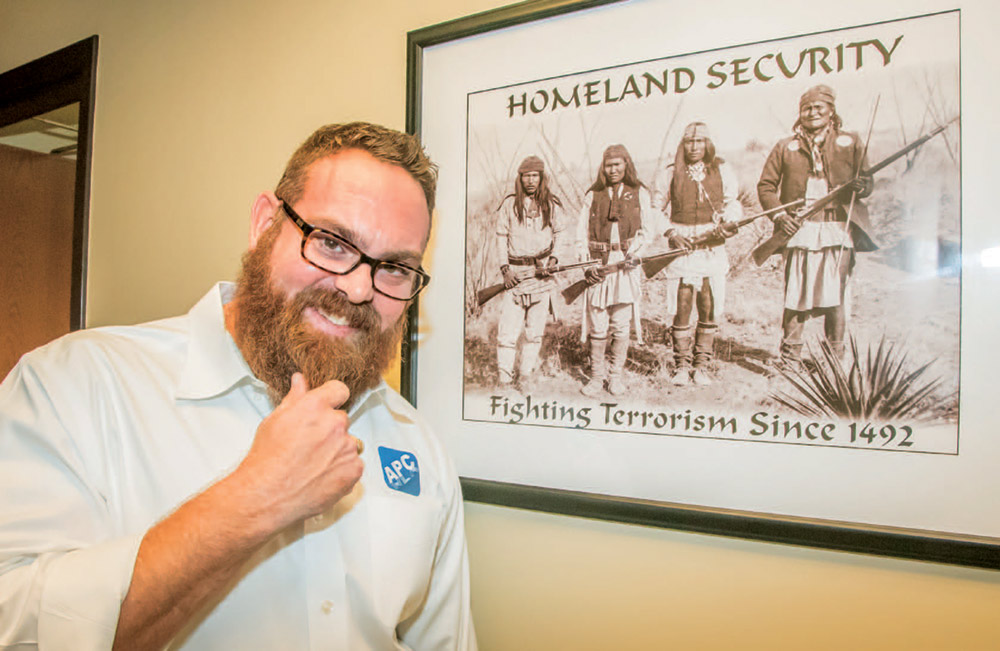 Noah Leask, a student who performed little better than average in high school, excelled as a cyber warrior in the Navy and as a civilian did contract work for the U.S. government at a level so clandestine that he's not at liberty to discuss the details or anything else about it. He has started one company since his military career ended, and at least two others have benefited from his talent and expertise. Captivated by the prospects for the future of artificial intelligence – machines that can think – he recently purchased a book on AI, thumbed through its pages and declared himself ready to tackle another complex aspect of the ever-changing universe of technology.
The Mount Pleasant resident apparently is nothing short of a genius, a man whose nimble mind has the innate ability to comprehend, dissect, explain and put to good use any and all information that can be gathered by humans and computers.
Not so fast, said Leask, now 45 and still seeking technological worlds to conquer.
"I'm not a genius; I don't feel special. I have a talent, a unique skill. It's incredible," said Leask. "And that skill is really vital right now. I was born at the right time. I'm built for artificial intelligence."
Leask, a self-proclaimed geek and an American Indian whose Chippewa spirit name translates to "Leading Eagle Feather," graduated from high school in Cheboygan, Michigan, with an uninspiring 2.75 grade point average. He enlisted in the Navy at the age of 17, aced a test he was given to determine what job he was qualified to tackle and did so well that he was asked to take another exam to see if he was smart enough to be a nuclear engineer. He passed that one as well.
"The thing is, I cared," he explained. "I wanted to be the best. That's what I want to do everywhere."
He worked in cryptographic communication for a few years, then was given the option to attend softwareengineering school.
"I've never been the same since," he said.
Leask's military career eventually took him to Italy, where he met a naval officer named Lisa, a Charleston native who, as it turned out, was his wife-to-be. After they left the Navy in 2002, they lived in the Washington, D.C., area for three years, then escaped the rat race that is the nation's capital by relocating to Mount Pleasant – sort of. In 2006, they officially became entrepreneurs, launching ISHPI, a company that contracts with the federal government, primarily to handle cyber-intelligence projects too secret to speak about. He did reveal that ISHPI was into software engineering, data work, consolidating networks and "making Unix and Windows talk."
"It's cleared at a level I can't even discuss, so I just keep my mouth shut," said Leask, who pointed out that life didn't get all that much easier when he and his wife moved to the Lowcountry – not right away, at least.
"When we came here, I worked harder than I ever did in my life. When you are playing with your own money and you've got to make a mortgage payment, that's pressure. How do you fail? Do you tell the kids you don't have a house anymore?" he asked. "If you want to be an entrepreneur and you're not willing to take a risk, get a job. It takes a lot of balls. Anyone can start a company, but can you make it work?"
In addition to having to make ends meet financially, when the Leasks first started ISHPI – a Chippewa word that means to move forward or advance – he was living in a buddy's basement in Leesburg, Virginia, and working in Washington, D.C. He had to move out in June 2008 because friends of his friend were coming to visit, so he decided to make Mount Pleasant his permanent, full-time home.
Leask earned a Bachelor of Science in computer networking from Strayer University in the nation's capital and a master's in business administration from the University of Michigan, where he learned that based on traditional business models, he probably should have shut ISHPI down.
"At times it didn't make sense to keep it open, but we never missed a payroll," he said.
ISHPI now has 420 employees nationwide. Leask served as its president and chief executive officer from 2006 until 2016, and now he's the company's chairman. He's involved in strategy but not in the day-to-day operations. In his words, "I went on to do other stuff."
That stuff includes working on the technology side with APC Data Analytics, a Mount Pleasant company that has developed a real-time, data driven tool to perform real estate market evaluation and research, pricing and lead generation. He also is supporting another startup, Resource Connector, an online portal designed and fueled by artificial intelligence and data analytics that, in his words, "makes the vast amount of health care and human services data and information actually usable."
Leask is also heavily involved in Bublish, the world's first complete, cloud-based publishing system that integrates marketing, branding, discoverability and distribution. Outside the world of technology, Leask owns commercial real estate in the Lowcountry and AE Fit, a gym in Mount Pleasant that is "a 24/7 home for athletes, competitors, lifters and fighters where it's encouraged to be loud, train hard, drop weights and get dirty," according to the gym's Facebook page.
The Leask family has shared their success with others, establishing scholarship funds for members of the Sault Ste. Marie Tribe of Chippewa Indians and the Bishop England High School Options Program. Last year, they donated $1.92 million to the College of Charleston School of Business to create the Noah Thomas Leask Distinguished Professorship in Information Management and Innovation, which will fund a chaired faculty position forever.
"You have to make money to give money," Leask pointed out.
And entrepreneur Noah Thomas Leask intends to continue to do just that as he delves into his new obsession.
"Artificial intelligence is all about data science and data mining," he said. "The power of AI tells us things we never even thought of before, which leads to answers in areas we haven't thought of yet. We can't correlate the data we have today. Only computers can. I'm teaching myself AI from the ground up. Data is king, and AI is real."
So, if he insists he's not a genius, what is it besides having a unique skill set that has made Leask a wildly successful entrepreneur? Where does he find the time and inclination to make the businesses he touches so successful?
"I need to be doing two things at once. I can be in a meeting and working on code at the same time," he explained. "I seem to get so much more done than everyone else. And I haven't had this much fun in years."