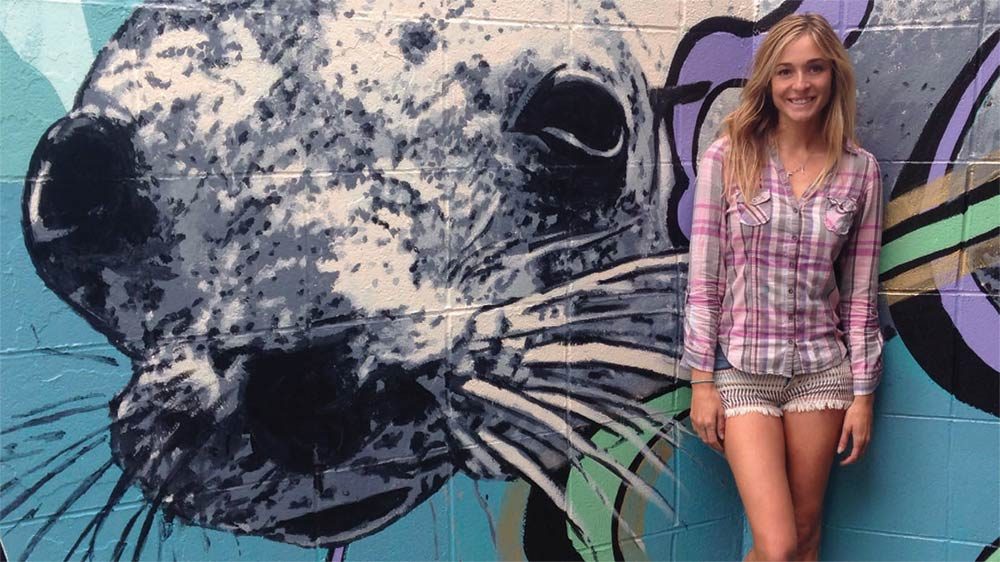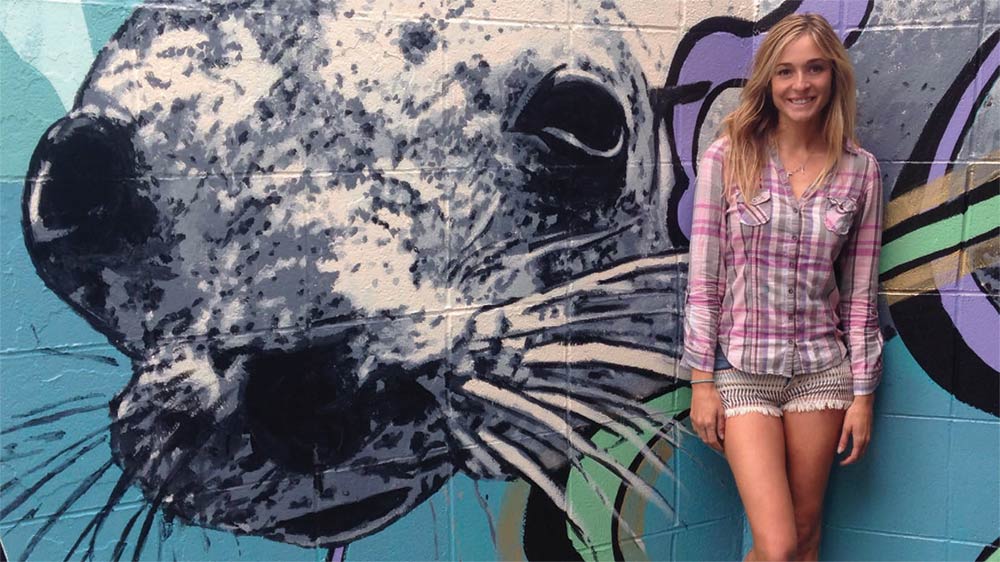 Sitting in the late morning light in the Dewberry's living room, Gretta Kruesi looks nearly editorial wearing a graceful white blouse, patent pumps and chunky, drop earrings in a bold cerulean. But the artist sports a casual pony of straw-blonde hair, her cheeks are covered in freckles from sun, and, when she smiles, she beams. You can tell that this woman lives by and for the beach.
"She has an instinct for greatness."
That is a line from Kruesi's mother, best-selling author of "The Beach House," Mary Alice Monroe. Her novels – like her daughter's upbringing – are heavily rooted in the oceanfront culture of her Isle of Palms home. Now that Kruesi has returned to the Island – and her mother – after almost a decade adventuring in oceans worldwide, she is making her own mark.
"It took me a while to realize that art really is my calling," Kruesi said.
She was raised in Isle of Palms and followed "a pretty straight and narrow route" to Clemson, graduating with a tongue-twisting degree in environment and natural resources, with a concentration in conservation biology.
"I was a total science nerd," she laughed. "I took art as my creative outlet, a GPA booster in school or extra money when I needed it."
For anyone not familiar with Kruesi's work, you might've passed it dozens of times without knowing. She's the artist behind the "Greetings from Isle of Palms" mural that transformed Front Beach last year – a dingy cinderblock facility turned into a vision of sea life and dolphins at play thanks to Kruesi.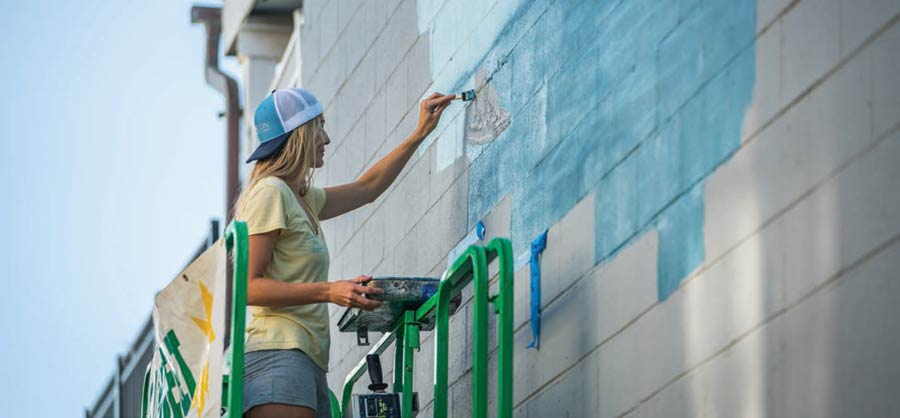 "Isle of Palms is naturally beautiful and subtle," she explained. "A big, loud mural would be too much. You want something that, looking down the street, you might almost miss, but, when you look and notice it, it's beautiful."
Painting that mural was a homecoming of sorts, Kruesi diving back into both her passion for art and her home at Isle of Palms.
After graduation, Kruesi's "straight and narrow" path transformed into a jet-setting roller coaster.
"I had this cookie-cutter life ahead of me: head of my department at a nonprofit and a long-term relationship. But I decided I'm 23 years old!" she said. "You only live once. I wanted to know what I was capable of."
Instead, Kruesi took a sponsorship and became a professional athlete, living in Maui and traveling the international circuit to surf and kite surf for a living. She talks about it casually, as if hopping islands for photo shoots with Lacoste, Teva and Coca-Cola or surfing South Africa are just what one does with a conservation biology degree.
"I'd paint in my free time," she explained, soaking up and participating in the local street-art scene wherever she went.
By the time Kruesi gave up her career in kite surfing and settled in California, she'd established not only the travel record of a jet-setter but also the portfolio of a dedicated muralist. Still, art was mostly just a side hustle – like at Clemson, a creative outlet. She did modeling, attended Uber's launch parties, went to Burning Man and even started her own food-truck business. Between serving up açai bowls, cold-pressed juices and breakfast burritos in Venice Beach and becoming a top contender in Food Network's fifth season of "The Great Food Truck Race," Kruesi was still painting. Even on a trip to Greece to volunteer in a Syrian refugee camp, she painted a mural.
For someone who never intended to become a professional artist, Kruesi has built a reputation and a portfolio that suggests otherwise. Her accolades include a solo show during the prestigious Art Basel Miami Beach and being named one of Los Angeles' "nine leading female street artists" by Lab Art – all just for the love of painting.
"Everything I've done, from environmental nonprofit to food to sports – I've loved it," she beamed.
When it finally came time to decide whether the food-truck business would be her main hustle, Kruesi took a hard look at the many loves of her life. In the end, art trumped the rest.
"In life, you reach these moments where you change paths. Sometimes that's when life is hard or just a big decision," she reflected. "I was up against it (with the food truck), you know, when you have real money at stake."
Kruesi sold the food-truck business for a sum that would allow her to become a full-time artist. Then she reached another fork in the road of life: "Right when I made the decision to pursue art full-time, I got pregnant."
For Kruesi – the international sports pro turned entrepreneurial chef – it was time to come home. Nearly a decade had passed since she'd lived in Isle of Palms, painting with her mother and walking her childhood beach.
"It's coming back to my roots now, as a mom. After being away for eight or nine years, (IOP was different) and I was different," she said. "In LA, it's like everyone is a bunch of Peter Pans that kind of never grow up. Coming home rooted and grounded me as a mother and a person in ways that I needed and maybe wouldn't have had otherwise. I wanted to raise my son near my family."
Kruesi's Isle of Palms mural signified her return to painting and to Charleston, her first big project after a maternity hiatus and moving back. As Kruesi sees it, the city's convergence of coastal tradition and hipster ingenuity is an ideal match for her artistic style.
This fall, Kruesi is set to make her mark on Charleston in big ways. She's done a piece on the new Guild Apartments and is decorating Bill Murray's food-truck foray, Container Bar. She plans to cover the Windjammer wall with a commemorative mural to soldiers in foreign wars just in time for Veterans Day. Next year, at the Southeastern Wildlife Exposition, she'll show as a featured artist with a series of local animal paintings.
"One of the things I love most about art is the challenge," she smiled.
Like the words from her mother's "Beach House" series: "Pride of one's work is not improper, unladylike or vain. We can all take a lesson from the sea turtle. She does not travel thousands of miles or risk all for her ego. She has an instinct for greatness."
Next time you pass Kruesi's Isle of Palms mural, look for the sea turtle; she's smiling knowingly, as if she can tell there's greatness to come.
By Enid Brenize