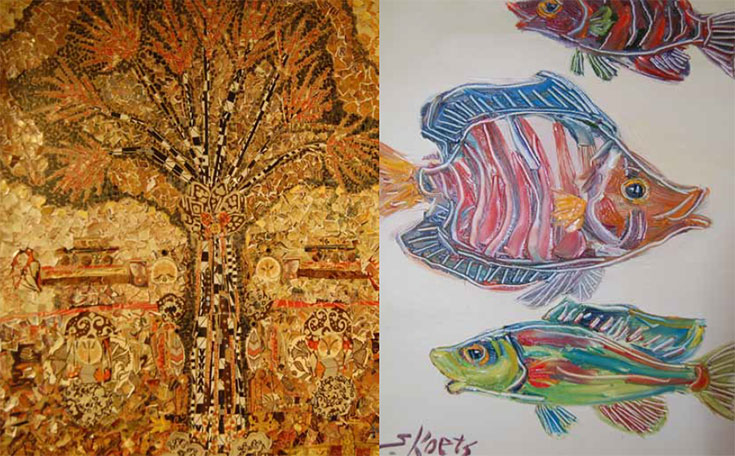 Sarah Parrish was headed toward the art world, even receiving two bachelor's degrees, in Art and Arts Management. Then something happened.
"I was going to go into that line of work, but then I got sidetracked with coffee," she said.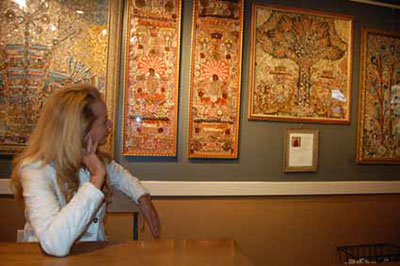 Parrish opened Metto Coffee & Tea with her husband, Paxton, 11 years ago. But even as a full-time coffee shop owner, she couldn't completely leave the art world behind.
The walls of Metto have become a venue for local artists – often some of her customers – to display their works.
"We just ask that they submit pictures or a website so we can kind of check out their work and make sure it's appropriate, fits the vibe at Metto and suits the space," she said.
Artist Laura De La Maza has been on display at Metto since last fall. A retired art teacher, De La Maza said she is appreciative of the support Metto has shown for local artists.
"I think it's great that they do that, that they give us an opportunity to speak through our art and use their walls as a venue. It's wonderful. I can't say enough about it," she said.
De La Maza's colorful, vibrant pieces move regularly from the walls of Metto to customers. Perhaps it is her deeply personal style that drives the purchases.
"My work is coming from my subconscious and from my soul. It's really from my soul – the color, the lines, the images are really soul-driven," she said.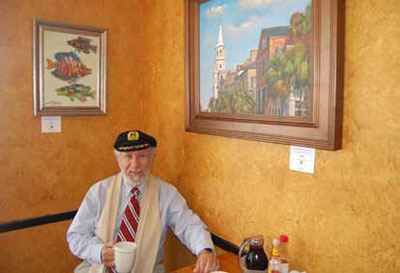 As for Parrish, she is happy to provide an avenue for display for the artists and doesn't take any commission on sales. De La Maza said she has sold quite a few works, including one recent sale to the parents of a former elementary student of hers as a gift for his 29th birthday.
"I was kinda surprised. It just tickled me that the parents contacted me," she said.
Artist Ellen Stoecker also has gotten attention for her art in an area coffee shop and said the process for getting her work displayed at Starbucks on Coleman Boulevard was relatively easy.
"All you need to do is talk to the manager and show them the work. It's super easy. And what a great venue," she said.
Stoecker sold her first ever pieces of art at Starbucks, with some of the sale money going to a special cause.
"My big passion project is elephant rescue, and part of the money goes to the David Sheldrick Wildlife Trust that rehabilitates orphaned elephants and rhinos," she said.
Still other places of business use a different method to curate and procure art to display. Charleston's Cafe, now closed but once located on Johnnie Dodds Boulevard near Anna Knapp, had a slew of artwork adorning its walls, many of them courtesy of Captain Bob.
Bob Hellebush is 72 and is constantly in motion. A former CEO of an investment firm, he opened a Mount Pleasant office in 2000. He retired to the area in 2008, but, by his own admission, doesn't have the ability to stop working and now operates Charleston Excursions with Captain Bob, serving as the lead limo driver and full-time tour guide in Charleston and Savannah.
"I do this for fun. I'm one of those people who has no brakes. I can't stop working," he said.
In between investment and limos, however, he began peddling art in 2004. He brought his love of artwork and his entrepreneurial spirit to the walls of nine restaurants in the area. He bought 800 paintings from assorted artists from a local dealer and began selling them in area eateries, taking a portion of the sales – which were off the charts.
"I probably netted 40 grand a year," he said.
And then, the Great Recession happened.
"It was around 2008 when that hit. It's like the needle went off the chart. It just stopped," he explained.
Sporting a black captain's hat with an embroidered gold insignia, Capt. Bob said the paintings he put up for sale had appeal because of their reasonable prices and their reflections of the Lowcountry, especially when they were purchased by visitors to the area.
"They like decor, something that reminds them of their trip to Charleston," he said.
While he has seen a downturn in the business, he said people are still buying art, and he has no reason to doubt another uptick like the one he saw in the mid 2000s might happen.'
"There's nothing to say it won't cycle around again," he said.
By Mike Gibbons