American author, monk and mystic Thomas Merton once proclaimed, "Art enables us to find ourselves and lose ourselves at the same time." Without intricate portraits, oil paintings of captivating cityscapes and funky abstracts, where would we be? Mediums of creative expression have the ability to transform a space and create a mood. We chose a variety of Mount Pleasant businesses and establishments that have put just as much effort into selecting what art graces the walls as what mission statement drives company culture. From dentist's offices to eateries, the places where you can uncover a masterpiece may just surprise you.
Grace & Grit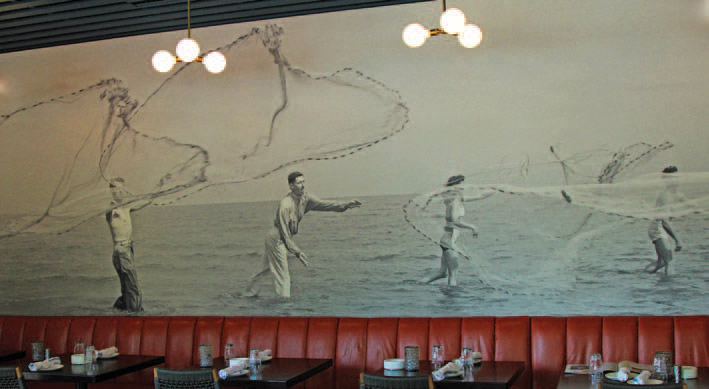 This eatery turns out succulent oysters, hot cups of she-crab chowder, bacon creamed corn and Southern fried chicken. The interior also serves up a visual feast. Gleaming oyster shells hang from the rafters, creating a curtain of sorts above tables and comfy booths. The real stunner comes in the form of a black-and-white mural of men kneedeep in a waterway, casting their nets in hopes of bringing up a bounty of seafood.
"We chose it because of how it also ties in with our name and the meaning 'Grace & Grit' holds for us," said Grace & Grit Office Manager Eli Kline. "Being locals with long-standing family ties to the area, we love our home dearly – her natural beauty, her cuisine, her people and their history and in all her grace and grit as well. Our restaurant is meant to be our tribute to all of this – thus our name."
The mural isn't a work of fiction but a replica of an old photograph discovered at the State Library and Archives of Florida by Grace & Grit's graphic designer, Gil Shuler, and installed by Brilliant Wall & Ceiling Systems.
"This image perfectly portrayed the grace and grit that the Lowcountry holds and the grace that is found in the grit of our seafood community," said Kline. "Guests also love the logo mural, done by Gregg Pavone of Limelight Sign Company, on the front of the building. It's a great spot that everyone loves to get a group photo taken in front of, so that's been a ton of fun to see those when they're posted on social media."
If you head on over to The Grit Counter, the eatery's daytime spot offering innovative tahini and falafel grit bowls alongside fried green tomato BLTs, you'll be treated to art of the vintage variety. A mural inspired by an early U.S. Food Administration ad features a rosy-cheeked woman hard at work in a kitchen. John Rittenour, owner of Red Falcon Ink, installed the quaint Rockwellian nod to classic Southern cooking.
Advanced Dentistry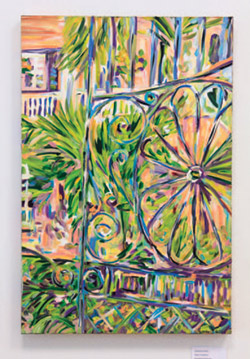 At Advanced Dentistry, the décor that fills the wall space is anything but cookie cutter. Always intrigued by the artistry and creative expression of others, Dr. Candice Vinson has made it her mission to deck out the interior with creations by local talent. Original works by Debbie Fornell, Sofya Tsvetikova, Chelsea Goer, Squeakie Stone, Kelly Knight and Emily Brown fill her Oakland Market Road office.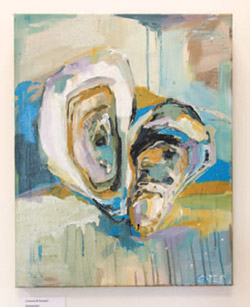 "Going to the dentist's office can be scary for some people, and I wanted them to feel like they were in a homey and comfortable environment to help offset any stress they may have about visiting the dentist," said Dr. Vinson.
Knight's whimsical paintings of women under hats, standing against colorful backdrops of beach palms and marsh docks, epitomize the carefree fun of summer. Abstract oyster-shell paintings by Goer capture an authentic coastal appeal.
"Art and painting have always been a love and hobby of mine, so I want to support the local artists in the area by showcasing their beautiful work," said Dr. Vinson. "All of these artists use such rich and bright colors, and it's brought so much life into the office."
Mellow Mushroom
Before you even venture inside this beloved chain to be greeted by splashes of color, Boho tunes and the hypnotic smell of rising pizza dough, you are welcomed by several sculptures – some constructed from abandoned motorcycle parts salvaged from junkyards in Asia.
"A customer favorite has to be the 16-foot 'Dude' statue in our parking lot," said Mount Pleasant Mellow Mushroom Owner Walter Harris. "Its entire body is made from recycled Kawasaki motorcycle parts or items found at the Thailand plant that were thrown out. The torso is made from a recycled 55-gallon drum. The legs are made from everything from door hinges from the factory to actual motorcycle gears. It took some imaginative thought to build that."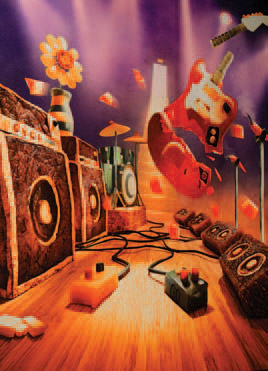 The magic continues in the form of a larger-than-life 'shroom, à la "Alice in Wonderland," in the center of the dining room. A recent addition, an oversized quilt of reggae legend Bob Marley encased and illuminated by LED lights, has become a fast favorite for Harris.
"One of the founders of Mellow Mushroom, Marc Weinstein, has several very large warehouses at the Mellow corporate complex in Atlanta," said Harris. "Inside is the most eclectic, interesting and funky art you will ever see – from 35-foot "Transformers" statues to one of the largest Coke memorabilia collections in the world. We have been fortunate to be able to select pieces we like and that we know our customers will love from this inventory."
Step foot into any Mellow Mushroom in the country and you can be sure to see rock 'n' roll royalty adorning the walls. Mount Pleasant's location follows suit with tributes to Jerry Garcia, the Beatles and many others.
"Inside we have so many great pieces, from our custom artwork to our art pieces that add to the Mellow psychedelic feel where we honor our musical heritage from the 1960s to the present," said Harris. "Bands from the Grateful Dead to Jimi Hendrix to Phish and our local Mount Pleasant Band of Horses are represented throughout our space."
As if the flair found in this hippie-esque restaurant couldn't reach a higher level, Harris confirmed that new pieces will soon be added to this rad collection.
"We are doing a complete art update and have a truck coming from Mellow corporate by 2019 with a bunch of new art and statue pieces, including both Optimus Prime and Bumblebee from 'Transformers' for our back patio," said Harris. "Our main customers are families, and we love to make it fun and interesting for both kids and adults alike."
Wando High School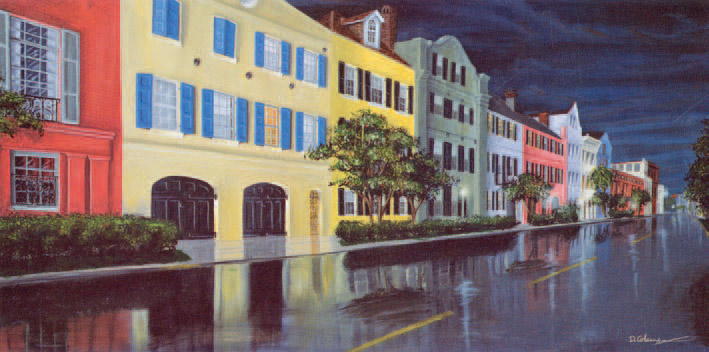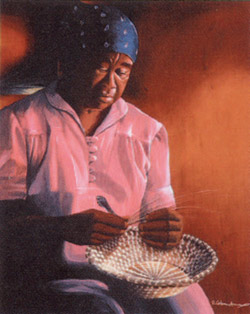 When artist Dana Coleman walked the halls as a student at Wando High School, little did he know that one day his creations would hang on the walls of his alma mater. Adding a bit of color and character, his paintings depicting Rainbow Row, the reflection of luxurious homes on The Battery, and a serene sweetgrass weaver can be found inside.
"I feel totally blessed to have so many people see my artwork on a daily basis over the past 13 years," said Coleman. "Wando has done a lot for me, and being able to give back is a humbling experience."


Moe's Southwest Grill and Smoke BBQ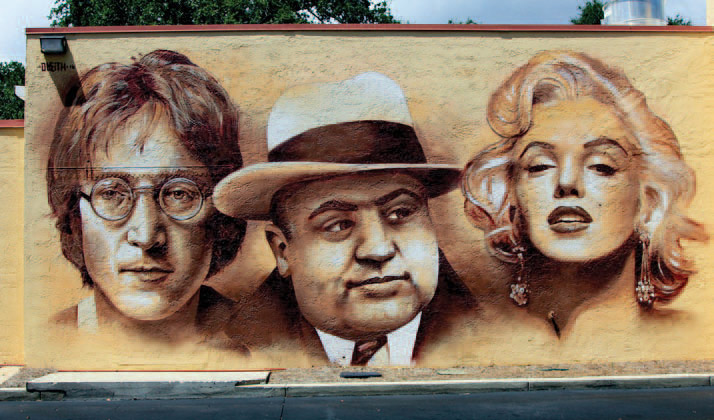 Not long ago, the murals at these eateries were in danger of being painted over and lost forever. To the delight of those of us who welcome a bit of eccentricity among typical bland storefronts, the Mount Pleasant Town Council voted to let these wonders stay put. On your way to pick up a burrito with extra guac at Moe's, be sure to marvel at the lifelike depiction of a yellow-toned Marilyn Monroe, John Lennon and Al Capone, done by Portugal-born artist Sergio Odeith. This homage to the unlikely trio of icons was recently named one of the must-see roadside attractions by RoadsideAmerica. com. At Smoke BBQ, you can chow down on tender beef brisket and take in the work of local artist Sean Williams. On the building's side you'll find a scene of a Lowcountry marsh at sunset. Electric green grass, blue waterways and a luminous sunset peek through the block letters of the eatery's namesake. The end result is a feel-good tribute to the natural beauty that surrounds our hub.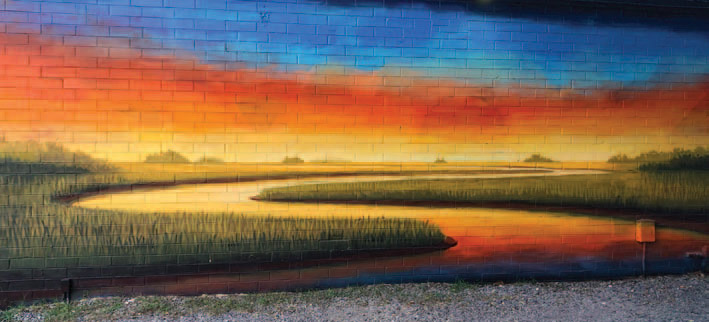 By Kalene McCort