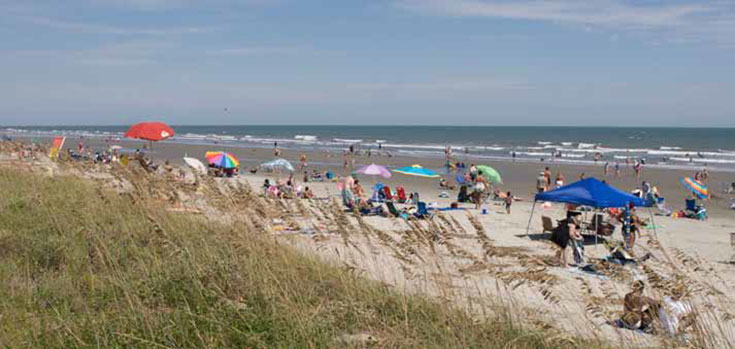 Surrounded by serene marshlands, unique barrier islands and enchanting forests, it's no surprise that Charleston County is home to dozens of public parks and nature centers. Come summertime, everyone from toddlers and young adults to parents and seniors frequent these versatile outdoor spaces. East of the Cooper, two major organizations are tasked with maintaining parks in addition to organizing events and programs – the Charleston County Parks and Recreation Commission and the town of Mount Pleasant Recreation Department.
While these organizations function separately, their missions are closely related: Grant local residents easy access to nature and to community activities. The Mount Pleasant Recreation Department focuses on town-wide events, and the county parks department spearheads a more expansive program.
"We're responsible for providing a county-wide park system on a larger scope than organizations like municipal recreation departments and public service districts," explained Sarah Reynolds, CCPRC's publicity coordinator. "We're in charge of organizing outdoor recreation, environmental education, providing beach access for the community and things of that nature."
After its inception in 1968, the role of the CCPRC began to take shape as additional land was purchased and developed.
Technically, the department's first project was the Kiawah Beachwalker Park in 1976, but it wasn't until 1979 that Palmetto Islands County in Mount Pleasant was opened as the first facility built from scratch. Celebrating its 50th anniversary this year, the CCPRC operates 14 public parks, maintains 19 boat landings and encompasses about 11,000 acres of property.
"Our mission has always been to improve the quality of life by offering a diverse system of parks, facilities, programs and services," said Reynolds. "But in the last few years, we've really been able to expand our offerings to apply to a diverse range of people."
Since 2016, the agency has opened the downtown skate park and James Island's historic McLeod Plantation.
Already in possession of several more properties, the organization has no plans to slow down.
"Over the next couple of years, one of the properties that's going to be developed is Old Towne Creek County Park in West Ashley," said Reynolds. "We're working on the master plan right now. It will be off Olde Town Road and have a nice connection with the nearby Charles Towne Landing."
Though planning and development is a huge part of what CCPRC does, it's not the agency's sole job. Throughout the year, the parks offer educational programming, summer camps and special events.
East Cooper is home to four county parks: Palmetto Islands; the Mount Pleasant Pier; Isle of Palms County Park, which provides beach access; and the newest facility launch, pedal boat rentals and dozens of trails.
"The landscape there is really unique," Reynolds added. "A major component is a series of little marsh islands, which are connected to the park's main area by boardwalks. There's one large island we call Nature Island. It's undeveloped – there's just some trails out there – but it's a really excellent place to explore."
With a mix of everything residents love about the Lowcountry, this park allows visitors to marvel at marshland vistas, wander through open meadows and explore mysterious woodlands. In addition to the stunning physical features, Palmetto Islands includes a water park for kids, which remains open from May into September. Though the summer camps fill up almost immediately, the county also offers nature excursions and parent-child programs at this location, along with adult fitness classes such as Yoga on the Creek and Walk and Restore, a combination of walking and yoga.
Laurel Hill County Park came to fruition in 2015. Because of an agreement with the land's former owner, this park has limited programming to respect the owner's wish to preserve the property's natural integrity. This policy allows residents to enjoy the beauty of the land, with about four miles of unpaved trails, a catch-and-release pond, a boardwalk stretching into the water and a gorgeous live oak allee. Cross country runners often frequent the trails, and the county hosts two races per year at this location, an ultramarathon and a run-bike event.
Though the county parks' scope is wide, the town of Mount Pleasant also offers residents several outdoor facilities. At the base of the Ravenel Bridge, the Mount Pleasant Memorial Waterfront Park is a beautiful location connected to a 1,250-foot-long fishing pier. With a state-of-the-art playground, a war memorial and picnic areas, this park is a favorite for locals. Another town-run outdoor space with a stunning view of the water, Alhambra Hall is a repurposed ferry station featuring a large playground and walking trails.
"Having these types of facilities is so important to the town because it creates a strong sense of community," said Diana Lisi-Connors, owner of local business Back Porch Art, who regularly teaches art classes and camps and participates in special events at many of the town's recreational areas.
"I've been involved in many seasonal events like the Alhambra Hall Spring Carnival, and I think it's wonderful that Mount Pleasant is able to offer all these activities for children and their families at no cost. It's an excellent program, and it's very fulfilling to be part of something so beneficial."
Through the combined efforts of the town and county, the Charleston area has evolved into a place with countless opportunities to engage with nature and connect with our community.
"Parks like ours improve the quality of life for all," said Reynolds. "And we're happy we can preserve some of these beautiful pieces of land in their natural state."
By Samantha Connors