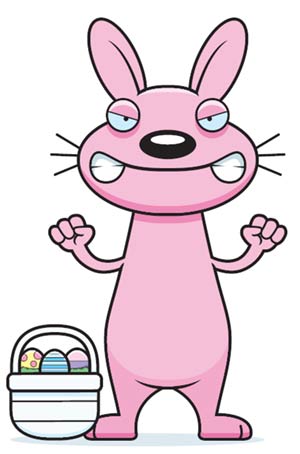 I first met the Easter Bunny at age 4, when my mother dressed me up and took me to a department store to visit with him up close and personal.
To be honest, I was a little intimidated. He was about 6 feet, 2 inches tall, a lot bigger than any rabbit I'd been exposed to, and, unlike jolly old Santa Claus, he didn't say anything. He just patted me on the head and gave me a little bag with a sugary-looking egg. It had a cellophane window that revealed some sort of rural scene; I guessed it might be Ireland.
In any event, the egg seemed inedible, so I put it in a closet, where it eventually deteriorated. I guess a sugary ball has a fairly short half-life.
Over the years, I got my share of jelly beans, chocolate rabbits, marshmallow eggs and peeps, and eventually I grew up and realized I could get the same stuff, plus that weird green fake grass, at most supermarkets. Alas, the poor Bunny had lost much of its luster.
Who would have thought that the big guy would eventually hop back into my life? Decades later, my wife, Judy, was playing mah-jongg, so I decided to wet my whistle at my favorite Mount Pleasant watering spot. I bellied up to the bar, ordered a pint and checked out the sparse crowd. To my amazement, two stools away was a large man – sort of – in a trench coat and a slouch hat, with what appeared to be very long whiskers.
Taking a shot in the dark, I asked, "Are you the Easter Bunny?"
"Who's askin'?" he responded in a rabbit-like manner.
I told him I hadn't seen him in decades but always appreciated his kindness in delivering goodies that kids – some of them, anyway – appreciate. This seemed to cheer him up, and he even admitted that he enjoyed playing an integral role in the planet's spring festivities.
I offered to buy him a drink, and he said he wouldn't mind a nice single malt Scotch, so I popped for a Glenlivet, with carrot juice on the side, of course.
The ice broken, we chatted about his role as the Easter Bunny and I learned a lot – maybe more than I wanted to know.
"Santa Claus has this image of working on his own, delivering presents to kids around the world. Hah! Never going to happen. He's built an organization just like our own – tens of thousands of associates who do the real work while he takes the credit," the big guy told me. "I'm the current head Easter Bunny, although I'm probably not the one you met years ago. He might have been my father or my uncle. They both worked the New York metropolitan area. I'm just not that old."
I admitted that I had a tough time judging the age of rabbits.
Warmed by the Glenlivet, the Bunny was getting garrulous. He told me he had thousands of descendants, most of them employees of his not-for-profit Easter Bunny Enterprises, Inc.
"It's great having a family-owned and operated company dedicated to spreading joy among kids. You know, we've been doing this since around the 18th century," he boasted. "In general, we've been a positive force for happiness, although I've had a few disappointments. For example, I've always resented Peter Cottontail. He had a song written about him and, frankly, he was a lousy worker. On the other hand, his sisters Mopsy and Flopsy have been terrific. Mopsy is our senior vice president and Flopsy is our CFO. They're terrific."
Emboldened, I asked the Bunny what he did in the off-season.
"A great deal of my time is spent just planning for the next season," he answered. "For a few years, I supplemented my income by working for a big insurance company. For a while there I thought I was in line to become their commercial spokesman. Then some little green guy with a funny accent – a salamander or something – got the gig. So it goes."
His attitude changed a little when I asked him how he happened to be in Mount Pleasant.
"I'm here most of the year. When I was scouting locations for some new candy warehouses, I found a great location in a nearby county," he explained. "In order to be close to the action but in a fun community, I settled in Mount Pleasant. I'd rather not say exactly where, but if you guessed Hamlin Plantation, you wouldn't be far off. I mean, what's not to like here? Big homes; great golf courses; restaurants to die for. From the Ravenel Bridge to Awendaw, it's a little bit of paradise. I'On, Park West – it's all terrific"
"Where I live and where I hang out, no one hassles me," he added. "They just think I'm a big guy with funny looking ears and whiskers. They're probably all too busy working as starters or rangers on golf courses to worry about a giant rabbit living next door."
I thanked the Bunny for his time and offered to buy another round, but he declined my generosity.
"Gotta go meet with the head of the Hare Family. They've been trying to muscle in on rabbit turf for years, and I either have to scare them off or make a deal," he said. "Frankly, I'm inclined to give them a piece of the action. Easter Bunny Enterprises can always use some extra help, as long as they stay out of Mount Pleasant."
With that, he hopped out the door onto Coleman Boulevard. That's the last I've seen of him. For now.
By Bill Farley