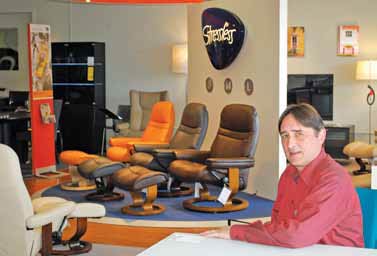 Paul Haugaard came to the Lowcountry from his company's corporate headquarters in Massachusetts in early 2010 to run the Mount Pleasant Danco Furniture store. He quickly realized it was a great location with a solid customer base.
Haugaard's father – Dan Haugaard – first opened Danco Furniture in West Hatfield, Massachusetts, and ran the 40,000-square-foot store for a number of years. The Mount Pleasant location was opened in 1986, and the Massachusetts store was later sold. Founder Dan Haugaard is now living in the Charleston area.
"I began in the family business working in the Massachusetts store when I was in high school," explained Paul Haugaard, who lives with his family in Mount Pleasant. "I did deliveries, worked in the warehouse, did sales and worked my way up through the business."
Danco Furniture is unique to the area furniture market, selling modern and contemporary, specializing in pieces for the bedroom, living room, dining room and office, as well as seating, entertainment and occasional tables.
"One of our biggest sellers is our Stressless recliners," he said, pointing out that the sleek signature base of the recliner offers a soft, gentle rocking motion.
BalanceAdapt and the Leg Comfort series feature a footrest elegantly hidden under the seat that is released with a light touch to just the right length for sitting in the recliner. In combination with the Glide and Plus systems, the recliners provide ideal support for the lower back and neck.
Also very popular is the store's American Leather Comfort Sleepers line. American Leather prides itself on style, comfort and functionality. A patented Tiffany 24/7 Sleep System lets the user open and close the sleeper almost effortlessly, while a solid platform provides even support, with no bars or painful springs in the user's back.
"One of the trends we have been seeing is that while many homes in our area are what would be called traditional or historic, more and more people are blending various types of furniture, such as modern and contemporary with antique and more traditional furniture," Haugaard said. "People aren't locked into one style so much anymore in their homes."
Danco Furniture, which has six employees, is located in a 6,500-square-foot space, where furniture and other items are displayed in a clean and attractive manner.
"We don't jam our furniture together in the showroom. We want it to look open and inviting and our customers appreciate that they can see clearly each piece," Haugaard commented.
He said his company's strength is the "high quality products we sell," adding that "Our furniture is built to last a lifetime, and our pricing is in the mid to high range. Customer service is also vital to our success. We deliver all around the Charleston area and even up to Myrtle Beach and down to Hilton Head."
"I got out of the furniture business for a few years in the early 2000s, but I missed it so much that I came back, and I'm glad I did. I enjoy working with customers," he said.
To learn more, visit Danco Furniture at 1035 Johnnie Dodds Blvd. in Mount Pleasant, go to www.dancohome.com or call 843-884-2256.
By John Torsiello