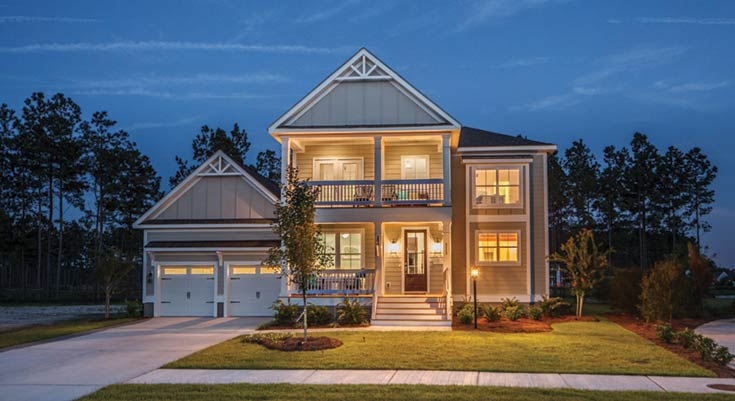 For most of us, buying a home is the largest purchase we will ever make. But building a custom home from scratch? That's a completely different story. From purchasing land and creating a home plan to getting builder permits and coordinating everything necessary to ensure the home is both viable and aesthetically appealing – building your dream home can be anything but a dream process. Those who have undergone the process of building a new home likely agree that the experience is both stressful and time-consuming. So the question is: Does it always have to be that way?
The experts at Crescent Homes respond with a resounding "no." Their new Flex program was developed over a year ago for the sole purpose of taking the stress out of custom home building. The goal of the program is to redefine the custom home building experience, making it available for those wishing to build the home of their dreams in the exact location they want to live, without the typical hassle.
I recently met with Megan Marten, Flex acquisition and sales representative for Crescent Homes to learn more. We sat down at the Design Collective, a gorgeous space housing the Crescent Homes showroom, the design studio for JLV Creative, which partners with Crescent Homes on all design projects, as well as the Flex office.
Of Flex, Marten explained: "We saw a need in the Lowcountry to streamline the custom-home building process. We kept being approached to build our home plans outside of neighborhoods and quickly realized there was a void in the market for a cost-effective, streamlined, custom home building process and, as a result, Flex was born."
Quite simply, the Flex program allows one to build a beautiful custom home faster, more cost-effectively and without the headaches. The process starts with the location: Customers can either come with a lot, an idea of location or an open mind. For an already-established lot, Marten will work with them to determine what type of home can be built on the land to suit their needs and budget. Crescent Homes can also purchase land on the home buyer's behalf, eliminating the need for a second loan. Finally, the company has many move-in-ready Flex homes and in-fill locations in Charleston's most sought-after areas to choose from.
Once a home plan and location have been established, Marten, along with the rest of the Flex team, follow their proven process. With over a decade's experience building premier homes throughout the Southeast, the Crescent Homes team runs like a well-oiled machine. There are builders, lenders, site inspectors and designers working to ensure that the same level of customer service and quality that they are known for in their communities is applied to the Flex program. The secret? Communication. Customers are never out of the loop. Weekly progress reports and regular meetings guarantee that the project stays on schedule and that everything is approved, taking the stress and frustration out of the process.
Having met with Marten at the Design Collective, it's clear that these meetings are likely the highlight of the process for home buyers. Customers come to the stunning showroom, beautifully styled by JLV Designs, to pick out interior design options such as trim, tile, cabinets, wallpaper, paint colors, light fixtures and even furniture. Making these selections is often a stressful aspect of the home design process, but having a professional designer on hand and an interactive showroom streamlines the experience.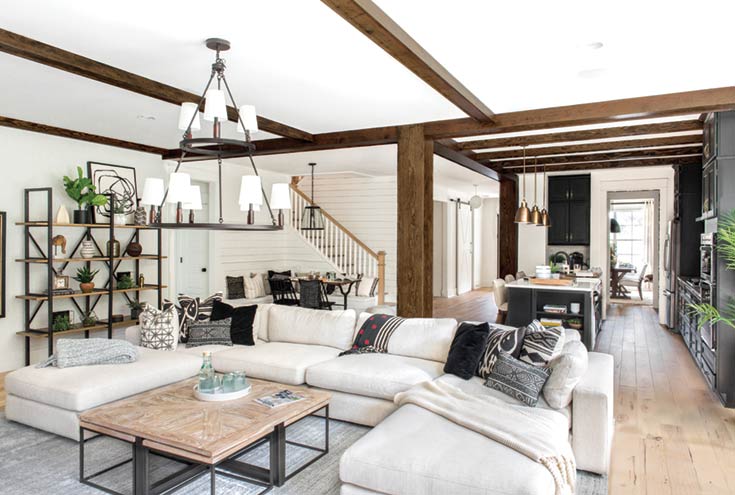 "It truly is a one-stop shop for all your home-building needs," said Marten.
That may be the fun part, but Marten is equally dedicated to making the more technical side of homebuilding enjoyable as well. She is the single point of contact for the entire life of the build. When building a typical custom home, customers have to seek approval for building on the property, find a builder and solicit numerous vendors. With Crescent Homes, all of this is taken care of.
According to Marten, the company also strives to work within a customer's budget: "Traditionally, when building your own home, you have to go through so many hoops that you always go over budget," she explained.
Further, Crescent Homes is equipped to build in any neighborhood.
"We are prepared to submit approval to architectural review boards," said Marten. "We have over 45 floor plans, and we can customize exteriors to fit in any neighborhood."
She explained that the process is so easy that clients can usually expect to move into their home within six months. Needless to say, traditional custom home-building is a much longer process.
But the real difference comes in the company's commitment to quality and service.
"Building a family's home is not something we take for granted. It is such a privilege. We recognize that this could be the largest purchase of their lives, and we want to make sure we make the process as stress-free as possible. This is a big deal, and we are prepared to bend over backward to make the home that they are building with us their dream home," said Marten.
Crescent Homes Vice President of Marketing Lee Miller added: "With Flex, we sought to redefine the custom-home building process, and that's exactly what we are doing by building gorgeous custom homes truly tailored to our buyers' needs and tastes, in the exact location they want to live, without the headache and hassle traditionally involved with building a custom home."
Your dream home; your way; without the stress.
For more information on Crescent Homes' Flex program or to explore some of the spec homes available for purchase, visit www.crescenthomes.net/flex.
By Theresa Stratford
Photos provided.