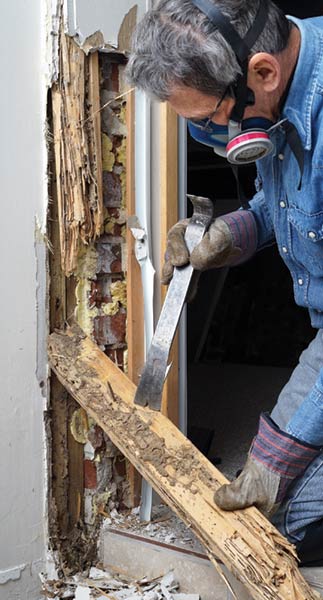 Mount Pleasant ranks highly on many lists – one of America's fastest-growing towns, one of the most desirable places to live, award winning schools – but there is one list it tops that is not so prestigious. In South Carolina and areas of North Carolina and Georgia, Terminix Service, Inc. ranks Mount Pleasant first for the number of service calls and appointments involving termites.
Termites are attracted to warmth, moisture and, of course, wood, so a humid town riddled with waterways, freshly cut trees and new construction is very inviting to scores of these pests.
While the Lowcountry has a native species – the Eastern subterranean termite – Andrew Leilich, owner of Carolina Exterminating, said a bigger problem started in the 1950s when Formosan termites, an invasive species, hitched a ride on some imports from Asia and landed in the Port of Charleston.
"Nobody really knew it at first, and they were only in a couple houses downtown," he explained. "Since then, they've been increasing exponentially across the Lowcountry and are why we are one of the most active cities in the nation for termites today. To put it in perspective, native termites live in colonies of 200,000 to 300,000, but Formosans are in colonies of 6 million to 10 million each."
Every year between May and August, millions of Formosan termites scour the Lowcountry, swarming front porch lights and boring holes in wood, often in search of water sources. They look like flying ants but with only two sections, have wings with gold edges and can be a homeowner's worst nightmare.
"They are very aggressive and pretty smart. It's just crazy," added Cecil Hernandez, a pesticide regulatory specialist with Clemson's Department of Pesticide Regulation. He recounted a recent story of a three-story home in the Old Village. While the house was under construction, a section of wood in the ground floor garage was supposed to be treated for termites – but it wasn't. Five years later, it was discovered that Formosan termites got under the aluminum flashing, bored holes through the wood and spray foam insulation and ate their way to the third floor to reach water from a bathroom leak, causing tens of thousands of dollars in damage throughout the home.
Beware that even if you have in-ground termite control in place, you could still be at risk.
"Thirty percent of infestations now are aerial," Leilich warned. "Formosan termites can start colonies above ground, which are called 'cartons,' and they can eat through your roof to enter your house. We have found multiple basketball-sized cartons of termites in the walls of even million-dollar houses, and there are very few visible clues that there is an infestation."
Leilich can find cartons inside walls by using a special infrared camera that detects even a 6-degree difference in a wall void.
How can homeowners protect themselves from termites that can attack from the ground or the air and cause an incredible amount of costly damage while going undetected for years?
"Homeowners' insurance does not cover termite infestations, so the best way to protect yourself is to get a termite bond. Call an exterminator and get an inspection and evaluation of your house to determine what kind your house qualifies for, and find out if it is full coverage or a liability bond. Once you have termites, you can't get a full coverage bond," Leilich explained.
Termite bonds often do not cover aerial infestations, so be sure you understand all the details of your policy. Leilich treats clients' homes and returns semiannually or annually to do a re-inspection.
"We walk around the house, take pictures and make recommendations on what needs to completed to guard against an infestation: rotten soffit or fascia board, trees that need to be cut back, shrubs cut two feet back from the house, any foliage close to the house. Even faulty gutters and items stored against the home are invites for termites," he explained.
The best way to protect yourself is to keep your property clean, make timely repairs and have a termite bond in place. That way, as swarms of insects fly around your exterior lights like moths to a flame this summer, you will have a bit more peace of mind knowing your home is covered.