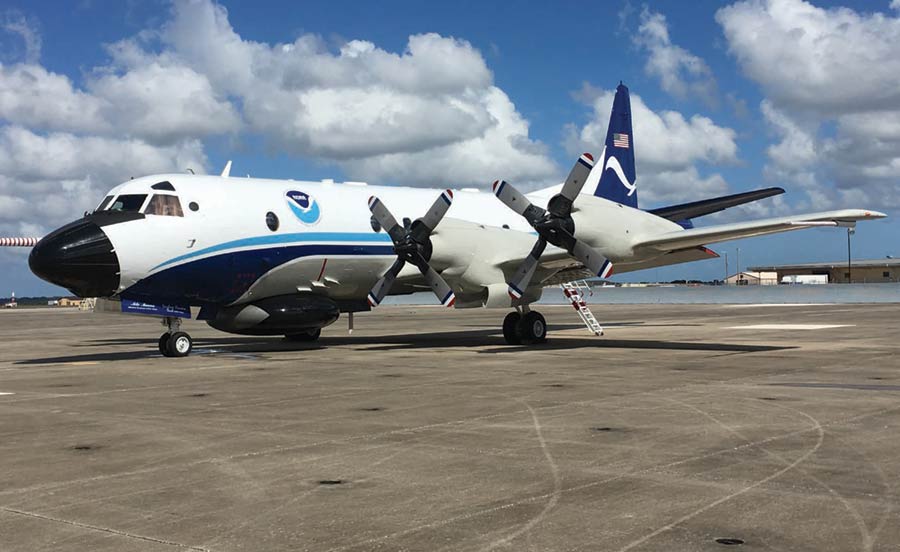 Howard Elgison called Mount Pleasant home from the late 1970s through the mid 2000s. He raised his family here and was living in Snee Farm when Hurricane Hugo blew through town. Though not a journalist, he helped tell many storm stories in the Hurricane Hugo: Storm of the Century publication and interviewed Jim McFadden, a hurricane hunter who flew across the eye of Hugo as it passed over Charleston and looked down to an eerie scene of a dark mass of destruction where a bright city had stood just hours before.
Twenty-nine years later, the lure of chasing storms is just as powerful, as he tells another tale of the perspective from above the clouds.
Here's one thing that's probably not on your bucket list: flying into a major hurricane in a prop-driven aircraft that's being hammered by screaming winds and torrential rain. Then again, maybe it is. If so, then you should consider joining the hurricane hunters of the National Oceanic and Atmospheric Administration.
The hurricane hunters are based out of Florida's Lakeland Linder Regional Airport, home of the NOAA Aircraft Operations Center. A separate group of Air Force hurricane hunters is based at Keesler Air Force on the Mississippi Gulf Coast.
The flight crew of NOAA's hurricane hunters includes meteorologists, instrument techs, researchers and, of course, pilots. One of the pilots who flew multiple missions into Hurricane Florence is Lt. Cmdr. Adam Abitbol, who agreed to tell us about his experiences as a hurricane hunter.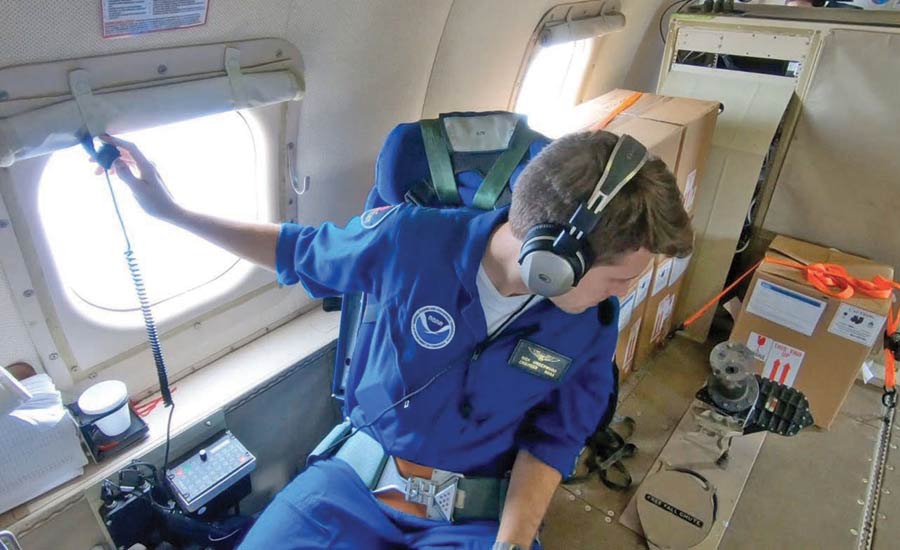 What is your aviation background?
I flew in the U.S. Navy for nine-and-a-half years, and I'm currently serving as a pilot for NOAA's Aircraft Operations Center. I have 13 years of flight experience, totaling over 3,000 flight hours in more than 25 different aircraft.
How long have you been flying into hurricanes, and how many missions have you flown?
I began flying storms during the 2014 hurricane season. Hurricane Arthur was my first hurricane flight. I've flown over 50 missions in support of tropical cyclone tasking.
Which hurricanes have you flown into?
I have flown into two Category 5 hurricanes – Patricia and Lane. Florence was nearly a Category 5. It was 4 mph away from Category 5 status. I've also flown into Arthur, Bertha, Erika, Gordon, Matthew, Hermine and several others.
How long is a typical mission?
Most of our hurricane missions range in duration from eight to nine hours.
What was your scariest experience?
I wouldn't necessarily define any experience as scary, but, certainly, several are memorable for heightening your senses, engaging in flying the aircraft in ways never experienced before and removing any sense of complacency of just flying "another hurricane." Each storm has its unique personality and characteristics, and oftentimes unpredictable, disorganized tropical storms can be just as turbulent and dynamic as mature Category 5 hurricanes.
What is the most dangerous part of flying in a hurricane?
We like to refer to it as hazardous rather than dangerous, with the main difference being that we mitigate many of our risks of flying through hurricanes through the likes of a superior trained aircrew, welldefined limits for aircraft structural tolerances, thoughtful and deliberate risk-management procedures for different phases of flight and setting thresholds for flying through high reflectivity convection, which could harm the aircraft or crew.
What is a typical flight configuration?
We call it a rotating figure-four pattern, but you can think of it essentially like cutting up a pizza. Picture the number four, where the vertical and horizontal legs of the number represent penetrations through the storm's center (north-to-south and east-to-west). We then rotate the four 45 degrees and conduct two more passes through the storm (southwest-to-northeast and northwest-to-southeast), thus flying through every quadrant of the storm to gather comprehensive data that helps form the picture of the storm's behavior.
How many times did you fly into Hurricane Florence?
Mission flights began out of Bermuda on Sept. 8, 2018, with Florence as a tropical storm. By the third and final flight on Sept. 10, 2018, Florence had evolved into a strong Category 4 with a well-defined eye and circulation.
Any noteworthy events?
Despite being a large, powerful hurricane, Florence actually presented as a relatively docile storm. Our data, combined with the data from NOAA's Gulfstream IV aircraft, helped inform the National Hurricane Center's forecasters and model algorithms about the storm's characteristics, which contributed to the refinement of Florence's track and intensity guidance.
While being a hurricane hunter isn't on most of our bucket lists, these professionals help keep us safe and informed, and they should be on our "thank-you" lists.
Two tough birds … and an eagle: The hurricane hunters' aircraft
If you're going to fly into a hurricane, you'll want an aircraft that is not only built like a tank but is also highly maneuverable, versatile and responsive. If you add long endurance capability and proven durability, then you have the perfect airplane: a four-engine turboprop known as the Lockheed WP-3 Orion. The hurricane hunters operate two of these planes, affectionately nicknamed "Kermit" and "Miss Piggy."
While the Orion is utilized to gather vital data from inside a storm, another aircraft, a fast, high-flyer known as a Gulfstream IV – nicknamed "Gonzo" – is used to collect data from weather systems in the upper atmosphere that affect the storm. The information from both of these aircraft is sent to NOAA meteorologists to help them chart and predict a hurricane's movement and intensity.
By Howard Elgison