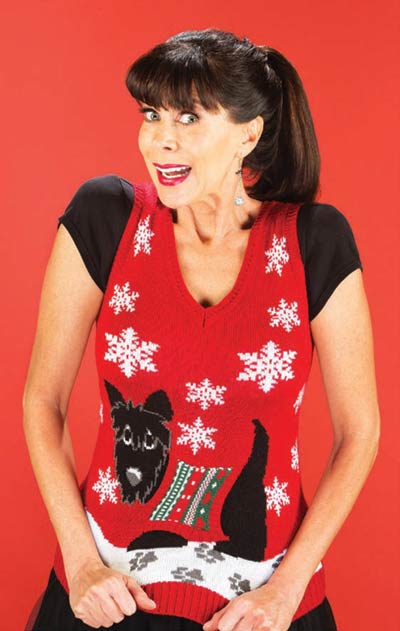 Ugly Christmas sweaters. There are whole stores dedicated to them; parties planned for them; contests held for them.
Why the fascination? Why the adoration? Some might wonder why we even bother when they see those decked-out sartorial atrocities, outer garments so mind-numbingly ugly that even our grandparents wouldn't wear them – not even to shuffle down the driveway to pick up the morning newspaper.
The answer to that perplexing question is easy, or at least it should be. People wear ugly sweaters purely for fun and to sport their unabashed Christmas spirit. No, these Christmas sweaters are never going to win any fashion contests, but they sure give us a lot to talk about and especially laugh about. So why not sprinkle a little nonsense into the recipe for your next holiday get-together? I'm here to help if you need my assistance. I've put together a short list of some of the best places to buy an ugly Christmas sweater that will even put your great-grandmother – or your great-grandfather, for that matter – to shame.
Let the contests, parties and fun begin.
Uncle Kyle's Sweater Emporium
If you've taken a stroll down King Street in Charleston, you've probably already seen the seemingly endless collection of sweaters Uncle Kyle's Sweater Emporium has to offer. From the more subdued applique printed vests to all-out light-up sweaters, this place has your tackiness covered on a scale of 1 to 10. Remember: The uglier the better. If you don't puke when you look at yourself in the mirror in one of these beauties, you're not trying hard enough.
Tipsy Elves
Maybe you saw them on "Shark Tank," where even multimillion- dollar investors noticed the value in the concept of grotesquely ugly holiday apparel. Hey, it's what people want! The founders at the Tipsy Elves do year-round apparel, meaning they can probably cover any kind of whacky-themed costume you might need, regardless of the season. So head on over to look at their selection of Christmas clothing, and maybe you'll find something ugly and disgusting but really eye-catching for St. Patrick's Day, Valentine's Day, Halloween and maybe even Independence Day. After all, you never know when you might need something unsightly to wear. You can also check out Tipsy Elves online at www.tipsyelves.com/ christmas-clothing.
Ugly Christmas Sweater
Maybe, just maybe, you're in the market for something a bit more custom – something that screams "Hey. Look at me. I have no fear. I'm not afraid to wear something that you're afraid to wear." In other words, you want to be absolutely sure no one else at the party is dressed the way you're dressed. If that is your own personal phobia, Ugly Christmas Sweater has you covered. Just head on over to their online customizer at https://create.uglychristmassweater.com to get started … then sit back and wait for your magical creation to be delivered to your doorstep.
And if the UPS driver asks you what's in the box, don't be afraid to brag that you've created the ugliest Christmas sweater this side of the North Pole – and that you're actually going to wear it to a holiday party.
By Helen Harris