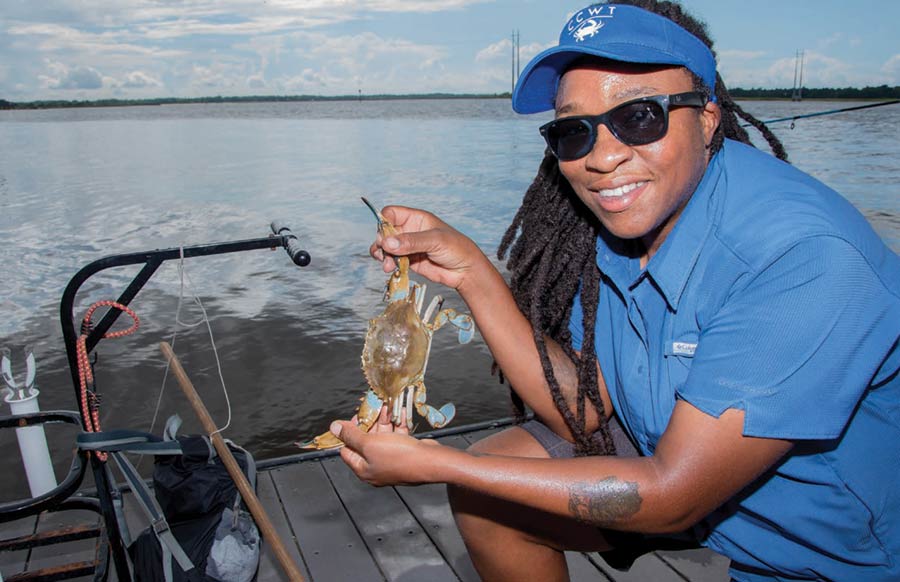 It started when Tia Clark quit her 20-year smoking habit cold turkey – she simply wanted to make a positive change in her life. What she didn't realize was that this monumental alteration was only the beginning. Nearly two years later, the Charleston native has started a new business, lost over 100 pounds and has a completely different outlook on herself and her life.
When she quit smoking in January 2017, Clark's body retaliated against the sudden change. She broke out into hives and even drove herself to the hospital three times in one month due to swelling in her right hand. Steroids relaxed her problems, but, when they wore off, the hives relentlessly returned. When the hospital could no longer give her steroids, she was sent to a national allergy specialist, where she spent six weeks and subsequently thousands of dollars as she checked off the list of hypoallergenic changes to make in her home – but it didn't help.
"I told my wife, 'I'm really losing my will to live,'" she recalled. "I was taking Benadryl to exist. I would go to work, come home, pass out and hope the pain or itching would go away."
The allergy center sent Clark to Dr. Gene Blake at Rhett Women's Center in Mount Pleasant. Dr. Blake recommended that she begin an elimination diet, and, within 24 hours of implementing the diet, she finally began to feel relief.
"For 20 years, I was putting something in my body, and I snatched it out. If you put anything in your body for 20 years and suddenly take it out, your body will scream. My body was screaming," she explained. "The elimination diet takes everything out of your system – no booze, no sugar, eggs, dairy, gluten, corn, artificial flavors – basically protein and vegetables and fruits are what you eat."
After 17 years in the food and beverage industry, Clark – a bartender and former bar manager accustomed to drinking and late nights – was living a completely different lifestyle and loving it. She became dedicated to her new diet not only because she began shedding pounds but because she didn't want to risk the return of her allergy problems.
By chance, a cousin invited her to go crabbing, and she was hooked.
"I went crabbing every day for three or four months after I went with him," she smiled. "I don't know if it was to fill a void from smoking, but I didn't want it to end.
I used crabbing as my gym. I was spending time outside every day and being active, throwing the cast net and carrying the bucket. I loved it, and I loved the people that I met doing it."
She loved it so much that she even got a five-inch crab – the legal minimum size – tattooed on her leg to measure her catch.
When her friends saw her pictures, they began asking if she could take their friends and families crabbing, but Clark was hesitant to let people in on what was to her a therapeutic activity. She eventually agreed to take some eager participants along.
"I couldn't have been more wrong to want to keep this to myself. Every person who comes with me enhances the experience," Clark beamed.
A co-worker started a Facebook page he named Casual Crabbing with Tia, and the site quickly garnered hundreds of likes, messages from strangers thanking her for being an inspiration and others asking if she could take their families crabbing. Almost overnight, her passion turned from a pastime to a second career.
Clark made Casual Crabbing with Tia an official business and now takes clients along to enjoy the activity she loves so much. She provides all of the crabbing gear: baskets, cast nets and fishing rods and bait. The only thing a client needs to bring is a good attitude and a saltwater fishing license. They crab from docks rather than from a boat.
"I get there early and set up a 'playground' so my guests can crab two ways. We're casting the cast net for live bait, we're putting the fishing rod out and checking the crab baskets. It's very active, not like fishing," she said.
Her clients can choose to catch and release the crabs or make a meal out of them.
For Clark and her customers, the experience is much more than crabbing – it's about the opportunity to get outside and to be immersed into the community.
"The locals and people on the docks really make the whole experience. There's a guy that's been crabbing downtown on Brittlebank for 12 years every single weekend – people like him interact with my guests. It becomes much more than just a trip to catch crabs."
The unique adventure has even become a featured Airbnb experience.
"When I go on vacation, I want to go where the locals are, not where the tourists are. It's eye-opening for someone that's visiting to be instantly immersed in the culture here. This is not a bus tour; my group maximum is six people. I want it to be small and intimate. Airbnb calls it 'Go Crabbing with a Charleston Native' – it's not promoting my business, it's promoting me and this amazing experience," she said.
As Clark nears her two-year anniversary of quitting cigarettes – and the avalanche of positivity that followed – she is a different person. She has lost over 100 pounds and continues to follow a microbiome diet about 70 percent of the time. She wears the same belt, with each notch signed and dated by one of her regulars at the bar. Clark is a member of the Carolina Lady Anglers, using her food and beverage ties to get donations for their Fishing for the Cure tournament. She also has taken schoolchildren on crabbing field trips.
"I feel like I have goals now. F&B is close to my heart; it's how I make a living. I love the people; I love being behind the bar; but this is different. It opens up something I didn't even realize. My spirit, soul and attitude before this was the exact opposite," she said. "I never really used to smile a lot or look in mirrors – I used to just exist and not care about myself. Now it's all different. I wear lighter colors, I open the windows, my spirit and everything feel free and I want to nurture and share it. It doesn't get any better."
By Anne Shuler Toole