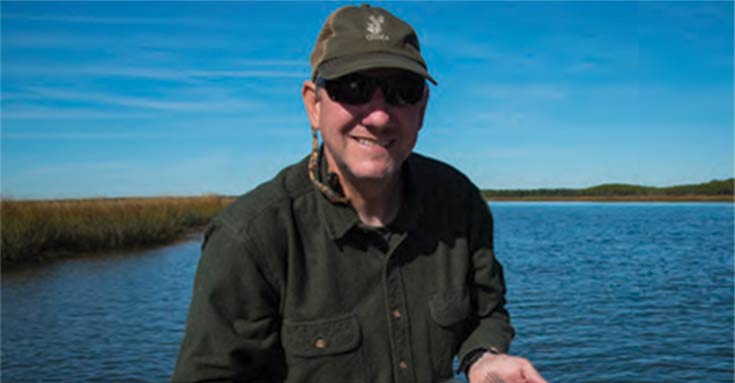 Facing backward, I sat huddled in the stern of our small, tri-hull runabout boat. Since it was cold – about 40 degrees – I was layered in a hodgepodge of warm clothing, clutching a thermos cup of hot tea. I peered through the hood of my sweatshirt, which was pulled tightly around my head to hold in what little warmth my body was generating. My stare fixed on the line of my fishing pole, sitting in one of the two aft rod holders, as we trolled along the creek over some shell banks. I so hoped to see the tip of that old garage-sale-procured fishing rod bend down, alerting me that an unsuspecting sea trout had taken the bait. The hum of that old outboard was music to my ears.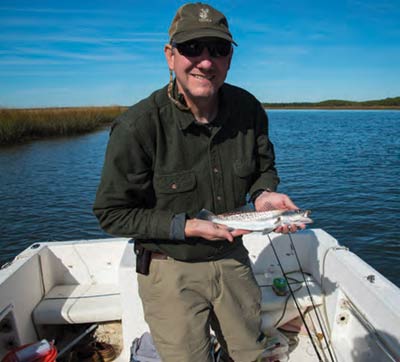 I continued staring at that Fiberglas rod while watching the passing marsh grass along my left-hand side. My dad and brother were behind me, steering the boat and probably eating a pack of Nabs. I had received a moderate amount of ribbing about a new bait I had purchased at a local sporting goods store. Suddenly, the rod tip doubled over, and I scrambled to put down my cup, grab the rod and reel in a nice sea trout. We always bet a quarter on the first, best and biggest fish caught that day. I was up 75 cents.
Inshore fishing in the Lowcountry is a year-round venture. Though most anglers spend the warmer months searching for the next bite in local creeks and waterways, many of them actually long for the colder months. According to avid local angler Matt Sisler regarding winter fishing: "For me, it's some of the best fishing all year. Reds schooled up. Water is clear. Sight casting at its finest."
Others would add that with lighter boat traffic on the waterways, there is less competition at the boat ramps and fishing spots.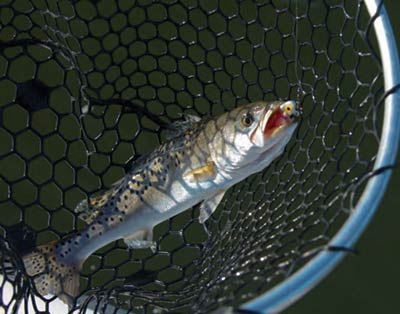 Live bait, artificial lures, top-water presentation, popping corks and trolling are all on the table, depending on the species of fish you are targeting. Anglers have their own set of rituals, routine and process. Regardless of the technique, they all work, especially during the cold water months, when fish are less active and looking for an easy meal.
Presentation is king. Checking fishing reports posted at the local bait and tackle shop or on social media is helpful. Most of the time, they will tell you what's biting, when and with what baits and technique. What they won't tell you is "where," unless they are a really good friend or want to tag along in your boat.
Proper planning is important as well. Ensuring your boat (or other watercraft, such as a kayak) and trailer are in good working order will make for a more delightful and productive trip. A fully stocked tackle/bait box, properly functioning rods and reels with fresh line, appropriate clothing for the weather conditions, a cooler stocked with the necessary provisions for the venture and a reliable means of communication should all be on the checklist. Game plan the areas you wish to fish, and have a backup plan in case someone beats you to the spot or the conditions change. The list is endless and different from angler to angler.
My brother and I recently fished the same creek, under similar conditions, that we had fished that day over 30 years ago. Though the fishing was the same, technology and innovation has changed. Layering in warm but breathable clothing has made battling the elements so much more effective and infinitely more comfortable. Bulk has been replaced with efficiency, which gives us more freedom and range of motion. Technological advances in artificial baits, tackle, rods and reels, navigation equipment and boating equipment have streamlined the process as well.
Regardless of your level of experience, or inventory of gear, plan your trip, and experience the beauty and serenity of the Lowcountry waterways. Trolling along the creeks, studying the oyster beds through crystal clear water, and then looking up to follow the flight of an American Bald Eagle soaring above the salt marsh is worth the time and effort.
By Michael Cochran