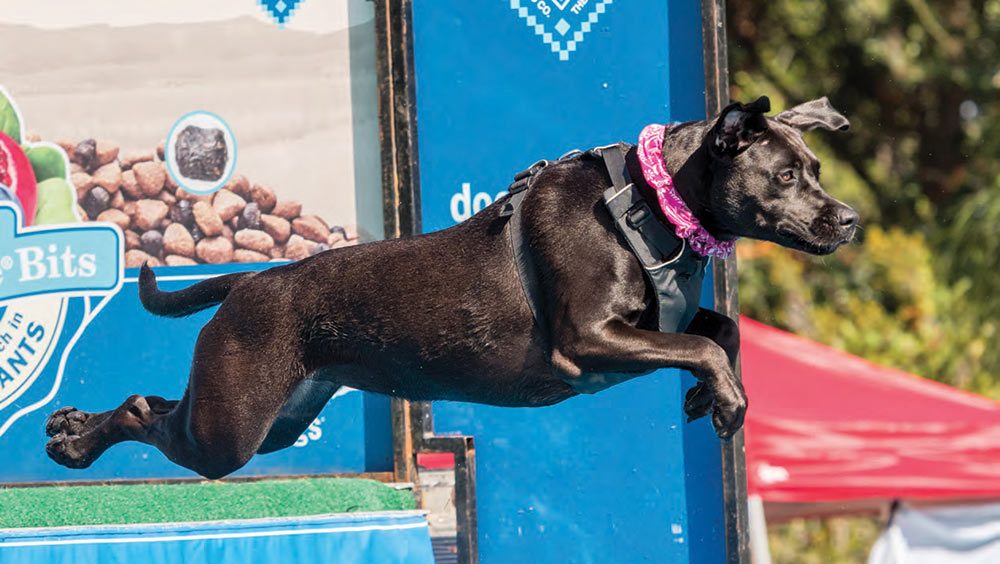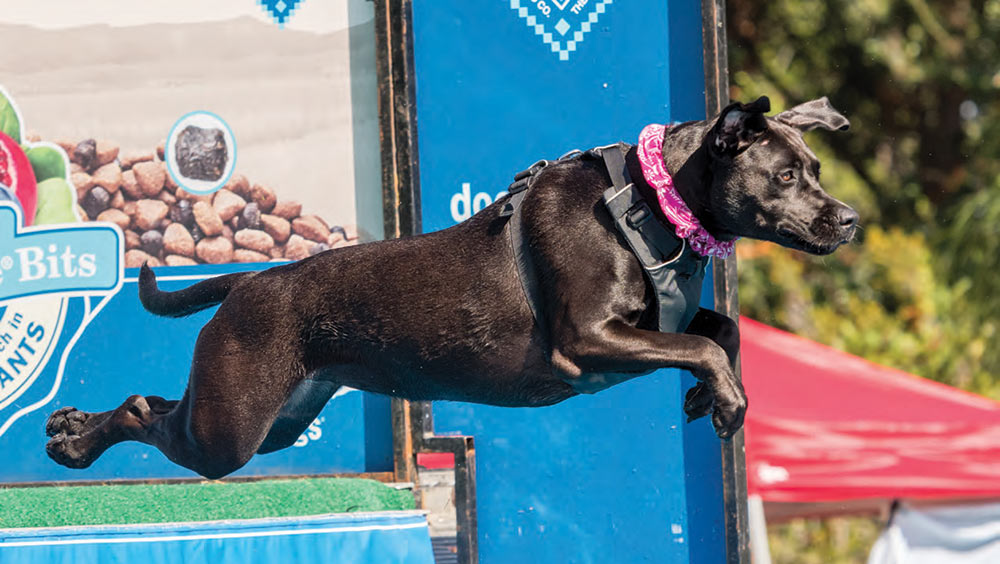 Each year, vendors, hunters, wildlife enthusiasts and others travel to Charleston to participate in and enjoy the Southeastern Wildlife Exposition, a weekend dedicated to the conservation and celebration of local wildlife. The artwork is popular, as are auctions, outdoor sports demonstrations and a show featuring birds of prey, and the crowds always flock to watch animal expert, TV personality, author and conservationist Jack Hanna. Nothing, however, draws more attention than the DockDogs competition.
Dogs naturally love to run, play and swim, but what does it take to turn man's best friend into a fierce competitor? Besides pure talent and athleticism, what makes a dog a champion rather than simply a loyal companion?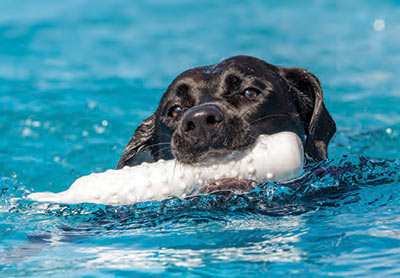 Playing, eating and sleeping are the major activities in the average day in the life of our furry children. But some dogs take their purpose in life to the next level, working hard and training to become accomplished canine athletes. Hope Rose, a beautiful 1-year old black Lab, and her Mount Pleasant owner, Melissa Gray, are new to the competitive world but have quickly fallen in love with DockDog competitions. According to Gray, Hope has loved the water since day one and demonstrated skill and strength in swimming and retrieving at a young age. Gray realized that Hope needed some sort of athletic outlet. Although the dog excelled in her agility training, her owner knew she was bound for DockDogs when she squealed with delight upon seeing the dock at her first Palmetto DockDogs practice. Hope had found her passion.
Palmetto DockDogs is a local club whose members train their dogs to compete at the Southeastern Wildlife Exposition and in a wide range of dock diving and training competitions. The organization's main reason for being, though, is as a community for dog lovers to interact and make human and canine friends. They play with each other, train together and support one another. The events are far more than competitions; they are reunions of dogs and humans of all shapes and sizes who reunite with their friends and create lasting memories.
But they do compete, and success requires dedication and practice. Melissa and Hope embrace the challenge.
All athletes know that diet is an important factor in their success, and the food they eat is just as critical for athletes of the canine persuasion. To make sure Hope receives the proper nutrition, Gray feeds her what she calls the "dog crock pot" diet. Comprised of fresh vegetables, proteins and supplements, this homemade dish sounds delicious and is guaranteed to keep Hope strong and healthy and help her perform at her best.
Fortunately for Hope and Melissa, one of their fellow DockDogs friends has a pool with a diving platform where the dogs can practice, exercise and swim for hours at a time. Part of the DockDog training requires Gray to work closely with Hope on many commands, particularly "sit stay," because those commands are essential foundations of dock diving. The dog must understand the command and remain 20 feet to 40 feet back as the handler walks to the edge of the dock and signals the start of the dog's routine.
Gray also makes sure to spend time simply playing with Hope to further strengthen their bond and ensure that Hope has plenty of time for fun.
Hope might work hard, but rest assured that she plays just as hard. Palmetto DockDogs is an organization that helps dogs prepare for competition, but the members' main priority is for their dogs to enjoy themselves. They have created an environment of fun and excitement where their dogs can make friends, exercise, play and learn to compete.
Most of these dogs, including Hope – who will be debuting in Big Air and Speed Retrieve – will be competing at the 35th annual Southeastern Wildlife Expo, scheduled for Feb. 16, Feb. 17 and Feb. 18, 2018. Check it out if you're interested in watching Hope and other magnificent animals demonstrate their skill and athleticism. It is sure to provide you with a doggone good time!
To learn more, visit www.sewe.com.