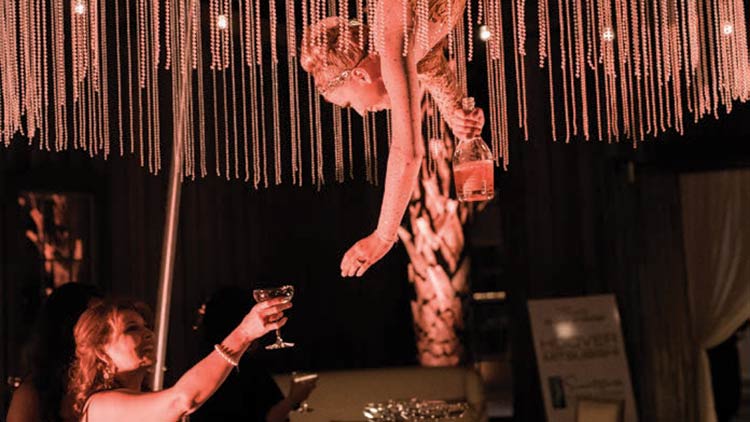 Read: 2019 Wine Under the Oaks
Imagine walking into a private party and being greeted by a sparkle-clad aerialist who spins down from skyward and arches perfectly upside down as she pours you a cold glass of bubbly. And that's only the beginning. No luxurious detail has been overlooked at Uncorked, Boone Hall Plantation's exclusive precursor to Wine Under the Oaks and the holiday season.
Now in its second year, Uncorked again pulls out all the stops at the Cotton Dock. You'll first be able to wet your whistle with specialty cocktails by Tito's Vodka, Moscow mules, premium bourbon tastings, a martini bar and a variety of wine and local beers. Then, whet your appetite not only with hors d'oeuvres but with a variety of food stations and desserts by Cru Catering.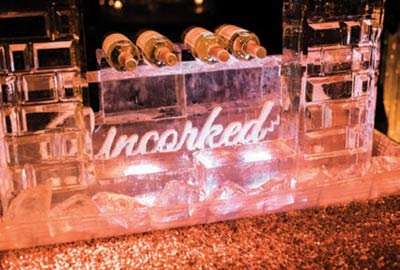 Danceable live music will keep you on your toes, but, if you're looking to relax against the backdrop of the creek, stop by the cigar roller for a fresh one first. If oysters strike your fancy, oyster girls and oyster guys from Oysters XO roam the party as mobile raw bars – complete with a bevy of condiments and fresh oysters stored in clever accouterments at the waist – shucking and dressing the tasty mollusks for you on the spot.
Uncorked elevates beyond the "see-and-be-seen" concept and instead transforms the evening into an enchanting experience with wow factors at every turn.
"Several guests from the inaugural event tell me that it was the best event they had ever attended in Charleston," said Natalie Knox, wedding and event planner for Boone Hall.
The Cotton Dock is decorated to celebrate the holiday season, and to top off the giving holiday spirit, Uncorked benefits the Rotary Club of Mount Pleasant, a service-based organization which funds several scholarships and supports a wide range of local charitable groups such as the Lowcountry Food Bank, East Cooper Meals on Wheels and East Cooper Community Outreach.
Uncorked is the kickoff to Boone Hall Plantation's Wine Under the Oaks, which Knox said has become one of the most popular holiday events in the Lowcountry. Held on Boone Hall Plantation's back lawn with the casual ambience of a Lowcountry afternoon, guests can enjoy live music while being treated to a wide variety of wine samples, complimentary bubbly from Biltmore Estate, complimentary oysters, breads and spreads, desserts and even gourmet food samples paired with wines.
Though there will be lots of toasting on the back lawn, guests are invited to take a self-guided tour through the plantation house and its beautiful Christmas décor. Wine and cooking demonstrations showcase some of Charleston's favorite chefs.
While you sip, take time to stroll and perhaps cross some Christmas gifts off your list, whether for a loved one or a treat for yourself. Find unique gift options from the variety of specialty vendors or bid on a favorite item at the silent auction, which benefits the American Red Cross. If arts are more your style, take in the artwork displays or peruse works of local writers at the Authors Village.
Whether you're black-tie or causal, daytime or nighttime, or wine or liquor, Boone Hall Plantation's events are always top-shelf.
Uncorked will be held Friday, Nov. 30, from 6 p.m. to 11 p.m. Tickets are limited to preserve the elegance of this exclusive event. Wine Under the Oaks follows on Sunday, Dec. 2, from 1 p.m. to 5 p.m. Purchase tickets to these events online at boonehallplantation.com/special-events.
By Anne Shuler Toole