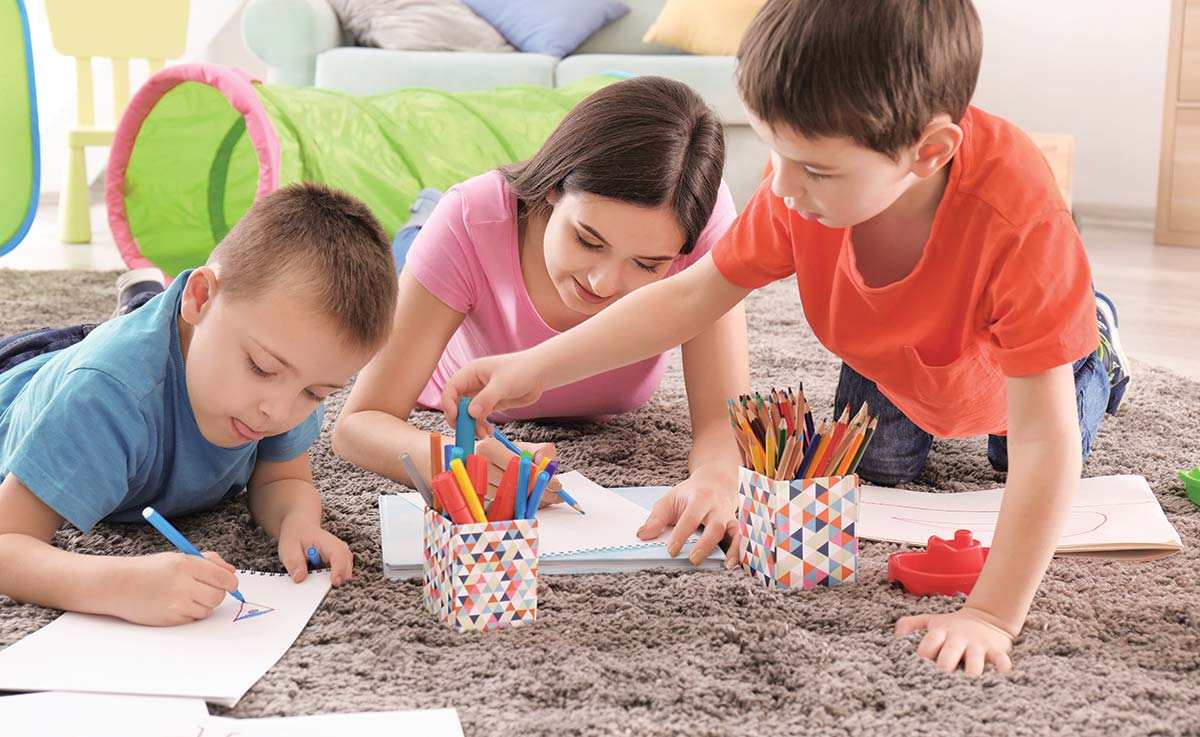 These days, I feel my descriptors range from managing editor of Mount Pleasant Magazine to Beezus' mom and Instagram manager (Beezus is my golden retriever) to daughter, sister and aunt within a rapidly growing family scattered all over the U.S. (and soon abroad); but what many may not know about me is I also moonlight as a babysitter several evenings and weekends a month — and have even nannied in a past life.
"Why?" may be the thought of many. Sure, many people my age would rather spend the majority of their Friday and Saturday nights enjoying a drink at the newest spot in town. … But "Why not?" has been my reason for years, since I first started caring for children of family and family friends at the age of 15. Babysitting has done nothing but expand my connections in a positive way in every community I have lived for the past 12 years — and that extra boost of spending money doesn't hurt either.
And I'm here to share some "tips" I've learned in my years of babysitting and nannying that may help with your interactions in hiring your next perfect date-night sitter or regular addition to help care for the little ones.
How to find your sitter or nanny (and how your sitter is finding you):
Word of mouth: This is always a great place to start. Do you know that couple that always seems to have it together, going out for happy hours and concerts? Ask who their sitter is. … Maybe she has a friend or is willing to pick up another family.
Facebook groups: Similar to word-of-mouth, find a community group on Facebook and ask fellow moms if they know anyone (i.e., "Mount Pleasant Mom to Mom"). Similarly, sitters often post on these groups looking for gigs.
Care.com, Sittercitty.com and apps like Sitter: Don't be afraid to utilize these sites and apps; their success truly depends on the interview questions you ask and making sure you and your sitter are on the same page, so expectations are met. And, of course, always run a background check.
Which leads me to … setting expectations:
Rate: Believe me, your sitter already, or should, have a rate in mind for what her time is worth. Ask her what her rate "range" is ($10-$12 an hour, $15-$18 an hour, etc.) and see if that range is a rate you're willing to pay.
Hours: Will the hours be locked in, and the sitter paid a flat rate. … Or will she be paid overtime for every tick of the clock you're late? These are things everyone wants to know and will save both the sitter and parents a dose of anxiety.
Driving: If the sitter is driving a substantial amount, consider upping the pay to the higher end of her desired rate, and vice versa if the commute is relatively easy. Travel time and gas are factors sitters consider when calculating their rates.
Number of children: It is not uncommon for sitters to add a dollar to their rate for each additional child (many agencies do this); please bear in mind — if your sitter does this — the additional work and extra little hands, feet and mouths that will be in the house.
Discipline / rules / schedules: I often found it helpful to share a "notes" document in my phone when nannying with the mother to show who gets picked up from where, what's for dinner, what the girl needed to wear to dance, etc. We were able to communicate through that note, and it was a journal of sorts for that week.
Credit cards / reimbursement: Often, more-so with a nanny situation, you may ask your children's caretaker to buy them snacks, school uniforms or stop and get the groceries. Emergencies do happen, and, sometimes, the nanny or sitter might personally cover charges, but developing a system in the beginning where the nanny or sitter is not using her personal funds will save that caretaker the awkwardness of "asking" you for money owed or you the confusion of figuring out what was bought that week on various cards.
By Helen Harris