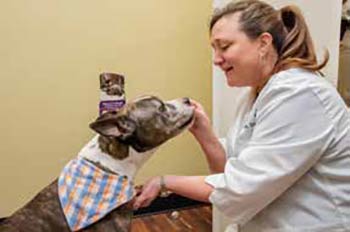 Advanced Animal Care of Mount Pleasant, opened in June 2001 by Drs. David and Leslie Steele, is a primary care veterinary practice that treats dogs and cats. Through the years, the practice has maintained its focus and goal: "To improve and enhance the relationship you have with your pet by focusing efforts on preventive wellness care, behavioral medicine, dental care, weight management, vaccinations and more."
According to the doctors, one preventive service that is available this year is digital dental radiography, which improves the diagnosis of periodontal disease. Additionally, they would like to advise pet owners that "we expect to continue to see normal-to-above-normal precipitation, which means fleas are especially prolific."
They assure their clients, that along with their staff, they "understand that the medicine we provide is not our purpose, but, rather, it serves as the means for our ultimate purpose of improving and supporting the physical and emotional health of your pet and strengthening the bond and relationship between pets and the people who love them."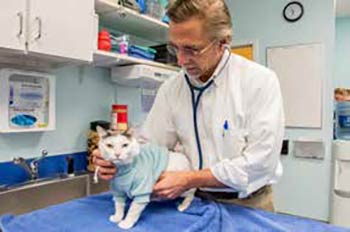 Continuing education and training is an important factor in Advanced Animal Care's ability to offer specialized services, and Dr. David and Dr. Leslie confirmed: "We are proud to have our staff certified in both low-stress handling and fear-free techniques to make visits to our office for you and your pets pleasant."
A few of the specialized services available at Advanced Animal Care include "cold laser therapy for management of acute pain, chronic arthritis, intervertebral disk disease and treatment for many other inflammatory and painful conditions, as well as clinical behavioral medicine and therapy for thunderstorm phobia, inappropriate elimination, aggression and separation anxiety," according to Dr. David.
The doctors wanted to be sure to mention their own pets at home, including three dogs – Phoebe, Sugar Pie and Sweet Pea – and seven cats – Sox, Forrest, Fei, Mojo, Tiger, Henry and Daisy. Two other cats, Ernie and Marshall, live at the clinic.
Keeping the pet owner informed and providing peace of mind regarding all treatments at Advanced Animal Care is achieved by "discussing all procedures and therapies and providing estimates and therapy plan options, which assures owners that their pet is being cared for properly and professionally."
As pet owners, we should all be committed to the physical and behavioral welfare of our pets so they feel safe, secure and comfortable. Advanced Animal Care offers many preventive and wellness-care options that can aid us in keeping our loyal, loving and furry friends at their optimum best for a long and healthy life.
Advanced Animal Care has been recognized for its dedicated work, being voted among of the Best Veterinarians by the readers of Mount Pleasant Magazine in 2014, 2015, 2016 and 2019. They were also named "Best of Charleston Living 2017" by Charleston Living Magazine.
For more information, call 843-884-9838 or visit www.advancedanimalcaremp.com.
By Eileen Casey